Exploring the benefits of a partnership like this will help decide what business is the right fit for your not-for-profit organization and how to target them in the most effective way. Let's start with the reasons why this is a good idea.
1. The moment you shake hands, you increase your political leverage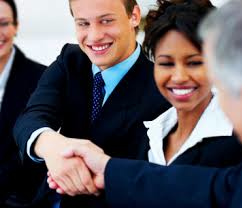 Once you make the decision on the business that you want as a partner and you convince them that it's a good idea, having this body on your side provides a powerful ally for getting the things that you want in this dog-eat-dog world, especially when looking to effect change.
2. ...you strengthen your message
The Bermuda Institute of Ocean Sciences, a knowledge-sharing non-profit organization that conducts research and educates on ocean sciences have harvested meaningful partnerships with Princeton and Dalhousie University. Both are heavily invested in the research and education being done by the BIOS. Their interest as an institution alone ensures that they will stay invested as the relationship evolves, keeping your message strong. When you find a business that is directly in line with your cause, that business essentially becomes an extension of you.
3. ...you expand your resources
Nonprofits are usually limited to what they can do due to lack of funding. With a partner who has clear business priorities but shares the same perspective on community needs, we won't underestimate the distance that one can go. Partnerships, when done effectively, can create wonderful opportunities to share resources and build on them.
4. ...you increase your visibility and expand your reputation
The Spirit of Bermuda is known for its youth program aboard the sloop, which teaches character development through the skills learned while sailing. April of last year, many activists "walked the plank" to raise money and keep the sloop out of retirement.
Having a well-known architectural partner aboard, at the very least, brought more attention to the group of 13 year-olds that would otherwise not be there. Him threatening to jump, helped to bring in well over their goal of $100,000.
The fact that business leaders are actively participating in your "sit-in" or your "can food drive", not only brings more attention to your voice but creates opportunities to bring in support from new businesses.
5. ...you expand revenue streams
It's true that non-profits and businesses are driven by a different bottom line. Enriched social capital is considered a positive output for a nonprofit while, for businesses, it's increased profits and value for shareholders. The opportunities in a business-non-profit partnership come when the two parties identify key projects, agree on priorities for the business and the community, and respect what needs to be done on both sides. This is why it is important to partner with a business that shares your perspective.
What are your thoughts on business/nonprofit partnerships?