The Conference, whose theme this year was 'Globalization: A World of Exchange', ran on March 6th and 7th and touched on topics such as the impact of social media on cross-cultural ties, the displacement of refugees in war ravaged areas, and the effects of immigration.
The students' film is a compellation video showing the viewer images of lone Bermudian citizens, statuses unknown, looking at window displays – some expensive and some, contrastingly unkept; intertwined with headlines on gang violence, labour issues, and the price tags of the most basic products such as bread and milk.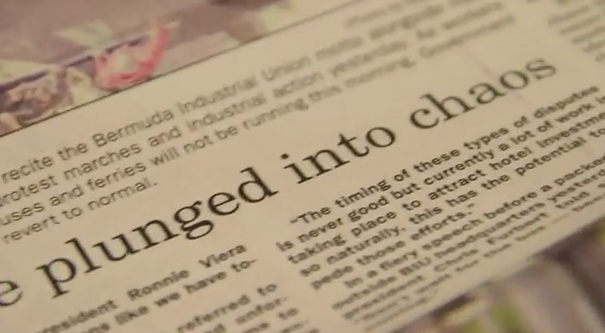 Photos taken as a still shot from Bermuda was Another World, 2014

The majority of the film takes place on Bermuda's Front Street, which is well-known to be where the tourist (of one of the Island's main industries) flocks and interestingly where most people, locals and tourists alike, go to spend their money.
In the background, a more somber version of one of the Island's theme songs, originally sang by Hubert Smith. Rodriguez rewords the lyrics in order to portray how Bermuda used to be by putting all of the Island's positive traits in the past tense. Some are commenting on this as an "unecessarily depressing" addition to the film but it arguably has gotten the attention of the UN – who are looking for young minds that can inspire "awareness and new outlooks on the state and future of the world".
More relevantly, the song is supposed to reflect the impact that globalization has on local culture as it is sung by a singer-turned-janitor who found that the entertainment industry in Bermuda became redundant and was forced to find new work. The singer prefers to remain unknown.
The film was awarded at the Conference and went on to be aired in the General Assembly Hall, alongside young filmmakers from China, Argentina and Switzerland. Rodriguez' next hope is to have it selected for the Bermuda's International Film Festival.




Photo credit: 35th UNIS-UN Conference
Mr. Rodriguez, who undoubtedly has a strong voice in the community and has been internationally recognized for his acting and poetry, told The Royal Gazette that, "in this film, I want to give voices for those who feel they don't have a voice."
Although globalization has allowed certain unforeseen aspects to enter through Bermuda's customs, as we can see in the film, it is in projects like these: film, plays, music, and art where the youth can come to understand its power, gain positive recognition and use "other worlds" to inspire a nation to pay attention.