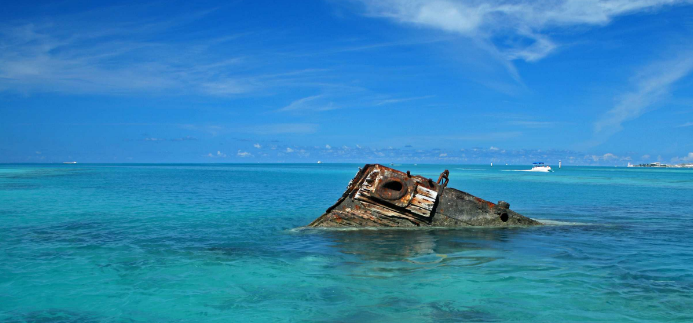 For years, Bermuda has been recognized as the shipwreck capital of the Atlantic Ocean. The island itself owes its establishment to settlers stranded from a shipwreck – The Sea Venture wrecked in 1609. It was once called the "isle of Devils" for a good reason, the deceptive and treacherous reefs around the island have led to many ships sinking.

Triton Shipwreck was a ship purposely scuttled in 1988 off the coast of Bermuda, approximately 7 miles off the southwest side, to become a tourist attraction and professional diving site. Before her sinking, great care was taken in order to make sure it was safe for the divers.

Elda Ship Wreck was an American yacht designed by Philip L. Rhodes and built in 1937 by Anderson and Combs in New Haven, Connecticut. Elda was 46 feet long and had an eleven-foot beam and based out of Maryland, on Gibson Island. She was wrecked in 1956 during the Newport to Bermuda race and now rests in shallow water close to the Eagle wreck.

The Ramona, a large Canadian yacht, sunk on December 2nd, 1967 after running aground on a reef. The crew of 10 abandoned the ship after the distress signals went unnoticed. Rescuers rushed to the site after the wreck was spotted in the early hours of December 3rd. Unfortunately, only five of the crew survived. They had hoped to restore the damage of the boat but the damage was too extensive and costly for them to repair. The boat was then stripped and taken to a site off the north shore of the Royal Naval Dockyard and sunk in 60 feet of water.

Hermes is one of Bermuda's most popular shipwrecks because it remains fully unscathed. The vessel was thoroughly cleaned and made dive safe before its final voyage in 1985. Hermes lies one mile offshore at Horseshoe Bay and sits upright in 80 feet of water with her mast pointing towards the surface. The visibility of the wreck is exceptionally clear and a dive attraction to many. The white sand bottom reflects sunlight and helps illuminate the dark shadows normally found around shipwrecks. The marine life in and around the wreck includes many Sergeant Majors and Damsel Fish and even possibly schools of Barracuda's.

The King Shipwreck was the first vessel to be scuttled in Bermuda as a dive site and artificial reef. The King sits intact in 65 feet of water, half a mile off the south shore. She lays with her stern in the sand and her bow on a coral bottom. Her success of attracting marine life has attracted other ships to be scuttled around her, such as the Hermes and the ferry Triton. The King was a diesel-powered Navy tugboat built in 1941 and towards the end of her days she was converted into a dive boat owned by Gary Lamb.