In this multi-platform digital age, we're here to tell you that some businesses in Bermuda are actually getting it right. Below is a list of our 5 favourite Facebook pages and why we think it's worth paying attention to them.

Likes: 1,691 likes

Posting Consistency: Once per week

Our Favourite Things:

We enjoy the personal "sweet little boutique shop" aspect that Alexandra Mosher has put into this page. They've run their entire facebook campaign around catching the hearts of small town success supporters everywhere.

Through talking about family and showcasing the little successes, we can see that Alexandra Mosher understands that followers want to be talked to, not at.
Our Favorite Post:
We love their posts that countdown to the owner's wedding date, each time accompaniedby an image of the store window with a painted message, "22 days until Alexandra & Darren say I do".

It's a great mix of traditional and new marketing that engages both the physical and digital passersby.
---

Likes: 780

Posting Consistency: 2 times per week

Our Favourite Things:

Thumbs up to the sharing of outstanding photos and videos. Even as a Bermuda company, by adding images of fishing trips, big catches, and friends, it's caught the eyes of enthusiasts worldwide.

We also like that Overproof knows when to give and when to ask. Their constant sharing of free content justifies the occasional call to action (CTA). By putting their contact number in every third post, Overproof gently reminds viewers that they have something to offer.

Our Favorite Post:

By posting a personal picture of a client's amazing day out at sea, it stirred nearly 85 people to engage with this photo. Using photos on Facebook generates 53% more likes than the average post and the proof is in Overproof's pudding (75 likes, 4 comments and 4 shares).
---
3. BERMUDA HEART FOUNDATION

Link: https://www.facebook.com/bermudaheartfoundation

Likes: 721

Posting Consistency: 2 to 3 times per week

Our Favorite Things:

What makes us happy about this page is that it's well planned and working towards a goal. This can be seen in the relevancy of posts (i.e. articles and photos) surrounding the keywords of heart, healthcare, awareness and prevention.
For an organization like this, the cleanliness and quality of posts on the page is of utmost importance and reinforces the brand as informative and current.

Our Favorite Post: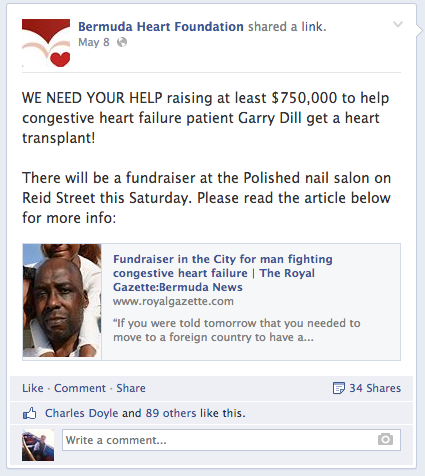 While talking around specific keywords with articles is great, they also include community cases to add a more personal touch. This single post received 90 likes and 34 shares. Just goes to show, more people are listening than you think.































---
Likes: 2,719 likes

Posting Consistency: 4-5 times per week

Our Favourite Things:

A.S. Coopers is doing a great job of our most basic Facebook rule: posting consistently, and it's paying off. They post pictures of exciting visitors, special events, photoshoots and major sales. A.S. Coopers doesn't miss a beat, and consequently, neither do their customers.

Our Favorite Post: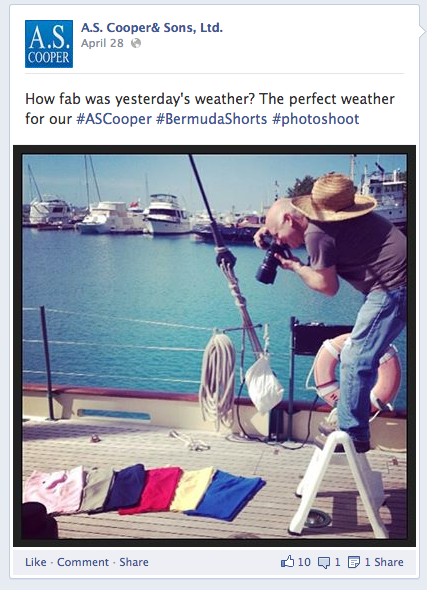 Behind the scenes photos give the viewer the feeling of exclusivity. We think posting about the photoshoot and the weather was a great way of creating hype leading up to the summer clothing releases, i.e. Bermuda shorts.


---

Likes: 5,440

Posting Consistency: 4 times per week (2 to 4 times per day)

Our Favourite Things:

Maxilous are great with customer engagement. They understand that every follower is a potential customer and try to nurture each relationship by answering every question that is posted, whether it be about products, services, or even location.

Our Favorite Post: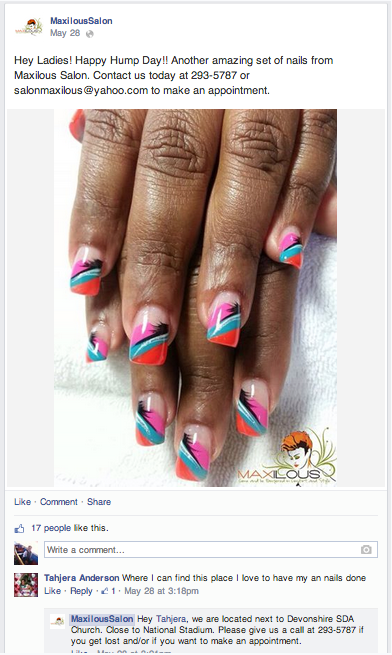 We like that Maxilous posts images of each successful hair and nail appointment that finish. It personalizes for each individual customer, while at the same time, creates an online portfolio.

Engaging with customers, posting consistently and relevantly, adding photos wherever possible and keeping it personal are some of the ways that these 5 Bermuda businesses are feeling the Facebook success.
What Facebook tactic do you have that's working for your business?

Let us know on our Facebook Page or on Twitter @bermudasearch.

Check out more Facebook do's and don'ts for small businesses over at our Digital Marketing and Design Blog, Yablog.