The brand new 2019 Bermuda Yellow Pages directory is the book you know and love with many new, useful additions! A powerful local resource, we deliver complete and accurate information for island businesses and residents, and much more.
A great example of the benefits of 'tradigital' - a combination of traditional and digital marketing - the directory works alongside bermudayp.com to provide Island residents and visitors with a comprehensive resource for local information. The best part? It's delivered right to the doorstep of your home or business - for free! The directory is also available at post offices and MarketPlace locations island-wide.
Introducing the Handy Size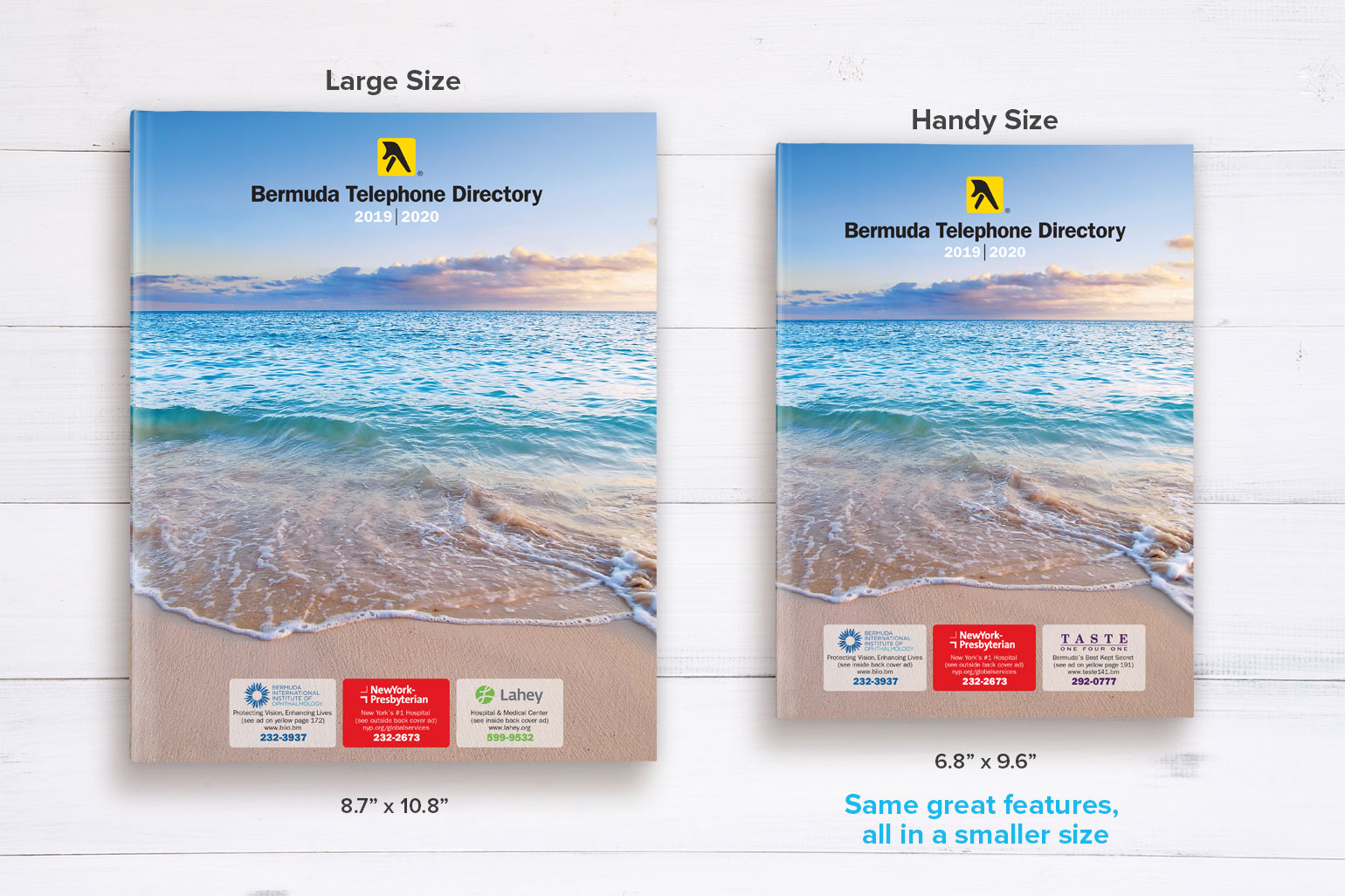 The directory is now available in traditional and Handy size. Portable and convenient, the mini is perfect for on-the-go. Why not keep a copy in your vehicle, backpack or purse?
Eco-Friendly
The 2019 Bermuda Yellow Pages directory is printed on 100% recycled paper and we are proud to contribute to a more sustainable island. We adhere to the most responsible production methods available and also collect old books for further recycling.
The Importance of Print
We continue to print the directory as it remains a vital resource for Bermuda's small population. The island's remote location makes it difficult for search engines like Google and Bing to retrieve concise, information-rich content, while some community members have limited access to computers and smartphones. Highly accessible, the print directory allows bermuda residents, visitors and customers to obtain the information they need quickly and easily.
Map & Menu Guide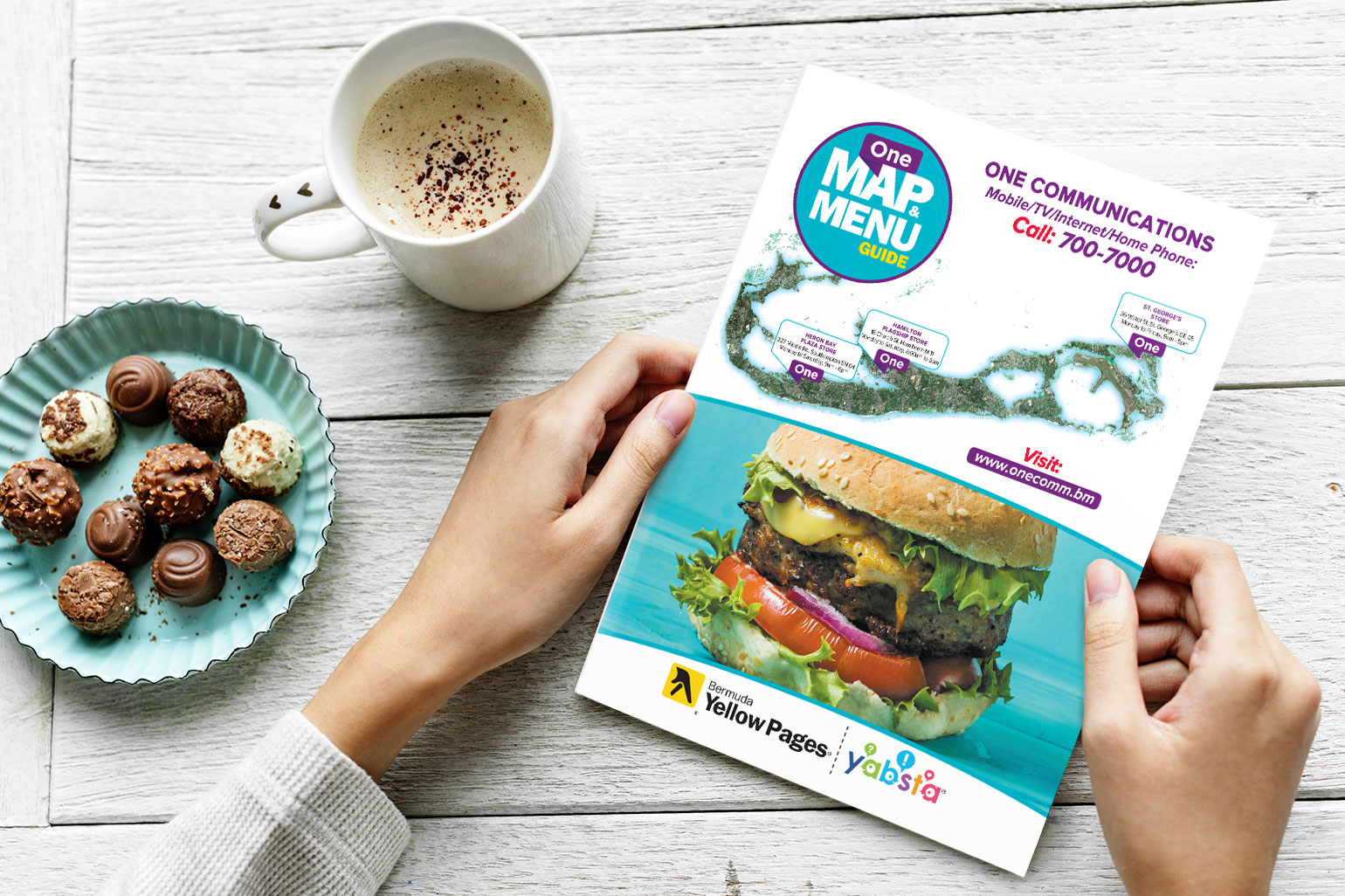 Our Map & Menu Guide is back and better than ever! It contains updated, easy-to-read maps of Bermuda alongside take out and eat in menus from a broad range of popular island eateries. Perfect for small spaces and businesses like taxis, hotels and restaurants, it's appealing to island visitors and will help your guests cut down on expensive mobile data fees.
New and Improved Features
---
Emergency

Contact details for police, fire and hospital are easy to find in case of emergency.

White Pages

This year, our White Pages are more robust than ever! Precise listings for individuals include accurate addresses, email addresses and cell phone numbers.

Business

In addition to highly detailed and easy to use Yellow Pages listings, the new directory features a comprehensive International Business section.

Travel

Visiting Bermuda, or going on a trip? Need-to-know airport and airline info is available in the directory. Ideal for visitors and expats, the directory also includes a Consular information section with location and contact information for Bermuda's consuls.

Government

Blue Page listings provide valuable information on Government organizations in Bermuda.

What Goes Where, When

Key waste management information includes garbage and recycling collection, permitted materials, holiday scheduling and more.

Seniors

Our brand new Age Concern section is just for seniors. It includes special business listings, senior discounts and more. Additionally, the directory font and size has been redesigned for improved legibility.

Additional Information

The directory contains a variety of additional valuable information, including postal codes for all of Bermuda as well as tide tables.