Wondering whether you fit into the Harbour Nights scene?

The weekly event presents a plethora of opportunities for local businesses that are involved in arts and culture.

Not only does it open up doors for sales and publicity but it also allows a space for business-to-business connections to happen. Check out the list below to find out where your business fits in and whom you could be adding to your network.
Crafts & Jewellery Clothing & Accessories
1. Alexander Mosher Studio Jewellery 18. CB's Trendy Hobo Bags
2. Atlantic Jewellery Studio 19. Accent Embroidery
3. Aroma 20. Revive Boutiik
4. Accent Embroidery 21. Soleful Creation
5. Baskets for You 22. Zaa Zii Wear
6. Bermuda Beads 23. Valerie Souza
7. Bermuda Candle Company Beauty & Cosmetics
8. Bermuda Cedar Gifts 24. Basic Beauty Studio
9. Bermuda Cedar Handcrafts 25. BB's Braiding
10. Bermuda Rocks Jewellery 26. Bermuda Soap Works
11. Daisy Field Jewellery 27. Hightlights Beauty Salon
12. Gem Design 28. Hott Braids
13. Island Fusion 29. Khayr's Paradise
14. Pulp & Circumstance Games & Toys
15. Rebecca Little Jewellery 30. Island Puzzles
16. Serenity Designs Creatives
17. Jennifer Rodrigues Designs 31. Geminii Photography
32. Pink Sand Entertainment
33. Serenity Designs
34. Emerton Productions
Whether you're just starting or have been around for many years, if you have a blooming business in crafts, jewellery, clothing, cosmetics or creative games and toys then a stall at Bermuda Harbour Nights is a great opportunity to create awareness, reach out to customers on a personal level and widen your network of hard working business owners just like you. Also check out our list of Food Vendors That Are Spicing Up Harbour Nights.
It's not too late to get in the game. To rent a stall, you first have to become a member of The Chamber of Commerce. (At half way through the year, you would get a considerable discount). Please bear in mind that your items have to be made by you (or locally), this is the key to becoming a vendor.
To start the process contact Michelle Smith at The Chamber of Commerce at 441 295-0331.
Let us know where you fit in on Facebook or Twitter.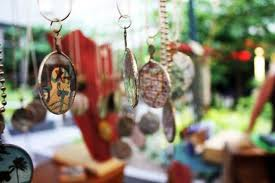 Thumbnail photo: Paul Beilstein, Flickr