* UPDATED JUNE 11 * The Bermuda Government has announced plans for the reopening of Bermuda through a 4 phase process which will start on May 2. This will include the end of Shelter in Place restrictions, and phased opening of businesses. There will remain a curfew for Phase 1 and social distancing measures are still required.
"We must get Bermuda working again, we must get Bermuda enjoying life again but we must also be mindful that we cannot and will not place the health and safety of our senior citizens in jeopardy.
We have adopted a strategy for a phased reopening of our economy. These four phases set out how we will progress through this ongoing pandemic response. It is important to note that there are no dates attached to phases two, three, and four. This is because how we progress is directly dependent on how well we comply, and how we see our hospital, and population being affected.
With every week that passes without community spread, the sooner we can look at what additional phases we can move on to."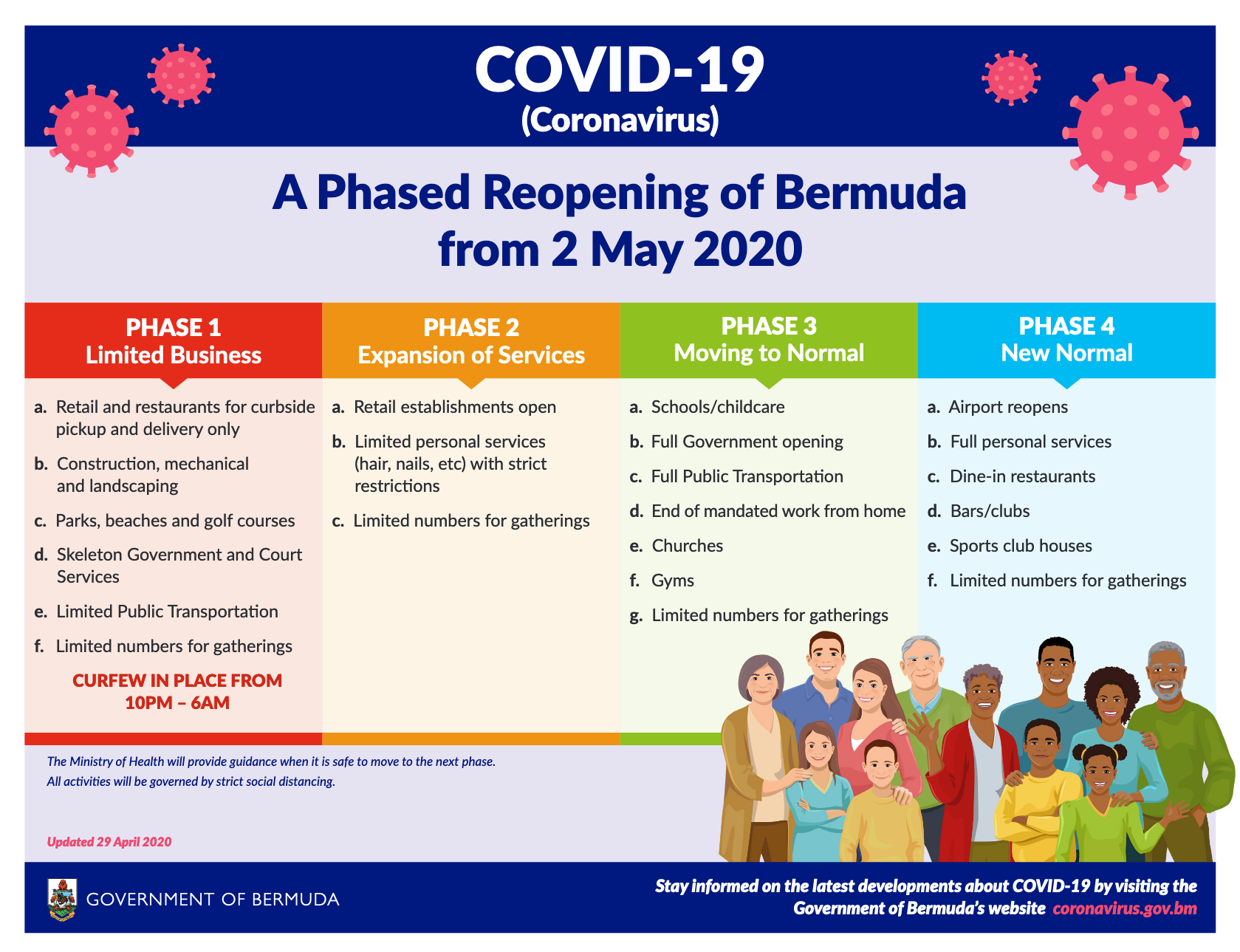 BERMUDAYP NEXT STEPS
As we have now moved on from the Shelter In Place restrictions, we will no longer be listing out each business individually on this article. Please find all Phase business opening information below or search as you normally would for business specific info.


We will continue to add Bizcast announcements for any business who wishes to have their temporary operating information added. This information will then appear on business listings when you search. We will have further updates coming soon to further assist you in recognizing which businesses are open and what services are being offered.
PHASE 1 - LIMITED BUSINESS

COMPLETED
PHASE 2 - EXPANSION OF SERVICES

COMPLETED
PHASE 3 - MOVING TO NORMAL

GROCERY


Grocery stores to maintain current operations, surname based days of shopping will continue to be prescribed so that stores are not overwhelmed.


Mondays & Thursdays: Surnames A - F


Tuesdays & Fridays: Surnames G - Q


Wednesdays & Saturdays: Surnames R- Z


Sundays: Reserved for persons 55+, disabled persons, and essential workers / workers not required to work from home. These persons may also shop on their relevant surname day.
RETAIL
Retail stores which had previously operated under curbside and delivery only service, may now open for business under certain conditions detailed in the Directions.
PERSONAL SERVICES


Beauty salons and barbers to open for limited services – public health requirements and Personal Protective Equipment is included in the guidance for consumers.
PUBLIC SCHOOLS


Schools will not reopen this academic year. The last day of school is 19 June, 2020.
RESTAURANTS & BARS


Restaurants open for indoor dining with appropriate physical distancing. Licensed bars with outdoor bars permitted to open on same criteria as restaurants. Subject to the approval of the Ministry of Health.
CHILDCARE SERVICES


Nurseries and child care services can resume operation with guidance from the Ministry of Health.
GOVERNMENT SERVICES
CINEMAS, MUSEUMS, LIBRARIES & SIMILAR
Cinemas, Museums, Libraries and other similar venues can reopen with 20% capacity and physical distancing in place.
GYMS
Open with physical distancing and enhanced sanitation in place.
POOLS
Previously closed now open subject to the maximum for gatherings (20 people).
CHURCHES AND PLACES OF WORSHIP
Can reopen with 20% capacity and physical distancing in place.
WORKING FROM HOME


End of mandated work from home—but those who can should continue to work from home.
OTHER RESTRICTIONS


Government COVID-19 updates
COVID-19 Hotlines
COVID-19 Questions 444-2498 (9am - 9pm daily)
Emotional Wellbeing 543-1111 (9am - 9pm daily)
Child & Adolescent Services 249-3370 (9am - 5pm daily)
Emergency Services are operating but will be practising strict social distancing measures. As always, in an emergency dial 911
If you have respiratory symptoms or believe you may have come into contact with COVID-19, do not visit the hospital.
KEMH and MWI are closed to all visitors, other than in exceptional circumstances. Please contact the unit manager.
Temporarily suspending service to allow for resources to be focused on KEMH
Please follow contact details for KEMH above.
Do not visit police stations to make a report unless the matter is of a serious nature. They urge you instead to call their mainline, 295-0011, and you will be forwarded on to the relevant department.
If the situation warrants that an officer comes to your residence, we urge you to inform the officer you speak with on the phone, whether:

Any occupant has been diagnosed as having COVID-19
Any occupant has recently returned from overseas travel
Any occupant has displayed symptoms of cold or flu