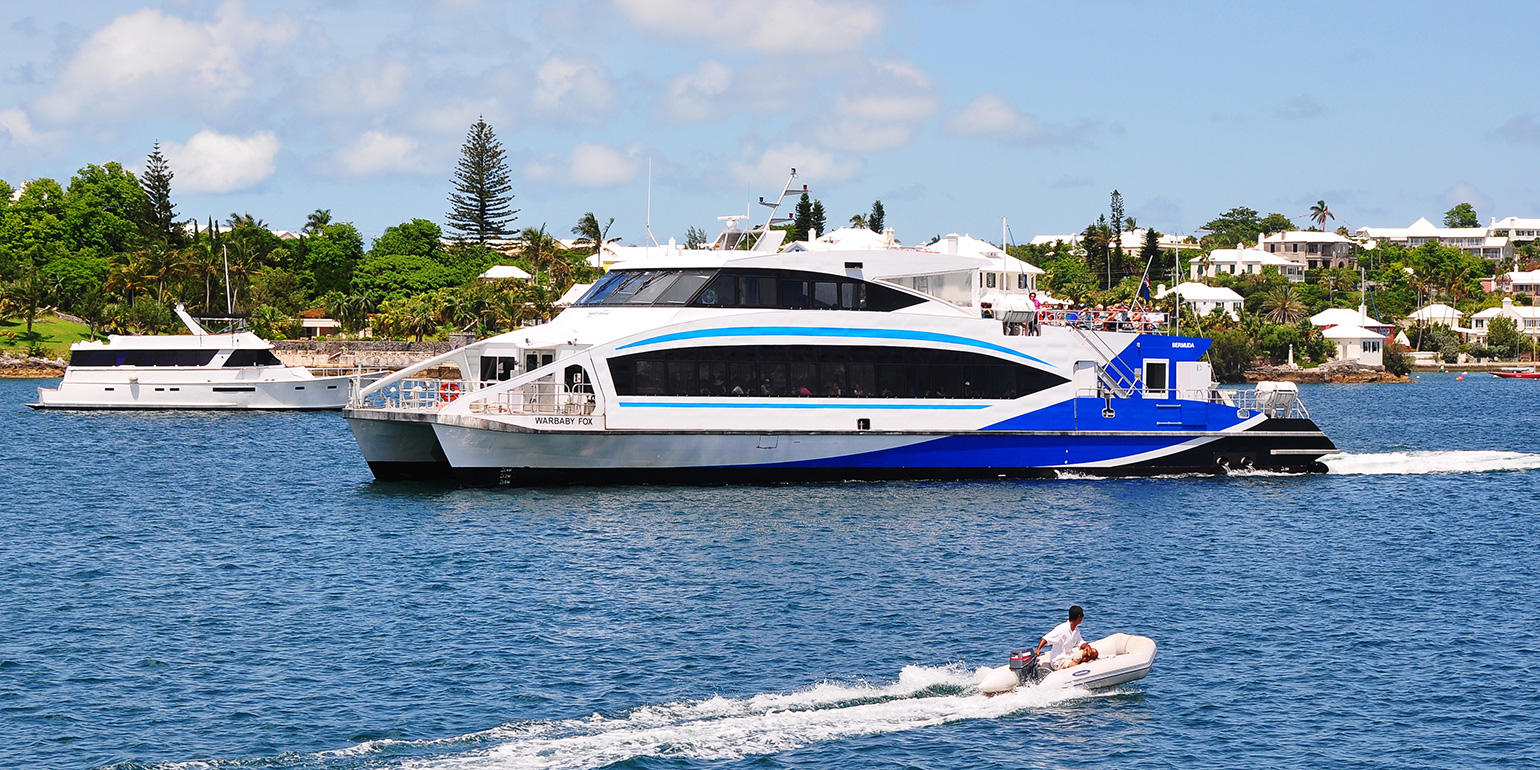 The Department of Marine & Port Services advises the public that starting Monday, May 11, the ferry service will resume under a reduced operating schedule with limited passenger capacity.
SOCIAL DISTANCING MEASURES
Available seating will be limited to 25% of normal capacity when services resume with no standing allowed.



This will generally amount to a maximum of 50 passengers.



When boarding, a ferry boat crew member will provide hand sanitizer and announce when the seating capacity has been reached.



All passengers must wear a personal face mask when using any form of public transportation. Individuals without a face mask will be refused entry.



Only travel for essential purposes and never if you are unwell, coughing, or sneezing. Now is not the time for leisurely bus or ferry rides so stay at home as much as possible.
TEMPORARY FERRY SCHEDULE
Goes into effect Monday, May 11, 2020 until further notice. The schedule will also be available online at the Department of Marine & Ports Services website.

BLUE ROUTE - HAMILTON TO DOCKYARD
Monday to Friday
Departs
Arrives
Hamilton
Dockyards
Hamilton
7:10
7:30
8:15
12:00
12:45
1:15
3:00
3:45
4:15
4:30
5:15
5:45
Saturday & Sunday

Departs
Arrives
Hamilton
Dockyards
Hamilton
9:00
9:45
10:15
12:00
12:45
1:15
3:15
4:00
4:30
4:45
5:30
6:00
Sunday
Departs
Arrives
Hamilton
Dockyards
Hamilton
9:00
9:45
10:15
12:00
12:45
1:15
3:15
4:00
4:30
4:45
5:30
6:00
PINK ROUTE - HAMILTON TO PAGET AND WARWICK
Monday to Friday
Departs
Arrives
Hamilton
Lower Ferry
Hodsdon's Ferry
Salt Kettle
Darrell's Wharf
Belmont Ferry
Hamilton
7:00 am
-
-
7:24
7:20
7:15
7:30
7:35
-
-
7:59
7:55
7:50
8:05
8:10
-
-
8:34
8:30
8:25
8:45
9:00
9:35
9:30
9:25
9:20
9:15
9:40
3:15
-
-
3:21
3:25
3:30
3:45
4:00
4:04
4:08
4:12
4:16
4:21
4:36
4:40
-
-
4:46
4:50
4:55
5:10
5:15
-
-
5:21
5:25
5:30
5:45
5:50
-
-
5:56
6:00
6:05
6:20
6:20
6:24
6:28
6:32
6:36
6:41
6:56
Saturday
Departs
Arrives
Hamilton
Lower Ferry
Hodsdon's Ferry
Salt Kettle
Darrell's Wharf
Belmont Ferry
Hamilton
8:00
8:35
8:30
8:25
8:20
8:15
8:40
9:00
9:35
9:30
9:25
9:20
9:15
9:40
10:00
10:35
10:30
10:25
10:20
10:15
10:40
11:00
11:35
11:30
11:25
11:20
11:15
11:40
3:00
3:05
3:10
3:15
3:20
3:25
3:40
4:00
4:35
4:30
4:25
4:20
4:15
4:40
5:00
5:05
5:10
5:15
5:20
5:25
5:40
6:00
6:35
6:30
6:25
6:20
6:15
6:40
Sunday & Holidays

Departs
Arrives
Hamilton
Lower Ferry
Hodsdon's Ferry
Salt Kettle
Darrell's Wharf
Belmont Ferry
Hamilton
10:00
10:35
10:30
10:25
10:20
10:15
10:40
11:00
11:35
11:30
11:25
11:20
11:15
11:40
12:00
12:35
12:30
12:25
12:20
12:15
12:40
3:00
3:05
3:10
3:15
3:20
3:25
3:40
4:00
4:35
4:30
4:25
4:20
4:15
4:40
5:00
5:05
5:10
5:15
5:20
5:25
5:40
6:00
6:35
6:30
6:25
6:20
6:15
6:40
GREEN ROUTE - HAMILTON TO SOUTHAMPTON AND SANDY'S
Monday to Friday
Departs
Arrives
Hamilton
Watford Bridge
Cavello Bay
Rockaway
Hamilton
-
-
-
7:20
7:45
7:10
-
-
7:55
8:15
7:45
8:00
8:10
8:20
8:45
4:10
4:50
4:40
4:30
5:20
5:20
5:55
5:50
5:40
6:20
6:20
6:55
6:50
6:40
7:20
Sunday & Holidays

No Service
ORANGE ROUTE - ROYAL NAVAL DOCKYARD TO ST. GEORGE'S
Not in service
For Ferry fare information and other Route Schedules see Ferry Service