The brand new 2020/21 Bermuda Telephone Directory is here with a new look and feel, and all the great content and features you rely on! A powerful local resource, we deliver complete and accurate information for island businesses, residents and much more.
A great example of the benefits of 'tradigital' - a combination of traditional and digital marketing - the directory works alongside bermudayp.com to provide Island residents and visitors with a comprehensive resource for local information.
DISTRIBUTION
Deliveries directly to residents island-wide have begun, directories will also be available for pickup at all Bermuda Post Offices and MarketPlace stores. Large corporate deliveries will take place with the assistance and expertise of Fast Forward Freight. All parties are committed to getting the books out to Islanders as quickly as possible while respecting any and all social distancing requirements.


All involved in the project are fully aware of the understandable concerns regarding COVID-19 and will follow all Government guidance regarding proper social distancing and safety measures.
For all Distribution related enquiries, please contact Antoinette Richardson at 335-2689 (or in office 278-1005)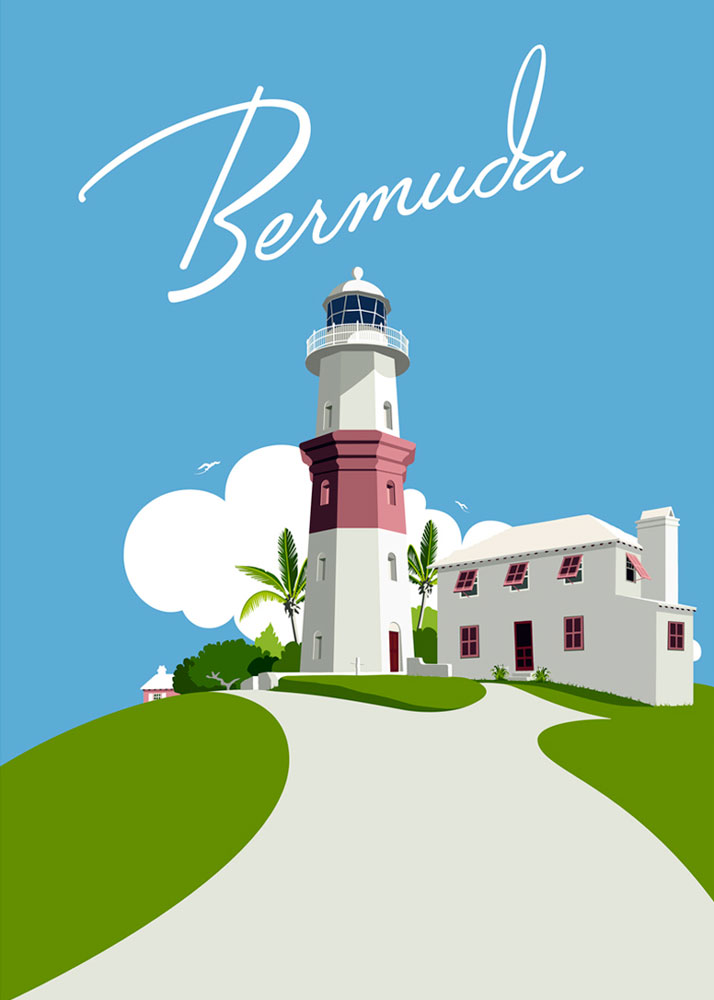 THE COVER
The 2020/21 cover features a vibrant illustration of St David's Lighthouse by local artist Peter Matcham. Peter has over thirty years of experience as Creative Director, lead designer and photographer at local design and marketing firm Matcham & Matcham, providing creative services to many of Bermuda's leading local and international businesses.

Read our feature interview with Peter to learn more about the cover art, his wider body of work and what he loves about Bermuda.
RECYCLING
With the current restrictions due to COVID-19, we ask that Bermuda residents hold on to their old directory until such time that our regular drop-off locations might be made available once again. As soon as we are made aware of recycling opportunities, we will make a further announcement giving advice on any revised recycling options.
WHY STILL PRINT A DIRECTORY?
The Bermuda Yellow Pages Team continues to see value in the printed version of the directory and believes it remains a staple of island life and contributes towards Bermuda's unique community. Many islanders have limited or no access to the internet and, for these, the printed directory remains incredibly useful. Also, popular search engines such as Google, struggle to obtain and publish accurate and unique data for local Bermuda businesses. Again, this is where a locally based publication can offer local businesses and end-users alike massive benefits.
NEW FORMAT FOR 2020
We are pleased to introduce a new format for the 2020/21 Directory. The thinner, exceptionally smooth and glossy finish gives every page of the book a magazine-like quality allowing the text to be extremely legible, the ads to pop, and no more ink on your fingers!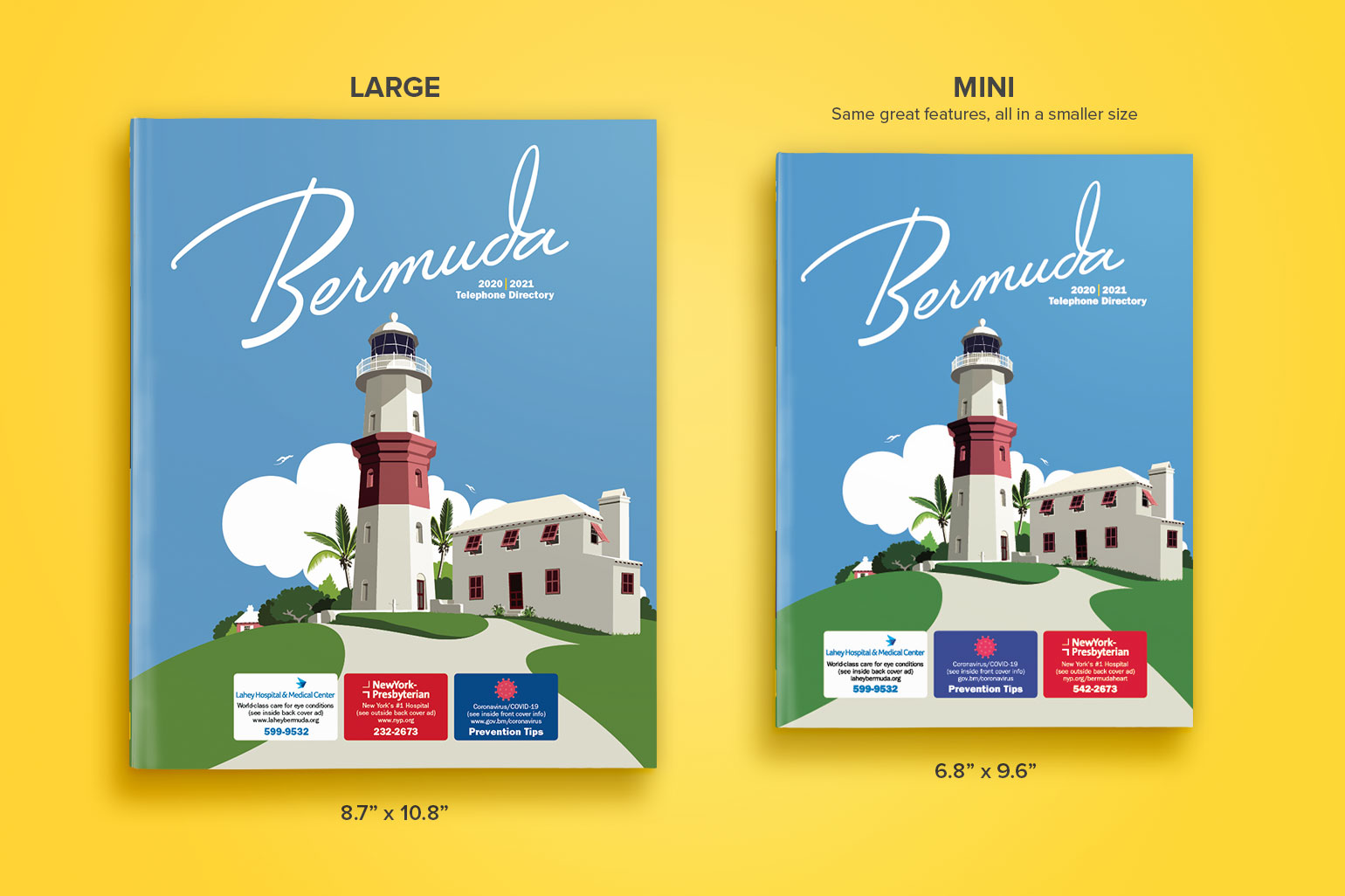 AVAILABLE IN TWO SIZES
The 2020/21 Directory is available, again this year, in 2 sizes; traditional A4 and the new but very popular smaller A5 version. The larger version is ideal for the home or office whilst the smaller version is designed to be more portable and convenient. Both have been printed with our new printing format.
ENVIRONMENTAL CONCERNS
The 2020/21 Telephone Directory is printed on 100% recycled paper and we are proud to contribute to a more sustainable island. We adhere to the most responsible production methods available.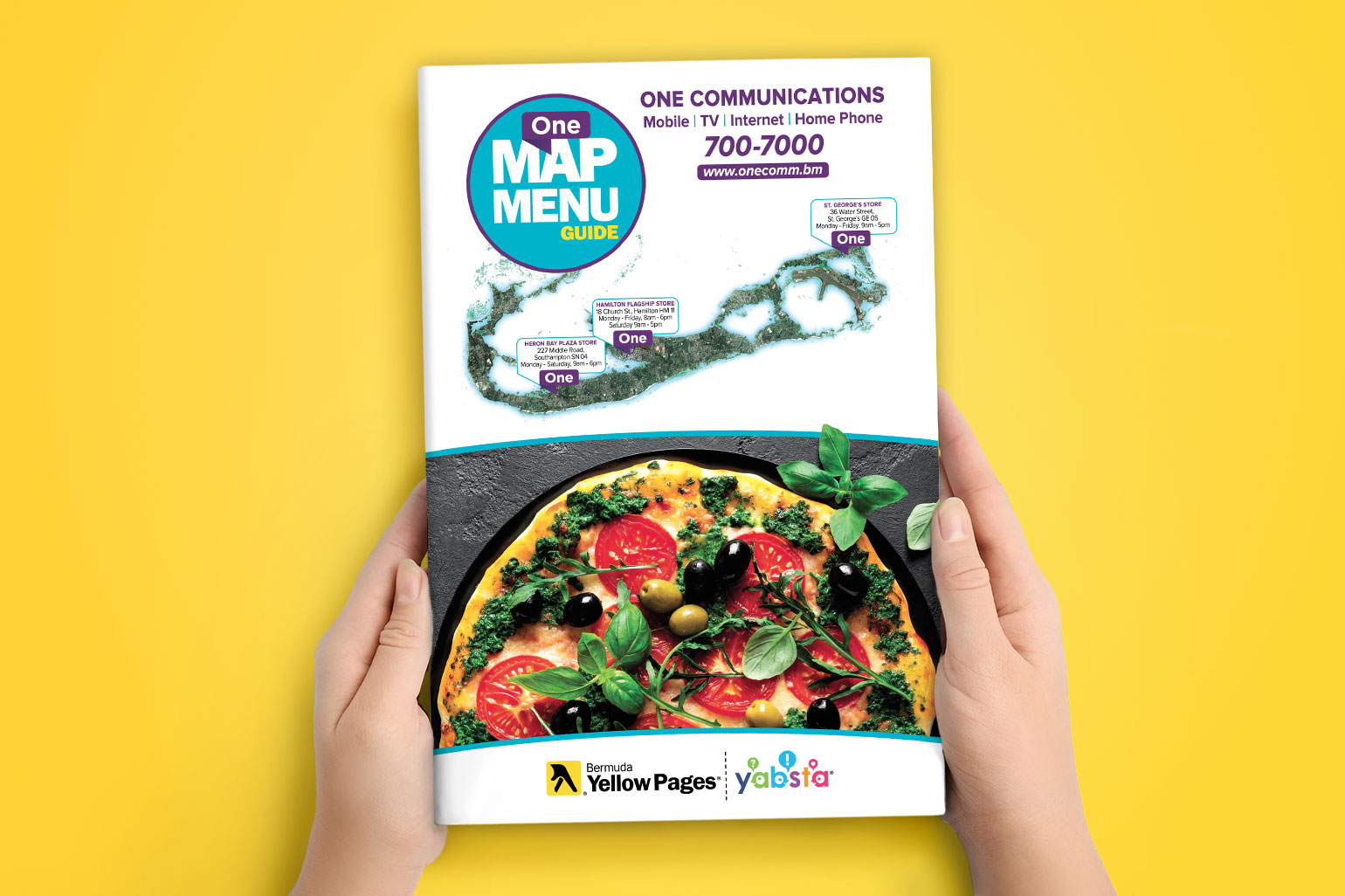 MAP & MENU GUIDE
Our Map & Menu Guide will be back once again this year, look for more details to be announced soon.
FEATURES

Emergency

Contact details for police, fire and hospital are easy to find in case of emergency.

Business


In addition to our highly detailed and easy to use Yellow Pages listings, the directory also features a comprehensive International Business section.

White Pages

Our robust White Pages include precise listings for individuals with phone numbers, full addresses and postcodes helping business and individuals correctly address mail within Bermuda.

Government

Blue Page listings provide valuable information on Government organizations in Bermuda.

Community Information


We include helpful community information including mental health and Drug helplines and support information, Charities and community safety advice. Our Age Concern section is also back with important info just for seniors, including special business listings, senior discounts and more. All designed for enhanced legibility.

Travel

Visiting Bermuda, or going on a trip? Need-to-know airport and airline info is available in the directory. For flight departures and arrivals, visit our Airline Info Page. International country codes and Consular information section with location and contact information for Bermuda's consuls are also included.

Garbage & Recycling

Key waste management information includes garbage and recycling collection, permitted materials, holiday scheduling and more.

Tide Tables/Safety At Sea

Full list of daily times and levels of high and low tides, plus helpful safety information.

Map Section

Handy map with street index for those times you don't have your phone or data available.
A MESSAGE FROM THE BERMUDA YELLOW PAGES TEAM
Every member of the Bermuda Yellow Pages team wishes to thank you, in advance, for your support and patience shown to all our local business during this challenging time and wish you and your family continued good health and happiness. We appreciate all feedback and ask that you contact us directly with your comments, compliments or complaints.
If you are an advertiser and would like to view your listings and ads in advance of receiving your directory, please call your sales rep: