For our Bermuda Pinterest users, would you say that the order of your boards has anything to do with your priorities?—probably not.

We went and had a look anyway and found that people that do keep a "Bermuda board" tend to keep it relatively close to the top of the page and, more importantly, hold stunning images that really sell Bermuda's culture, history and beauty. Check it out.
Island-Empress Burgess on Pinterest
 
Giving her Bermy board her #1 spot out of 23 boards, Island-Empress Burgess describes herself as "a cool female from the beautiful Island of Bermuda".  Her board, "My Bermuda Paradise" isn't the only one—she actually has 12 boards that showoff Bermuda's talent, cuisine and beautiful hotels like Grotto Bay Beach & The Reefs Hotel & Club.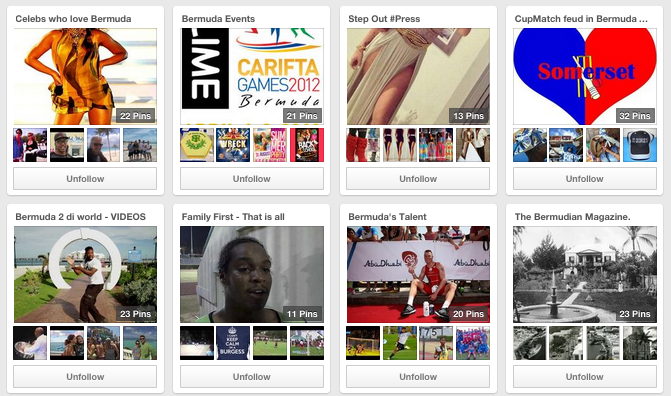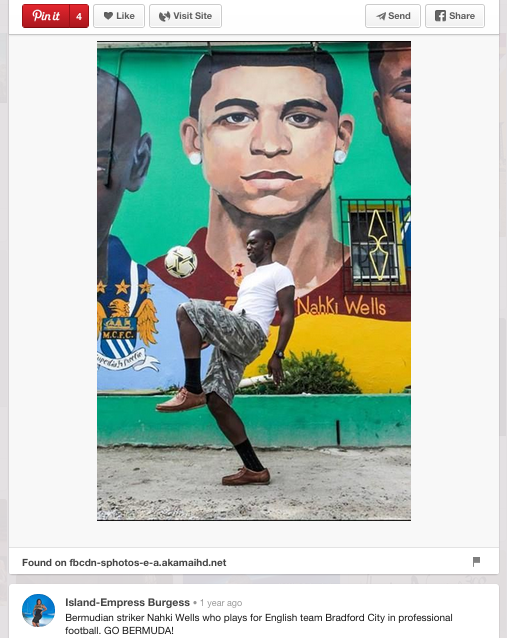 Our favorites are "Famous Onions" showing Bermudians we all know and love like Heather Nova and Nahki Wells, who have claimed their fame worldwide; and "Bermuda 2 di world" pinning Bermuda videos from locals and tourists that have gone viral.



---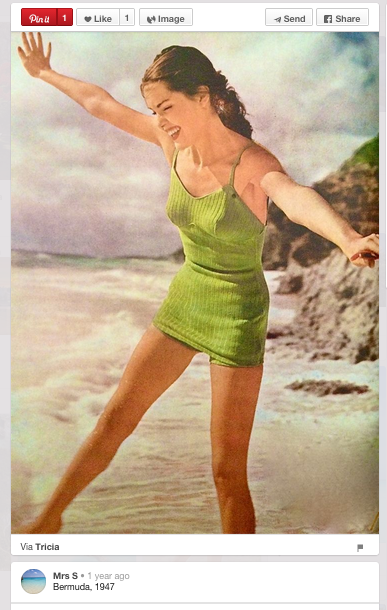 Mrs S on Pinterest

Mrs S gave her Bermy board spot #3 out of 90 boards. She lives "in Bermuda with her husband and two gorgeous dogs!" and she'll teach you a thing or two about the Island. We're in love with her enjoyment of vintage Bermuda posters extracted from the very first issues of The Bermudian Magazine and old photographs saved from Bermuda's history. To see stunning photos of Bermuda in her early years, check out her account.
---
We think Ms. Binkley knows that we've been looking at her boards; we've been pinning quite a bit from her stuff lately. Vera Binkley keeps Bermuda in her #4 position out of an impressive 111 boards. With images of the beautiful ocean, the ominous forts and the architecture in places like Tobacco Bay Beach at the east end and Clock Tower Mall in the west, this board sells the Island. Oddly enough, Bermuda gets its own board among generic titles like "Animals" and "Breads" meaning, ladies and gentlemen, Bermuda is now a thing!

---

Coming in with character, Torian Morrissey keeps Bermuda at a #5 position out of an intimate 19 boards.  In his Bermy board lays the caption "Photos from my homeland" and tells the story of his life on the water. We love his many images of The Corona, one of Bermuda's famous ferry's with Marine & Ports. Torian keeps his eye to the outside world, discovering new things but stays grounded in his Bermuda roots. We love it!

---

For Patrika, "Bermuda—another world" comes in at #9 but her pins are absolute gems including interesting images of the Island's history and culture. Her caption is a great introduction to her sentiments, "I'd rather remember her the way she was…" Our favorite pins so far have been pictures of famous visits such as Diana and Charles in 1982, John and Sean Lennon in 1980, and even Shirley Temple in 1938 taking a tour of the Bermuda Perfumery. We can't wait to see what she finds next.

These boards are just a few that keep Bermuda close to their hearts and, for that matter, close to the #1 spot. More importantly, they all hold stunning photographs that show Bermuda's culture, history and beauty all in one swoop. Where do you keep your Bermuda board?

Have a question about your individual or company Pinterest account? Visit www.yabstadigital.com or talk to us on Facebook and let us know your thoughts.