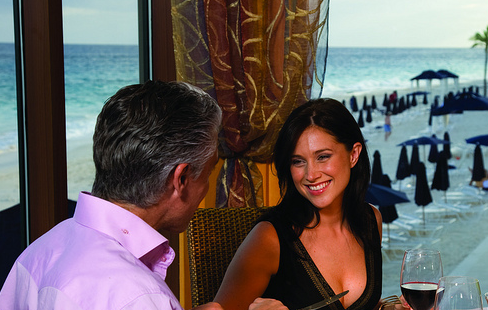 It's almost that time of year—the end of November, meaning it's time to give thanks! If you find yourself on the island for this special occasion, there are plenty of fantastic restaurants that are inviting you to enjoy a succulent meal with them. Check out these places that are putting out a spread just for you and your family.
The Reefs Resort and Club
If you find yourself in Bermuda over the Thanksgiving weekend, The Reefs— deemed one of the country's best in hospitality, is inviting everyone who's anyone to the table on November 27th to enjoy that feeling of family, fun and food that American's know and love. Enjoy the panoramic views while indulging in a three-course a la carte traditional Thanksgiving dinner. You can expect all the trimmings and some delicious pumpkin pie! The cost is $45 per person and reservations start at 6:30pm. See their website for the full menu. They are also offering take-out for those who want to bring the delicious spread home.
Grotto Bay Beach Resort
Grotto Bay is inviting you to come and share Thanksgiving buffet-style. At $52 a person, you can enjoy a cool starter, warm soup, succulent turkey an entrée and a choice from their assorted dessert special menu. Reservations on November 27th are available from 6pm.
Coco Reef
Coco Reef, "Bermuda's best beach resort" will also be offering a special Thanksgiving spread on Thursday with a set three-courses and a complimentary glass of wine. The cost is $50 per person and reservations are available from 7pm to 11pm. Celebrate and give thanks while enjoying a stunning décor and breathtaking views of the Atlantic. The regular a la carte menu will also be available.
InterNations at Barracuda Grill
InterNations Bermuda invites you to join the family of internationally minded individuals to celebrate Thanksgiving with delicious cocktails and creative appetizers. They'll be meeting at Barracuda Grill in the wine bar section from 7:30pm to 9:30pm. There is no cover charge but they do ask that you RSVP at the website.
Café Lido
Café Lido at Elbow Beach invites you to join them for a one of a kind dining experience at their Thanksgiving dinner on Thursday, November 27th. Adults cost $58 and children aged 10 years and younger cost $38. The reservations are open from 6pm (advance reservations are required and credit cards are essential to hold your spot).
The Reefs, Grotto Bay, Coco Reef, InterNations and Café Lido will all give you an unforgettable Thanksgiving experience like never before. When it's your turn to say what you are thankful for, you can turn to your delicious cocktail and beachside sunset view and think, Thanksgiving in Bermuda!