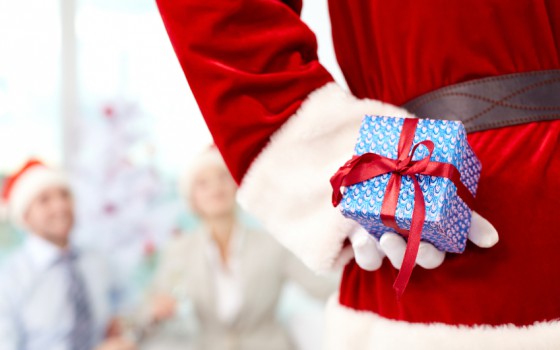 "While the stockings are hung by the chimney with care…" you're probably wondering exactly what to put in them. Bermuda has plenty of trendy but original gifts that are perfect for that special Secret Santa exchange, decorated stocking, or unexpected houseguest.
Take a Look:

Amber's Cakes
Slip a little bit of Bermuda tradition mixed with mouth-watering heaven in the stocking of that special someone and watch the holiday joy light up in their face. Call 332-5660 before December 17th to place your Christmas order.
---

Bermuda Artisan Sea Salt
There's been a big swap among health nuts from regular table salt to sea salt loaded with minerals from the ocean, why not slip some of Bermuda's natural goodness under the tree and let them know it's great for skin treatments and good eats. They'll thank you for it.
---

Chiko's Smokey Rub
Give a stocking-sized bottle packed with major power and flavour! Heck, get two! They can use this delicious Bermuda seasoning on anything from fish, chicken, ribs and vegetables. They'll be thankful all throughout the year!
---

Island Puzzles
Who doesn't love a jigsaw puzzle—especially when it's custom made to suit that one special person? Island puzzles offers the ability for you to choose the pictures and even gives you the option to make a beautiful collage or mosaic—A truly original and thoughtful gift.
---

Treats of Bermuda or Jack 'n' Jill's
Bring them back in time by leaving a bag of their favourite sweets from a traditional Bermuda candy store on their desk. No one can resist a sweet gesture and of course, a tasty treat!
---

Bermuda Candle Company
Bermuda Candle Company has created a mini line of Bermuda scents specifically made to fit in your stocking. Get any of their 12 original scents, or grab their holiday recipes—they will be burning these all season long.
---

Dinner for 1 at Tempest Bistro
Want to be the best Secret Santa ever? Why not treat them to dinner at one of Bermuda's newest and best-rated restaurants, Tempest Bistro, in St. Georges. They'll experience a delicious meal, great service and wonderful ambiance. Get ready for a great review—not to mention a huge "Thank you!"
---

Orchid Spa Mini Manicure
Show that you care with a 30-minute mini dry manicure. They'll get their hands disinfected, nails trimmed and shaped, cuticles tidied and nails polished with 95% organic cuticle oil. Man or woman, this will be a mini vacation that can be enjoyed by everyone.
---
Whether you've picked names at work or are thinking about those family stockings hung up by the chimney, there are fantastic and affordable ideas right here in Bermuda that will leave a big thankful smile on their face and you as the legendary Secret Santa!