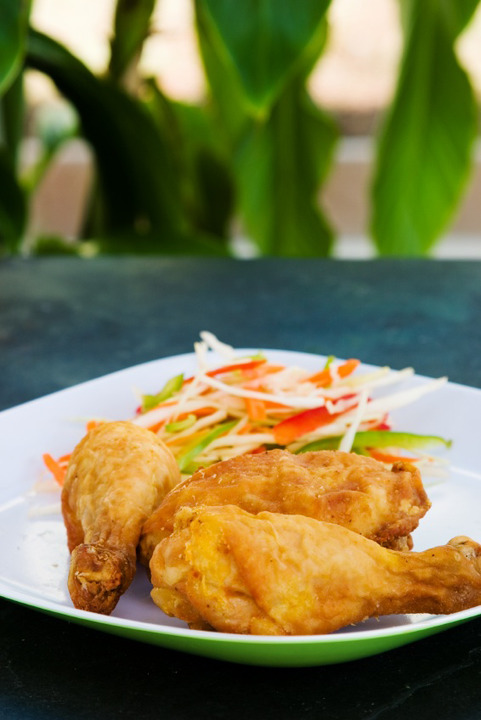 Wild Wing Wednesday is the brainchild of Dakia O'Brien, known in Bermuda for her popular Dae N Night Catering business. An expansion of this venture, this new eatery is located on Parsons Road in Pembroke. Currently specializing in takeout with an island flair, Dakia opened the doors of Wild Wing Wednesday in November 2014.

Since the grand opening, Wild Wing Wednesday's menu has expanded! They're currently offering a summer menu featuring delicious dishes you'll have to visit to taste as well as the classics, including Wild Wednesday fries, which feature a special seasoning and sauce, garlic parmesan fries, salads and more. They're known for their chicken wings; when asked about their secret, Dakia said she "wouldn't give it away!" Suffice to say, they're delicious and all of the 18 sauces and dry rubs, from Jerk BBQ to Lemon Pepper, Hot BBQ, Sweet Buffalo, Caribbean Breeze, Mango Tango and much, much more, are homemade with time and love.
Dakia graduated from Johnson and Wales Culinary Arts in 2010 and ultimately felt somewhat stifled in her work at a number of large restaurants. Her creativity came into play with the development of her business and she would like to help other island youth realize their potential. Today, Wild Wing Wednesday is home to an all-female staff, all of whom are under 30 years of age. A great example of young Bermudians stepping up to the plate, the atmosphere is decidedly homey and each employee contributes their thoughts, ideas and creativity.
Having been open for just over 6 months, Dakia's end goal has remained the same: within a couple of years, she would like to expand into a sit-down, eat-in restaurant. Currently reaching a larger audience in Bermuda than ever before, you can certainly expect Wild Wing Wednesday to continue to flourish and we look forward to following Dakia's progress.
Have you visited the new Wild Wing Wednesday takeout spot? What did you think? Let us know in the comments!