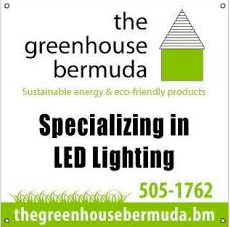 The time to protect our island's environment is now and The Greenhouse Bermuda is here to help you do your part! Specializing in sustainable solutions for energy generation and energy cost, the company was founded by Bermudian Michael Burke, previous owner-operator of Blue Water Divers, who has had a lifelong passion for the industry.
Based on the belief that the right technology is critical to achieving sustainability, The Greenhouse is proud to offer a concept line of transportation vehicles suited to our unique environment. The line-up includes scooters, urban mover battery assisted bicycles, e-Moto assisted bicycles and 4-wheel vehicles that could be used on Bermud's roads. A wide range of makes and models are depicted, from the E- Max 90 scooter to the UM24 Urban Terrain Folding Bike,Vantage private and commercial vans, UM44 Urban Sprite Hybrid and more. A great alternative to gasoline-powered vehicles. their prices can't be beat.
The Greenhouse also offers super efficient LED lighting, which is both highly effective and available at low cost. Their product line includes traditionally shaped Shine 360 bulbs, MAX LED panel lighting, outdoor lighting and they can procure any LED lighting from small low voltage bulbs to sports field flood lights. Ideal for both residential and commercial, LED lights offer a long bulb life, many colour and angle options, low wattage and more. FREE energy audits are offered, please contact them for an appointment.
The company's sustainable solutions include a wide range of additional energy savers. These include solar power options, OWL electricity monitors, Energy audits, Smart Strips, LED lighting and Kill-a-Watt electricity measuring devices. Home to eco-friendly gifts, fun items and food and drink as well, The Greenhouse also provides energy audits for homes and small businesses, allowing you to save on your energy bill (guaranteed)!
What are your thoughts on Bermuda's eco-friendly industry and sustainable solutions? We'd love to hear all about it on Facebook or Twitter. To learn more about The Greenhouse, browse their website or Facebook Page or contact them today.