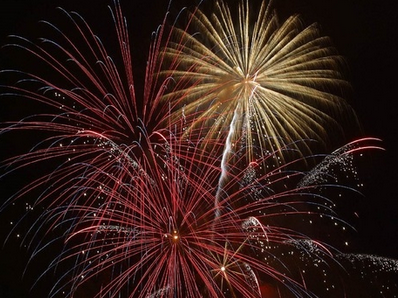 The fourth of July is almost here, Bermuda! Whether you're native to Bermy, an American expat, a visitor or someone in between, this holiday is a ton of fun to celebrate. If you're looking to experience Independence Day the Island way, bring your friends and family out to one of these exciting events.
Royal Naval Dockyard

Image via Flickr, Jon Dawson, CC License
Every year, the Royal Naval Dockyard hosts an exciting party and fireworks display that is not for the faint of heart. Fun fact? During the war of 1812, Francis Scott Key penned The Star-Spangled Banner while captive aboard a ship sailing from Dockyard. One of Bermuda's most popular fourth of July celebrations, it's not to be missed. Dockyard is easily reached via ferry and is also home to restaurants, miniature golf, a beautiful beach, the Maritime Museum and more – it's a great place for families.
Elbow Beach

Image via Flickr, Ben Zibble, CC License
For over 25 years, Elbow Beach has been hosting evening fireworks guaranteed to blow your mind. This year, the festivities will begin at 930pm. To make a day out of it, why not spend the afternoon sunbathing, followed by enjoying drinks and a meal at Mickey's, Seabreeze Lounge and Terrace or Cafe Lido?
Summer Fridays

Image via Flickr, slgckgc, CC License
Plan a weekend getaway! If you haven't yet made the move here, Bermuda is a mere 2-hour flight from many east coast airports in the United States. Bermuda's known for their Summer Fridays, which include bonfires at Tobacco Bay, Big Chill at Elbow Beach, sunset cruises, Marina Nights at the Hamilton Princess and more. An island trip is the perfect way to spend Independence Day weekend.
Are you celebrating the fourth of July in Bermuda? We'd love to hear all about your plans! Let us know in the comments or visit us on Facebook.