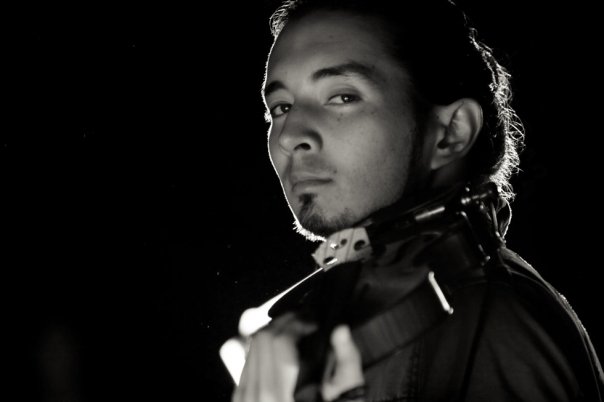 Ask any Bermudian and they'll tell you that this island is overflowing with home grown musical talent. Whatever the genre, local artists consistently produce music at the highest standards with their own Bermudian flavour. Taylor Rankin is no exception. The Japanese-Bermudian-Canadian violinist's genre-bending music, played on his violin 'Leroy' with only his voice and drummer Dwight Hart for accompaniment, has been making a name for himself in the local and international music scene. Wyclef Jean, Mary J. Blige and Erikah Badu feature on the high pedigree list of people Rankin has worked with, while June in Bermuda saw 'Leroyfest' – a three night collaboration with 12 surprise local guest artists.
Rankin's artistic range is constantly displayed in his music. His manipulation of his instrument challenges perceptions on the violin's range of sound, where the violin isn't just for classical music anymore – the violin can be percussion, groove, beat, a voice. Experiencing reggae with the introduction of a jazzy, funk-inspired violin line is an intriguing new spice in the mix for the listener.
Speaking of the listener, you have to listen actively to Rankin's music. Not because it's intrusive – the chilled out, cool-kids coffee shop vibes are the perfect soundtrack to a relaxed island afternoon. The skill Rankin demonstrates both in his voice and on his violin are something to behold in themselves. Watching him live only adds to the experience. Rankin moves and sways with every note played, physically illustrating the song, the violin an extension of his own body.
Leroyfest in June was a celebration of Rankin's return to the island after five years of travelling, with music reflecting the group's experiences along the way. The event saw Rankin play for three nights in three different locations on the island: The Bermuda Society of Arts, Chewstick Lounge and a two show mini-festival at the Aquarium. Each night featured different local guest artists, from the soulful sounds of songstress Joy T. Barnum, to the lyrical hip-hop vibes of rapper K.A.S.E and deep dancehall beats of bassist Derek G. Simmons. These summaries themselves are an oversimplification – heavily improvised, it was a pan-genre experience breaking musical barriers in ways Bermuda has never seen before.
For videos, tour dates and contact information check out Taylor's website at www.taylorrankin.com or his page at www.facebook.com/TheTaylorRankin.

Written by Emily Ross