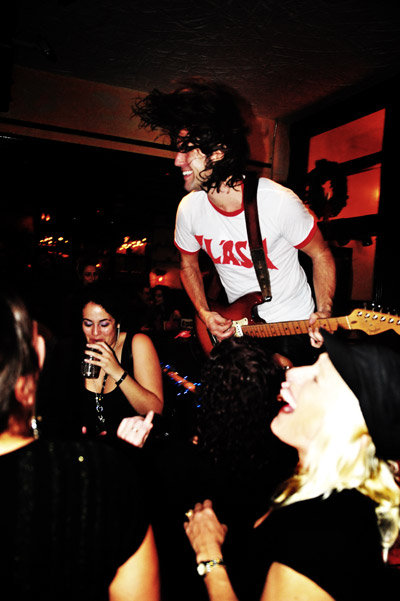 Rock 'n' roll called, and Will Black answered - taking his place in the classic rock void plaguing Bermuda's live music scene. The Canadian singer-songwriter arrived on the island a decade ago as a nightly live performer at the Hog Penny Pub in Hamilton, where he returns this year for his 10th season. 'Why did you choose rock?' I asked him. He replied, laughing: 'I think it's more a case of why did rock choose me…'
The guy personifies rock and roll, describing himself as 'Bon Jovi vs. Aerosmith with a shot of Springsteen.' With long black hair and leather pants, it's hard to argue with that description. Make no mistake, however, there's nothing dated about Will Black. He may have a huge repertoire of classic rock covers, but his distinct voice and style make them his own. This guy isn't just your typical cover act – you can't help but notice the sheer musicianship that goes into everything he plays. He also has two album's worth of original songs, and is working towards a third.
His artistry should be no surprise, considering his upbringing. 'My dad was really into classic rock. We'd listen to Springsteen, the Eagles, the Rolling Stones in the car all the time. My mom was the musician – she was a choir singer, played piano and guitar. Where my mom inspired me to be a musician, my dad influenced the style of music I played.' Next came school choirs, jazz bands and garage rock groups. After graduation, Black travelled around Canada busking and gigging. In 2001, he was a regular performer on Carnival and Celebrity Cruise Lines, until 2005 when he secured his long term residency at the Hog Penny.
He's at ease in front of the flock of patrons in the pub, laughing and joking with the crowd. With an over 600 song set list, Black effortlessly shifts from head-shaking 80s anthems getting the Friday night crowd dancing, to creative rock-infused covers for casual weeknight entertainment. The historic Hog Penny pub is the ideal setting, too. The unpretentious and relaxed atmosphere in the old Burnaby Street watering hole is the perfect backdrop to Black's set. For Black, playing at Hog Penny is more than just sharing rock music – it's about creating an atmosphere, about playing music that people not only enjoy but can relate to. Although the timbre of his voice is quintessentially rock and roll, he's not confined to the genre, playing popular music on his acoustic guitar with just that slightest cheeky nod towards his rock roots.
When Black first started at Hog Penny, there were no requests. 'It was a sit down, shut up and rock kind of deal,' he laughs. Since 2011, however, Black has aimed to make his set at Hog Penny as audience participatory as he can, both through requests and in inviting other musicians up to play with him. 'It's about fostering an environment where everybody's welcome to sing along, where other musicians can come up and play with me', says Black. Wednesday night is open mic, where a anyone is welcome to hop up onstage and jam with Will. Some of these guest musicians have become regulars – such as Chris Finsness on guitar and Oscar Deuss on saxophone every Friday night. This style of performance has garnered Black a huge loyal following flocking to the Hog Penny each week, just for him. He's not just background music at the bar. He's an emcee, a part of the crowd, bringing people together. Black is a part of the community here in Bermuda, recording the song 'Hell Over Heaven' with local performers as a tribute to the island. The song is on the album 'Dangerously Close' which can be purchased from www.willblack.com.
Currently, Black is working towards his third album, which will feature 5-10 original songs and be crowdfunded via Pledgemusic. The campaign launches August 18th at 12pm Bermuda time and will last for 60 days – to support go to www.willblack.com/newalbum3! You can catch Will Black April through December, Wednesday to Saturday at Hog Penny from 10pm, no cover.

Written by Emily Ross