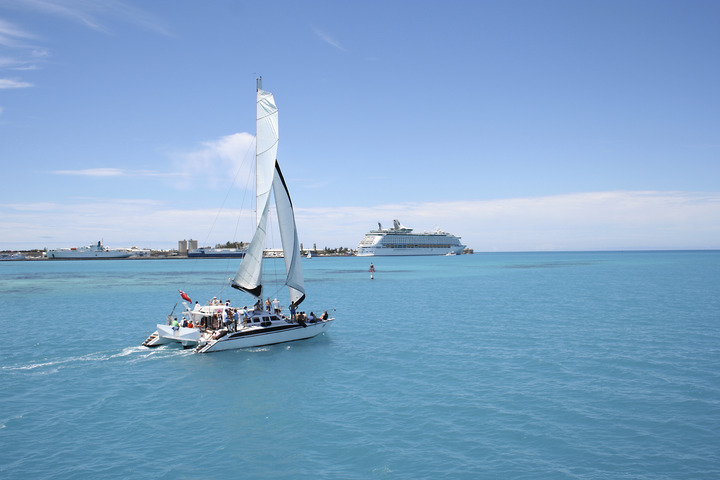 The World Series of Sailing
The Louis Vuitton America's Cup World Series event in Bermuda is an international racing circuit that will see six professional sailing teams compete on AC45F watercrafts, which are foiling, wing-sailed catamarans 45 feet in length.
The World Series, which is held in several sailing destinations around the world in 2015 and 2016, is the first stage of the 35th America's Cup competition that will take place in Bermuda in 2017. Bermuda is honoured to host the third event in the Series. Teams will be racing to earn points that will carry forward. Overall ranking in the Louis Vuitton America's Cup World Series determines each team's starting points in the America's Cup Qualifiers in 2017.
Catch All The Action On Front Street
Many of the on-land America's Cup events will take place along Front Street in Hamilton. Races will take place in Bermuda's aquatic amphitheatre - the Great Sound – and/or in Hamilton Harbour depending on wind conditions.
Our Bermuda Festival
In celebration, Hamilton will be hosting the Our Bermuda Festival and Event Village throughout the weekend. Family-friendly, there will be a wide range of programming during the day followed by evening activities geared towards adults. The Fan Zone will feature screens for watching the races and there will also be great food, exhibitors, live music, kids' activities and entertainers, fireworks, Dock Out Shows and more. It will take place on Front Street between Parliament Street and Par La Ville Road.
Friday Events
Event Village will be open from 5pm on Friday with can't-miss Happy Hour Entertainment in the Fan Zone. Beginning at 8pm, islanders and tourists are invited to watch the Opening Ceremony and stick around afterwards for even more fun.
Saturday Events
Race Day 1 begins with the Festival and Village opening at 1130am. A wide range of events and programming will be taking place during the day, including the Red Bull Skydive Show, which promises to be spectacular. Race 1 will take place at 210pm and Race 2 will begin shortly after at 255pm. The highlight of the evening's festivities will be the America's Cup Jam concert featuring performances by international recording artists Maxi Priest and Shaggy. Tickets are available at www.ptix.com.
Sunday Events
The Festival and Village will re-open once again at 1130am for Race Day 2. Stop by for many kid-friendly activities as well as events like the Sailor Dock Out show, where attendees can meet the team members in person. Race 3 and Race 4 begin at 210pm and 255pm and will be followed by an Awards Ceremony from 5 to 530pm. To make your experience even more special, click here to learn more about purchasing tickets to view the races from the America's Cup Official Spectator Boats.
Are you as excited as the Bermuda Yellow Pages team for this fantastic event? We'd love to hear your thoughts on Facebook, Twitter or in the comments!