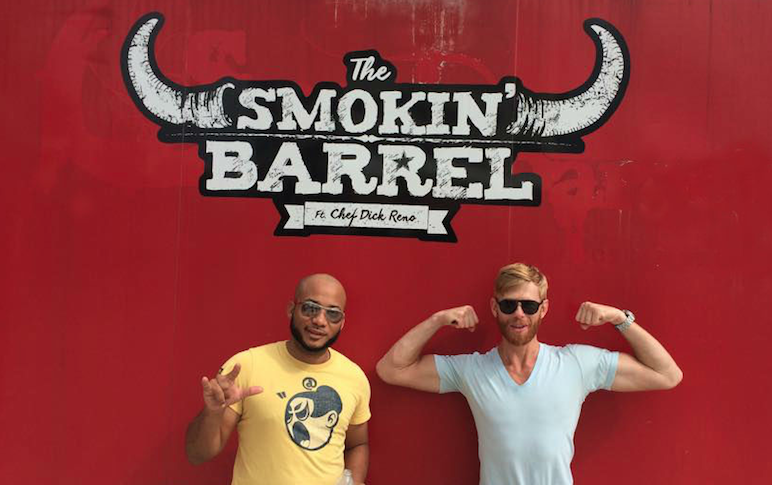 Smokin' Barrel Owner Keerome Maybury (left) and Chef Dick Reno (right)

Despite a breadth of noteworthy dining options in Hamilton, locals and visitors alike are always on the lookout for uncommon venues that break the mold and add another layer of creativity to Bermuda's diverse food culture.

One such place is the Smokin' Barrel, a newly relaunched food truck located on the Front Street docks right next to the Hamilton Ferry Terminal. Co-owned by Bermudian brothers Keerome and Keemar Maybury, the business has existed in its current space for several years, but was relaunched in October 2015 with a new Chef, new menu, new branding and a style of cuisine that's never been widely popularized in Bermuda until now: authentic Texas BBQ, prepared by an actual Texan.

The culinary cowboy in question is Dick Reno, an experienced Chef with a big personality who's called Bermuda home since 2011. Formerly of the Mid Ocean Club, he now puts his skills to work preparing beef brisket, pulled pork, truffle mac 'n' cheese and much more for hungry passersby on Front Street, and has been afforded full license to personalize his own menu of smoky Southern delicacies.

All meat served at the Smokin' Barrel endures a smoking process that varies in length depending on type, with the beef brisket alone requiring 10-12 hours in the smoker to achieve optimal tenderness and flavour. Other carnivorous staple offerings include pork, chicken, and turkey, which can be piled onto a bun, eaten on their own or mixed into a refreshingly healthy quinoa kale salad with pico de gallo and a choice of homemade dressing (smoked tomato coulis, avocado jalapeno lime buttermilk ranch or honey mustard).

To differentiate themselves from their grab-n-go competition, Smokin' Barrel is one of the only venues in Hamilton that offers city-wide delivery on a minimum order of two platters, and even offers a discount incentive for orders of five platters or more. They also cater for private functions, and can create custom menus for such events to give them a special touch.

If you're in the mood for something different, join Bermuda's BBQ revolution and head on down to the big red truck on Front Street!