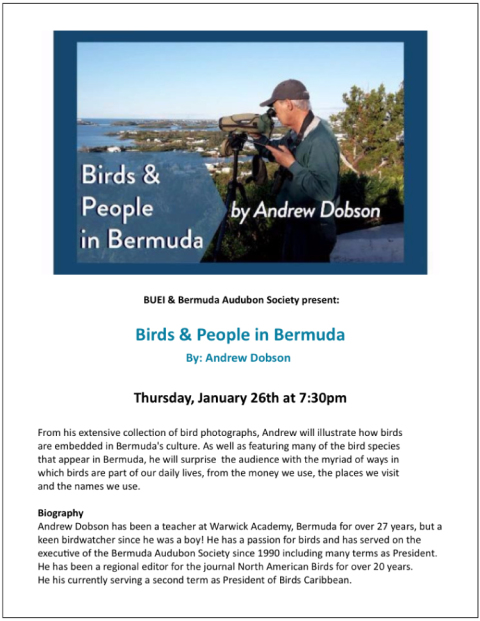 BUEI And Bermuda Audubon Society present:
Birds And People in Bermuda by Andrew Dobson
Thursday, January 26th at 7:30pm

From his extensive collection of bird photographs, Andrew will illustrate how birds are embedded in Bermuda's culture. As well as featuring many of the bird species that appear in Bermuda, he will surprise the audience with the myriad of ways in which birds are part of our daily lives, from the money we use, the places we visit and the names we use.
Biography
Andrew Dobson has been a teacher at Warwick Academy, Bermuda for over 27 years, but a keen birdwatcher since he was a boy! He has a passion for birds and has served on the executive of the Bermuda Audubon Society since 1990 including many terms as President. He has been a regional editor for the journal North American Birds for over 20 years. He is currently serving a second term as President of Birds Caribbean.


5:00 - 6:30pm: Sushi Happy Hour at Harbourfront (specially priced sushi)
6pm: Harbourfront opens for dinner
7:30pm: Lecture starts, BUEI Auditorium
Members: $20; Non-members: $25; Students: $10.
Tickets available by calling 294-0204 or visiting BUEI's Oceans Gift Shop.
Ticket holders are entitled to 10% off dinner at the Harbourfront (food only) before or after the lecture. Please call 295-4207 for reservations and be sure to mention the lecture. Cannot be combined with any other special offers.
Bermuda Underwater Exploration Institute
Registered Charity #326
40 Crow Lane, Hamilton
HM19, Bermuda
Phone: 441-292-7219
www.buei.org