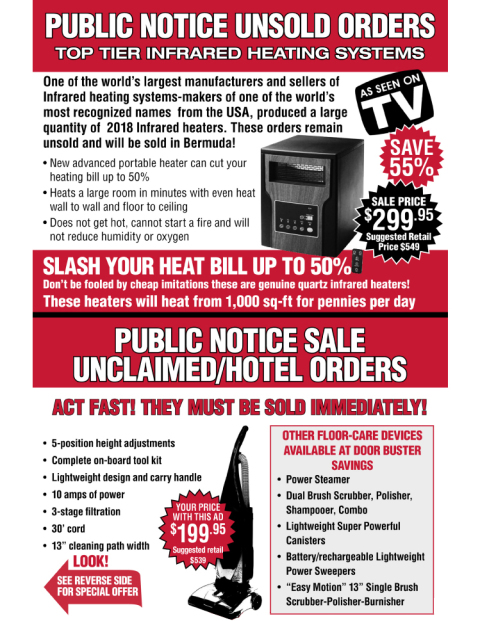 Public Notice Unsold Orders. Top Tier Infrared Heating Systems. As seen on TV. Save 55%. Sale price $299.95. Suggested retail price $549. Slash your heat bill up to 50%. Energy efficient up to 50% more efficient than baseboard or other electric heaters. Act Fast! Limited amount available. Several models available. Save up to $250.
Public Notice Sale. Unclaimed/Hotel Orders. All-in-one Commercial/Hotel/Household Vacuums. 63% Off. Save $340. Due to economic conditions with a number of distributors in the US, these orders were not received. Act fast! They must be sold immediately! $199.95 (Suggested retail $539).
Friday & Saturday, December 1st & 2nd. 10am - 6pm.
Sunday, December 3rd. 12 noon - 5pm.
Bermuda Janitorial Supply
23 Serpentine Road, Hamilton
(Just past BELCO heading west on the right hand side)
Call 295-9795