This week we caught up with Bermuda's own Rebecca Little, owner of Rebecca Little Jewellery. From a childhood of collecting nature's treasures to training in the UK, she tells the journey of coming into her own and what's inspired her collections over the years.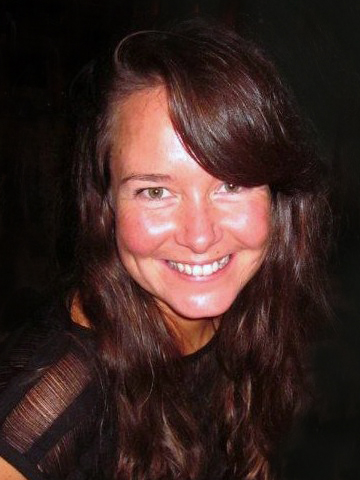 BYP: How far back does the desire to design and make jewellery go?
RL: Growing up in Bermuda, much of my time was spent outside exploring and collecting nature's treasures; I was so intrigued by their structure and patterns. I would collect, display and make things with the objects that I found.

"My father -- who is always building something -- encouraged and taught me that anything is possible with hard work and persistence. My mother taught me to sew; she says I was constantly drawing from a young age."

Like many girls, I've always loved dressing up and wearing jewellery. A strong interest in fashion design led me to investigate fabrics; I was fascinated by their makeup.

My strength for crafting three-dimensional objects was uncovered in a 1-year foundation course in the UK that was designed to explore all the different forms of art; so I focused in on jewellery making.


BYP: Do you have a team or work alone?
RL: I do all the designing and crafting myself but I meet with clients to work together on bespoke items, taking them from sketch through to the finished piece.
BYP: I noticed your collections are distinctly different to one another, is there any linking thread?
RL: I try to link them. I do think it's important to have a unique identity be it the technique, style, concept or material. On the other hand, I try not to limit my designs to any one thing.

"That said, I would say that the main thread running through all my work is textile -- I have been exploring different ways to emulate the soft flow of fabric within my work, so movement is the main feature that I use to connect components in the Twill, Ribbon and Scalloped collections."

---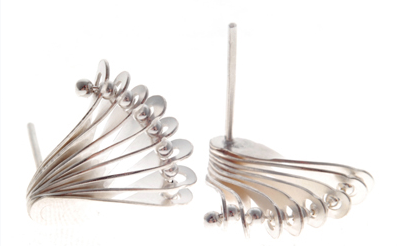 In the Embroidery and Geometric collections I explored the patterns in textiles more closely with the twisted strips of silver. I also love lines and repetition and found Bermuda's architecture -- the stepped roofs and stark contours -- to be inspiring that way, thus the Geometric, Rooftop and Bermuda Triangle collections were born. My work is quite experimental so when I sit down to design I may begin with one idea but once I start putting it into metal the result could be something completely different.

BYP: What do you see for Rebecca Little Jewellery in 5 years?
RL: I would love to open a boutique with an adjacent workshop one day. Wherever I am, I would like to keep my freedom to design and create new things.
BYP: In your opinion, how does design impact the world?
RL: In general, I think good design creates connection, connection between designers and users, users and the pieces, and the pieces with the world. I feel good design improves lives through ingenuity, technique and aesthetic. I aim to create timeless designs. Designing is freedom for me.
BYP: What could we find you doing on your days off?
RL: My rare days off are spent mainly out on the water, DIYing around the house, gardening or travelling but I never switch off from work really – I'm always photographing and on the lookout for new inspirations.
BYP: In addition to Harbour Nights, where can I buy Rebecca Little Jewellery?
RL: Well you can browse my full collection and buy online at www.rebeccalittlejewellery.com, and I will hand deliver around Bermuda. There is also a small collection at The Windjammer II Gallery in The Fairmont Hamilton Princess Hotel and David Rose in St. Georges. I encourage people to get in touch with me through my website though, I love having one-on-one meetings to get to know clients and give private tours of my home studio in Flatts (smile).

Rebecca Little will be selling at Harbour Nights every Wednesday from 7pm to 10pm on Front Street until September 3rd.


Photo credits:
1. Rebecca Little
2. Studs (Scalloped Collection) Rebecca Little Jewellery
3. Triangle Ring (Bermuda Triangle Collection), Bermuda Roof and Linear Ring (Geometric Collection)
All images of jewellery and cover photo are courtesy of www.rebeccajewellery.com
Bermuda Roof, Chevrons, Flickr