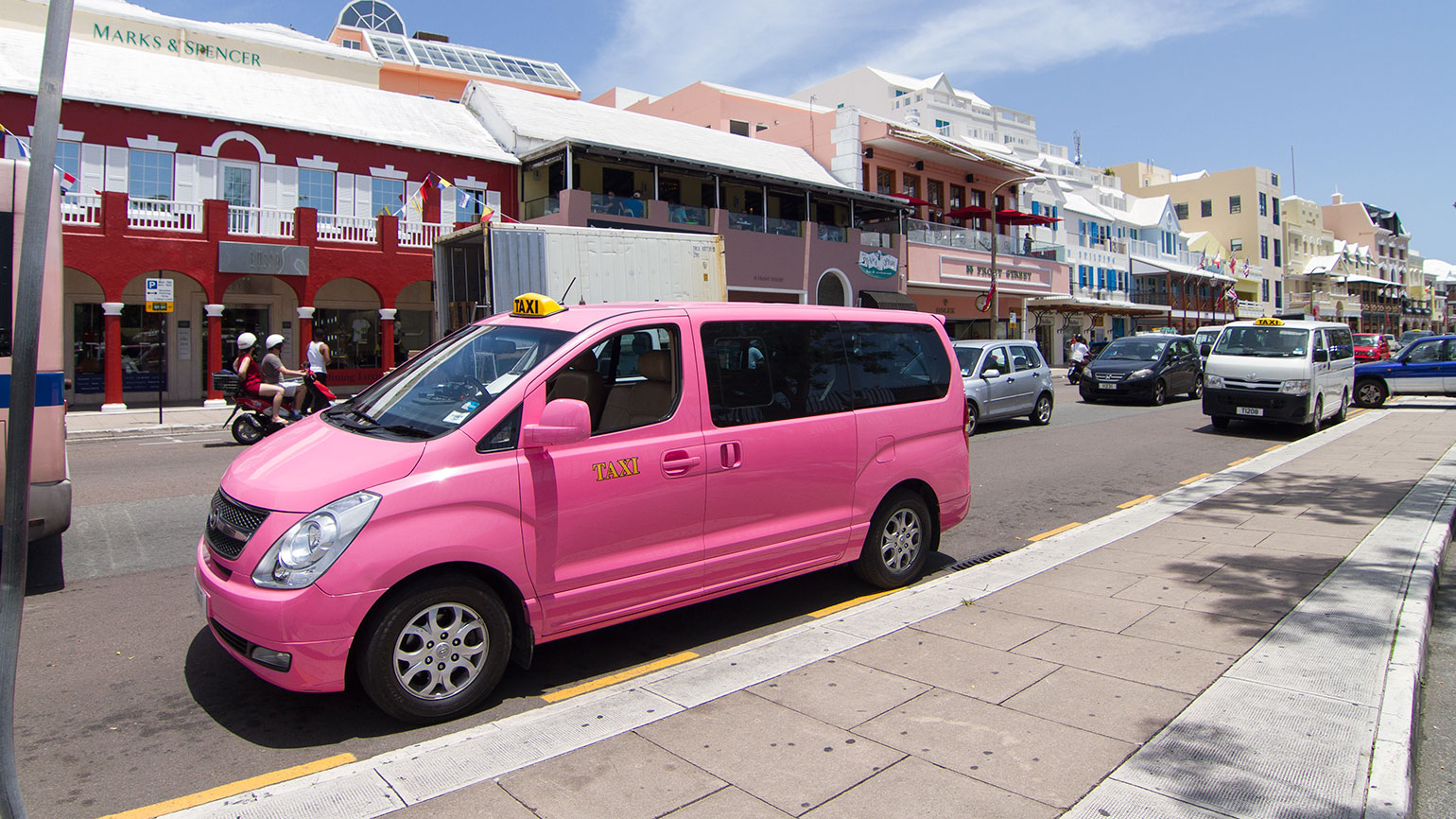 Bermuda offers a variety of personal transportation services, including taxi, minibus and limousine. These are ideal for locals, visitors, seniors and families and play a key role in preventing drink-driving throughout the Island. Please keep in mind that Bermuda does not offer app-based ride sharing services like Uber.
Taxi
---
Bermuda taxis are metered and charge according to government set rates that are based on the time of day, the number of passengers and the distance travelled. Cab drivers are also permitted to charge for luggage.
Fare to Hamilton from the airport runs about $35 for two people.
Bermuda Taxi Rates
| | | |
| --- | --- | --- |
| # Passengers | 1st Mile Rate | additional Miles Rate |
| 1 - 4 Passengers | $7.90 | $2.75 |
| 5 - 7 | $9.95 | $3.50 |
* 6 am until midnight (Midnight until 6 am a 25% surcharge is added to all fares)
** Luggage placed inside the cab with passengers is free; luggage placed in boot or roof charged at $1 per bag.
*** Taxi Tours are charged at $50 an hour for 1-4 passengers and $70 an hour for 5 – 7 passengers
Taxi Companies
There are two taxi dispatch companies in Bermuda and numerous independent taxis. The dispatch companies are the Bermuda Taxi Association and Island Taxi Service.
Taxi Stands

You'll find taxi stands at the airport, St. George's, Hamilton/Front Street, Hamilton/Church Street and Dockyard as well as at the large hotels and resorts.
Taxi Tours
A taxi tour is a great option for small groups of up to 7 in Bermuda. Charged hourly, these tours are often less expensive than alternatives and offer flexibility in terms of timing and what you would like to see. A tour of Bermuda by taxi typically takes approximately 4 hours.
Minibus
---
Bermuda minibuses carry between 8 and 15 passengers and provide a shared service. Service is typically along specified routes or is customized to a private group and often goes where full size buses do not.
Minibus Companies
Many minibus services are run by private companies. The rates, which are somewhat more costly than a full size bus but more economical than a taxi, are regulated by the government. While some companies operate along the aforementioned fixed routes, others offer shuttle service between destinations, tours and services for private groups.
Minibus Rates
Minibuses operate on one way per person rates* that are regulated by the government. Typical minibus costs range from $6 one way to $12 round trip.
| | |
| --- | --- |
| Distance | Rate |
| 1 Parish | $5 |
| 2 Parish | $7 |
| 3 Parish | $9 |
| 4 Parish | $10 |
| 5 Parish | $11 |
| 6 Parish | $12 |
| 7 Parish | $13 |
| 8 Parish | $14 |
| 9 Parish | $15 |
Minibus operators are not permitted to charge in excess of the rates listed above; however it is permissable for charges to fall below above rates.
* Pricing for all special tours must be approved by the Public Service Vehicle Licensing Board.
Parish Minibuses
Privately operated minibus services are available for Bermuda's popular Horseshoe Bay.
St. George's offers several minibus routes throughout the tourism season, from May to October. Minibus shuttles run from St. George's to both Tobacco Bay and Fort St. Catherine, as well as through additional areas of Bermuda. Minibus service is also available from Dockyard to South Shore.
Minibus Tours
A number of companies offer tours of Bermuda, from sight seeing to dining, shopping, beach, eco and more. Varying in time length and capacity, tour costs are per person and are guided by knowledgeable experts. Longer tours include stops for lunch. Private tours are available.
Minibus Hire
To hire a minibus in St. George's or Dockyard, request service at the Visitor Information Centre or cruise ship pier. Riders are permitted to hop on and off. Private companies offer pick-up and drop off services - contact them to find out more.
Limousine
---
A limousine is a type of public service vehicle in Bermuda that is not similar in style or size to the 'stretch' limousines found in other countries. A limo is a large car or former taxi providing a range of transportation services, from corporate to group, wedding, convention, airport, special occasion and more. Service is provided by both private companies and individuals and a license is required. Private company rates are hourly.
Tipping
A 15% tip is expected for taxi, minibus and limousine operators.