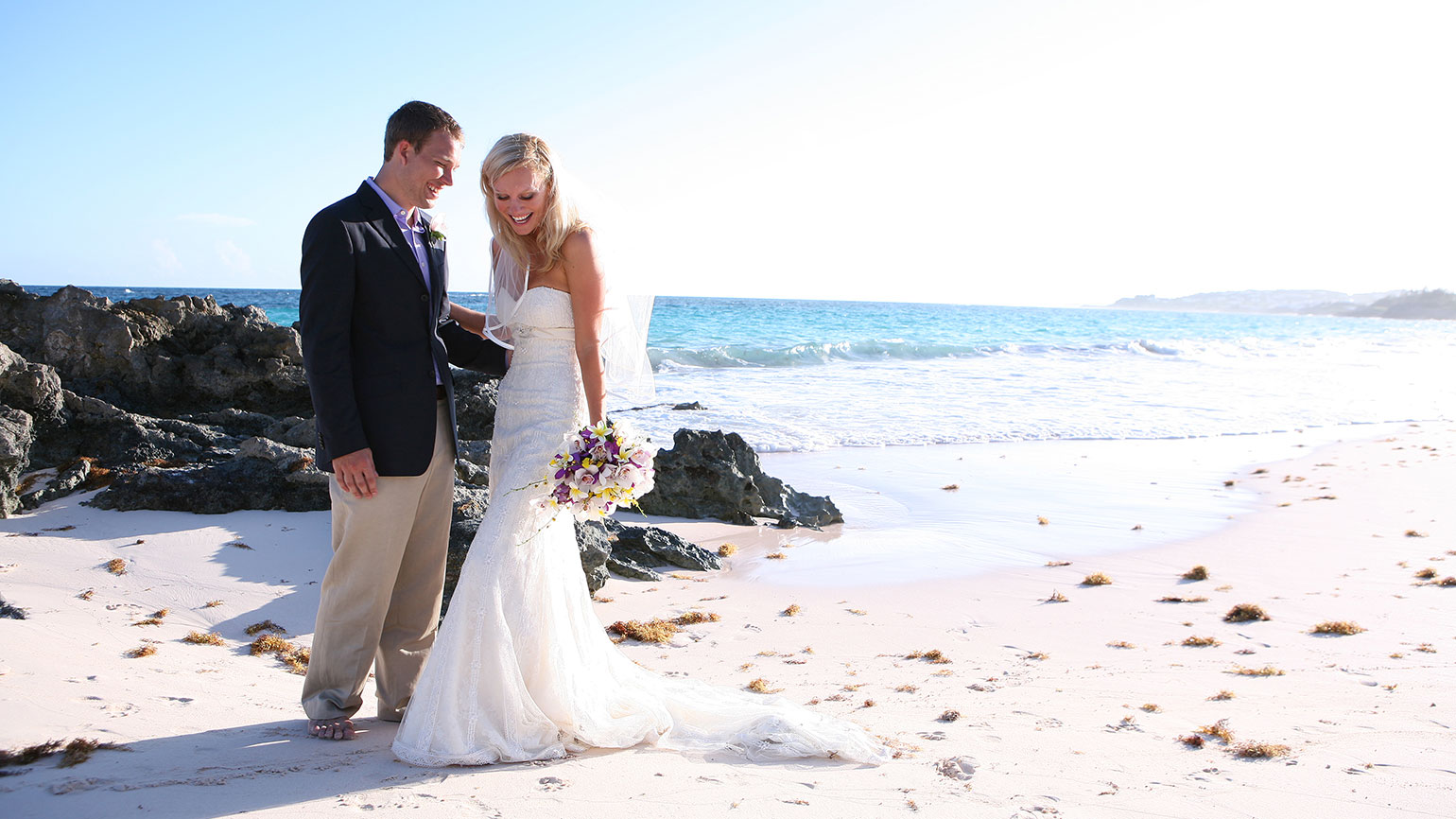 No other place in the world combines beauty, sophistication and accessibility as naturally as Bermuda. With sunset cruises aboard splendid yachts, sunrise strolls along coral pink sand beaches and midnight strolls through moonlit gardens, Bermuda is a tropical delight. All the services of our world-renowned tourism industry await you and the weather is as accommodating as the people.
The island has an educated and affluent population who respect privacy and intimacy. In fact, many of the world's celebrities visit for exactly this reason. Be it a wedding party of two or two hundred, Bermuda will feel like your private island paradise.
It's easy to get married in Bermuda!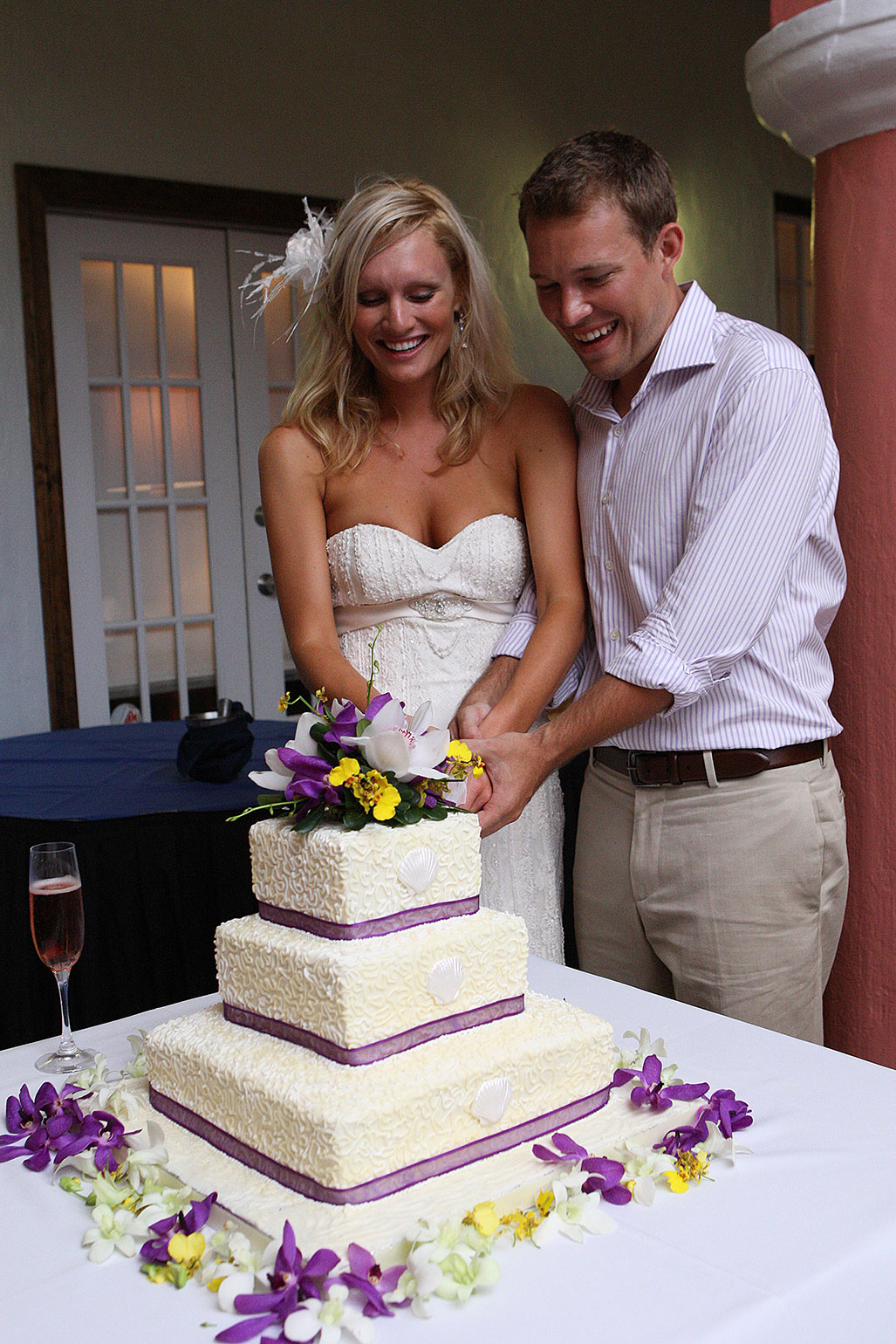 A piece of cake
In Bermuda it's traditional to have two cakes at your wedding: a plain pound cake decorated in gold for the groom, and a silver-covered fruit cake for the bride. A Bermuda cedar sapling tops the bride's cake, symbolizing the hope that the couple's love will grow along with the tree, which is later planted in a secret location. Of course this is but one option – Bermuda bakers can create a wedding cake in any style and flavor you choose.
Moongates
The moongate was introduced to Bermuda from China by a local sea captain. Local legend has it that those who kiss under the moongate's stone arch will be blessed with a long and happy marriage. Ask your wedding planner to include just such a kiss in your wedding day plans.
Love and Marriage, Horse and Carriage
Since it is not possible to hire a car on the island, many visiting couples elect to make like the locals and travel to their marriage ceremony in a horse-drawn carriage. This is a decidedly romantic way to travel, and a stylish way to arrive at the church door!
Legal Requirements
In order to get married in Bermuda, a Notice of Intended Marriage form must be completed in full and sent to your wedding planner or the Registry General together with the correct payment.
Divorcees must provide copies of their final divorce decree or Decree Absolute along with the Notice of Intended Marriage.
Blood tests and health certificates are not required.
About the Notice of Intended Marriage
The Notice of Intended Marriage form may be obtained from the Bermuda Department of Tourism offices in New York and London, or the Registry General in Bermuda. It is also available online at Bermuda Tourism.
Once a couple's completed form has been received by the Registry General, Registry staff ensure that the Notice is published in two Bermuda newspapers.
A period of 15 days must elapse from the date of receipt of the notice by the Registry before the Registrar General may issue the license to marry. Parties to the intended marriage are not required to be resident during this time.
The license to marry must be issued within three months of the receipt of the notice by the Registry General and remains valid for three months from the date of issue.
Administrative Costs
At the time of writing, the marriage license fee is $300. This covers the newspaper publications and license. Marriage certificates are available at an additional cost of $30.00 if ordered at the same time, bringing the total cost to $330.
This should be submitted in the form of a cashier's cheque or bank draft made payable to the Accountant General, Hamilton, Bermuda, along with the Notice of Intended Marriage. Contact kminors@gov.bm for details about credit card payment.
These fees are regulated by the Bermuda Government and are subject to change.
Church Ceremonies
With more churches per square mile than any other country in the world, there are plenty of choices available for those opting to marry in church.
However there are two important things to note:
Divorcees cannot be married in any of the Catholic churches in Bermuda. However, church weddings for divorcees can sometimes be arranged by special request with the minister concerned at other churches such as the Anglican, Methodist, Presbyterian, A.M.E., etc.
It is not possible for non-resident Roman Catholics to be married in certain Catholic Churches in Bermuda except in special circumstances. Refer to the website of the Roman Catholic Church in Bermuda for details. If further information or clarification is needed, call the Roman Catholic Chancery Office on (441) 232-4414.
Bermuda: a multi-faith community
Bermuda has a diverse religious community and it is possible for Muslim, Jewish and Baha'i visitors from overseas to be married here but policies do differ from faith to faith, so do be in touch with your faith representative here on the island.
There are no rabbis resident in Bermuda. However a Bermuda Wedding Consultant can arrange the necessary paperwork for your rabbi to perform your ceremony.

See our Bermuda Weddings Q&A for information about secular weddings and outdoor ceremonies.