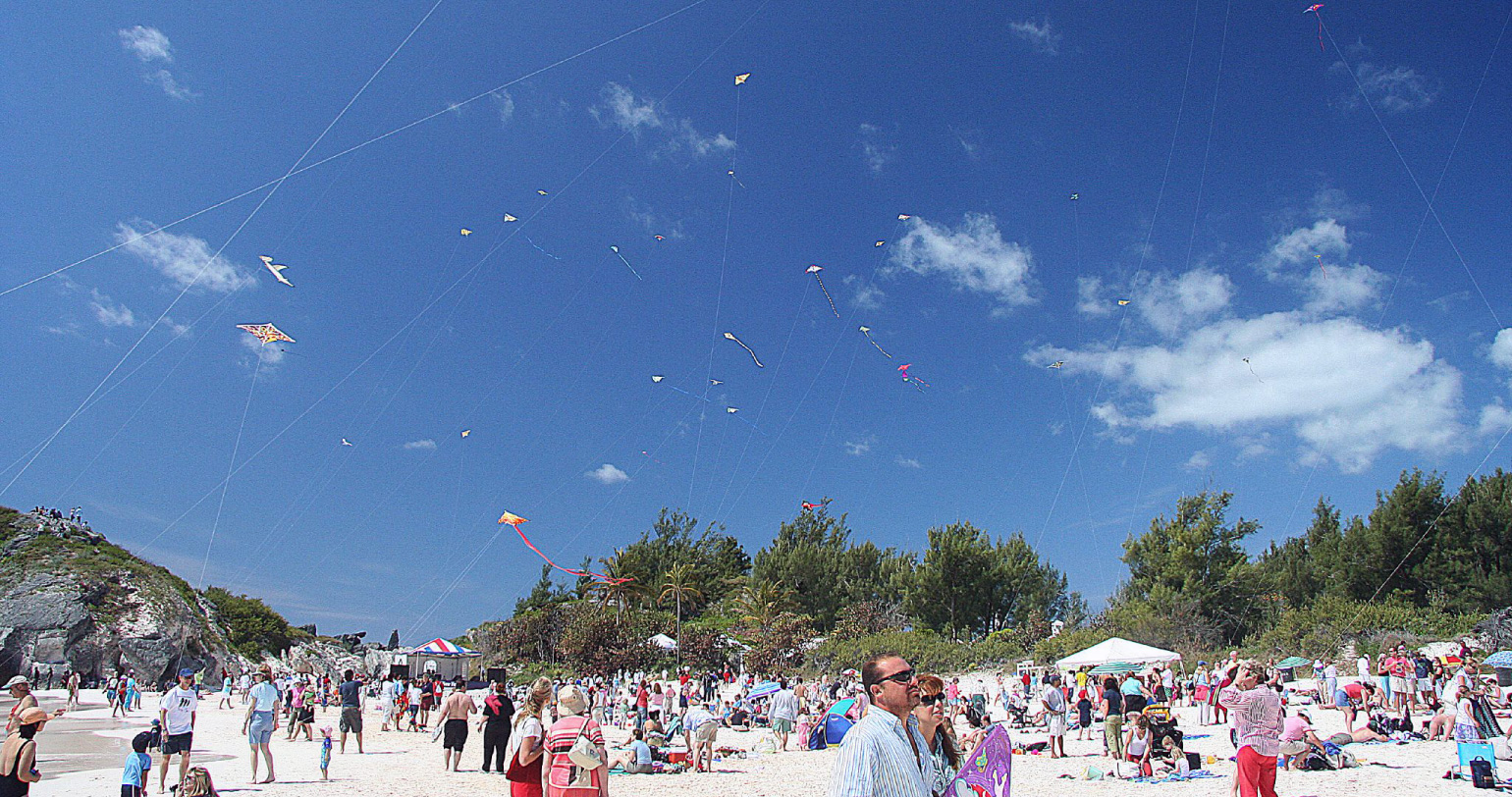 Easter is a very special time of year in Bermuda. It kicks off on Palm Sunday and goes into high gear on Good Friday and Easter Sunday then trails off beautifully over the following weeks with kites still soaring overhead. It is a time of gatherings and seasonal foods with opportunities for locals and visitors to share in the fun.
Palm Sunday Walk
Palm Sunday is a favorite on the Bermuda calendar as scores of people join the National Trust Walk. Each year the Trust chooses a different location for the walk that frequently treats participants to trails and views they hadn't previously experienced. Maps are issued with points of cultural and national interest indicated and refreshment are provided though participants are asked to bring a potable beverage container. In 2016 the Walk took place on March 20th and explored an area of Pembroke starting at The Berkley Institute and was about 5 miles in length. There is no entry fee for the Palm Sunday Walk though donations to the National Trust are welcome and appreciated.
Good Friday: Kites, Codfish and Karts
Good Friday in Bermuda begins and ends with kites. The Bermuda kite is an important part of Bermudian cultural heritage. Not only is the structure and graphic design of a Bermuda kite completely unique, kite flying is central to the Good Friday holiday celebrations on the island. While kites are flown across the island, the place to be in the afternoon is Horseshoe Bay Beach where kites fill the sky, bands play and Gombeys dance. Kite competitions are held with prizes being awarded in a range of categories: smallest kite, largest kite, best kite by a visitor, amongst others. Kite parties are common, with groups of families and friends pausing their kite flying just long enough to eat a fishcake sandwiched in a hot cross bun – an Easter institution in Bermuda of equal if not greater importance to kite-flying! The following Video is a how-to of how to make a Bermuda Kite with Kite Master Eugene O'Connor.
For those who'd like to kick start their holiday weekend with some thrills and spills, the Go Kart races in St. David's are a must. This is strictly a gravity game. The racers, in motorless karts, take off from the St. David's Lighthouse and careen down a series of steep and winding roads on their way to the St. David's Cricket Club. Racing begins at 11:00 am.

Fish Cakes And Hot Cross Buns
A codfish cake on a hot crossed bun is required eating over Bermuda's Easter weekend. The custom of eating codfish in Bermuda has a long history dating back to the 18th century when Bermuda sloops traded with Newfoundland and brought cheap and plentiful salt cod back to Bermuda. It became traditional to eat codfish and potatoes for breakfast on a Sunday before attending church. This is still common today – codfish and potatoes served with a creamy or tomato-based sauce with fresh local bananas and avocado on the side is a popular local breakfast or brunch.
Around Easter time in Bermuda, codfish is typically consumed in the form of a fishcake, accompanied by mayonnaise or hot sauce in a sweet hot cross bun.
While you can purchase premade codfish cakes and hot crossed buns, many locals prefer to make their own. Recipes differ from cook to cook but the fish cakes typically involve dried salt cod that must be soaked in cold water at least overnight. Following is a basic recipe. Feel free to make it your own.
2 lbs. salt cod, drained after soaking in water for 12 hours (two water changes recommended)
3 lbs. potatoes, peeled and cut into similar-sized pieces
1 small onion finely chopped
2 tbsp. fresh thyme, minced, or 1 tsp. dried thyme
¼ C fresh parsley, minced, or 1 tbsp. dried parsley
freshly ground pepper to taste
fresh or dried thyme to taste
2 t curry powder, optional but delicious
leftover water from potatoes or 1 egg – optional
safflower oil for frying

Place potatoes in medium saucepan, cover with water and bring to boil. Reduce heat to simmer and cook until tender. Using a slotted spoon, transfer cooked potatoes to a large mixing bowl. Add cod to boiling potato water, adding more water if necessary to cover the fish. Cover and let poach for several minutes until thoroughly cooked.
Mash the potatoes and add cooked cod and mix well, adding herbs and seasoning to taste. Taste before adding salt—which is not normally needed. If mixture is dry, add a little potato-fish cooking water until it can be easily formed into cakes. Alternatively, use a beaten egg to bind the mixture.
To form cakes, work about 1/2 cup of potato-fish mixture into a patty about 1-inch thick. Place on flat surface lined with wax paper. Cakes can be made a day ahead if stored in airtight container and refrigerated. If stacking, be sure to place wax paper between layers.
To cook, put about 1/2 inch oil in sauté pan over medium high heat. Do not crowd pan. Cook about 4 minutes per side until golden. Remove and serve in split hot cross bun with condiment of your choice. Popular options in Bermuda are mayo and hot sauce. Sliced banana and avocado are also tasty accompaniments.

Bermuda Easter Lilies and Passion Flowers
Two local flowers are particularly associated with Easter in Bermuda. The Bermuda Easter lily (lilium longiflorum var. eximium) is native to the Ryukyu islands of Japan. It was introduced to Bermuda by a passing ship in the mid 19th Century, and for some time Bermuda commercially produced and exported these beautiful and fragrant blooms. This livelihood was curtailed by the combined effect of a virus and a nematode infestation in 1898. A different variety of Easter lily was reintroduced to Bermuda in the early 1920s. They bloom slightly earlier than other varieties of Easter lily, but are still very much a feature of Easter in Bermuda. A traditional gift of Bermuda Easter lilies is made to her Majesty the Queen of England every year at Easter.
The passion flower, a climbing vine of which there is a special Bermuda variety, has many legends associated with it. The Spanish missionaries were some of the first to assign meaning to the flower when they came across it on voyages to South America. They stated that the ten petals represented the ten faithful disciples who neither betrayed nor denied Jesus (i.e. excluding Peter and Judas).
Religious Services
Many churches in Bermuda host a full slate of services over Easter week beginning on Palm Sunday. Schedules can be obtained by contacting the Church Of Your Choice, visiting their website and/or checking the Lifestyle section of the Royal Gazette. Popular with locals and visitors alike are the Sunrise Services on Easter Sunday that take place at waterside destinations across the island.