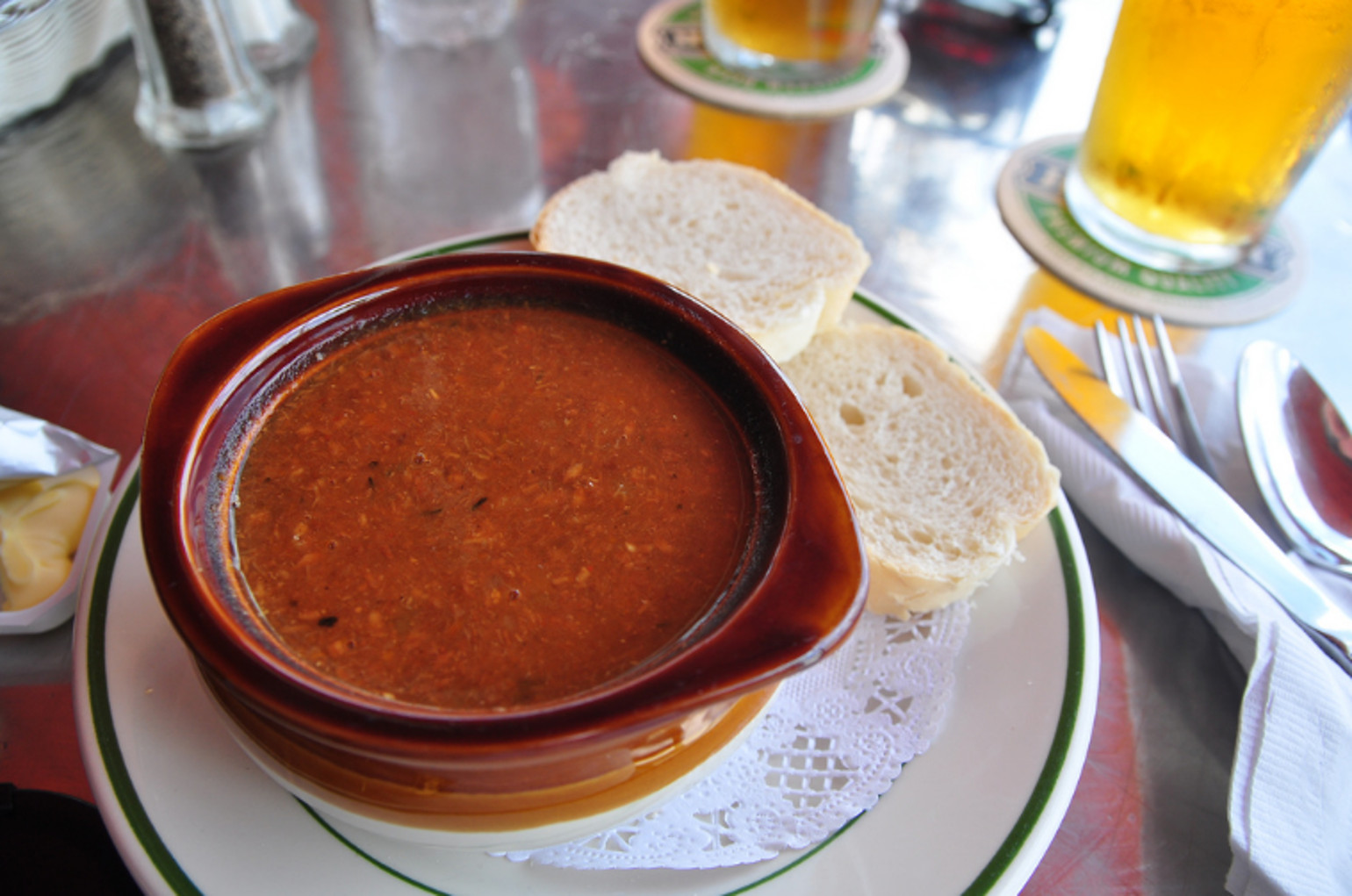 image via Flickr, CC License
We're launching a brand new blog series and, if you're wondering what you must eat in Bermuda...a great place to start would be a steaming bowl of fish chowder. Typically a starter but sometimes an entree, it's tomato-based, spicy and made with a fresh local catch such as wahoo. A true Bermuda culinary icon, it's served with Outerbridge's Sherry Pepper Sauce and Goslings Black Seal Rum alongside for drizzling on top. Salivating yet? Read on to find out where to find a few of the best versions in Bermuda and also how to make your own.
Swizzle Inn
Perhaps Bermuda's most iconic pub, the Swizzle Inn offers a fish chowder that you won't soon forget. Served up hot and in abundance, it's a great choice for lunch or as a starter at only $8. Rich and hearty, tourists are encouraged to enjoy it alongside a glass or two (or pitcher!) of Rum Swizzle, the potent cocktail the bar is named after.
Hog Penny
Last we were there, Hog Penny's fish chowder was one of the best dishes on the menu! Made in very similar style and fashion to the dish at Swizzle Inn, key players here are fresh vegetables and layers of delicious spices. The broth is made from shellfish stock – an anomaly in the fish chowder world, as it's typically made from clams. Warm, crunchy bread that's just the right texture seals the deal. The cost is $8.99.
Beau Rivage
Located within the Newstead Belmont Hills Golf Resort and Spa, Beau Rivage is an authentic French restaurant known for infusing the classics with Bermudian flavour. Listed for $12, this chowder is served in large portions and makes a great entree paired with a second appetizer. Thick and aromatic, you certainly need to try it for yourself.
Make It At Home
You can't go wrong with this authentic recipe from Outerbridge's!
Ingredients
1 large white meat fish (approx. 10lbs; grouper, snapper, cod or sea bass work well)
2 cups chopped onions
1 cup chopped celery
1 head finely chopped garlic
1 cup diced carrots (optional)
2 cups diced potatoes (optional)
1 cup combined diced green peppers: red/orange/yellow
1/3 cup butter or extra virgin olive oil
2 – 3 tbsp fresh thyme, herbs de Provence or mixed herbs of your choice
1 can stewed tomatoes
1 can beef broth (or vegetable broth)
2 cups white wine
½ cup sherry
3 ounces Gosling's Black Seal Rum
1 tbsp or two of beef or vegetable glace (to darken broth)
Several shakes of Worcestershire sauce
2 to 3 bay leaves
Salt & pepper to taste
Several shakes of Outerbridge's Original Sherry Pepper Sauce – to taste
Method
Place the fish heads and racks in a large pot with 2 to 3 quarts of water and bring to a boil.
Lower the heat and simmer for about an hour (skimming occasionally) until the fish is falling off the bones.
Remove the racks, strain the stock and allow the fish to cool.
In a separate pan, sauté the onions, celery, peppers and garlic in the olive oil or butter until translucent; add the spices, stewed tomatoes, beef or vegetable broth, glace, sherry and white wine, bay leaves, Worcestershire sauce, salt and pepper and blend into the stock.
Simmer for another 30 minutes. Remove all bones from the cooled fish and stir into the stock; include the fillets (which should be finely diced).
Add the rum and sherry peppers and simmer for about an hour. (Add the optional potatoes and carrots at this stage).
When serving, add a shot of black rum and a dash of Outerbridge's Original Sherry Peppers, or use Outerbridge's Original Sherry Rum Peppers.
This recipe is delicious, authentic and makes enough for a group!
Where do you go for the best fish chowder in Bermuda? Let us know in the comments!