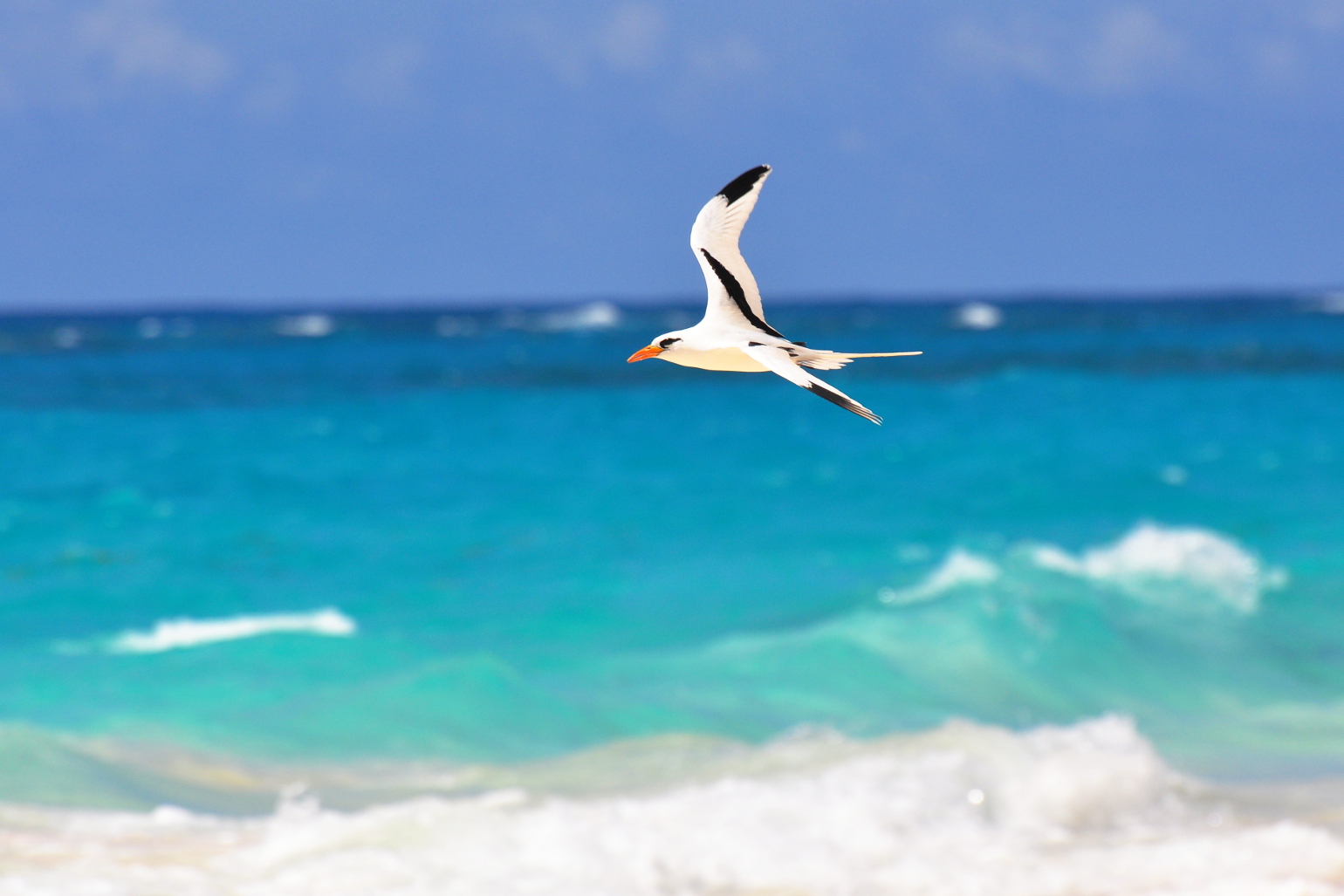 Bermuda Longtail, kansasphoto, CC BY 2.0
One of Bermuda's avian icons, the Longtail, or White-tailed Tropicbird, is notable for its stunning white tail. Native to the Island, you'll commonly see the Longtail on souvenirs, jewellery, collectable items and more. Their appearance is a celebrated event that, to many, signifies the arrival of spring. Read on to learn more about this fascinating species.
Appearance
Alongside their long white tail feather, the body of the Longtail features distinctive black markings along their wings and around their eyes. Their bills are yellow-orange in colour and their small feet make it difficult for them to walk on land. Fully grown, an average Longtail is up to 80cm long with a wing span of up to 95cm.
Nesting and Mating
Longtails arrive on Island between April and October, nesting in holes and crevices along the shore. Females lay a single egg. Their mating ritual sees males and females flying together, both in pairs and small groups; they're often seen touching the tips of their tail feathers together. They search for nesting sites in flight and often choose the Castle Harbour Islands.
Reddish-purple eggs are typically laid in April, hatching in late May. Chicks have a fledgling period of approximately 65 days, after which they take to the sea between late July and early August. Longtails spend the winter season abroad, out of sight of land.
Diet
These birds feast far out from shore on fish and squid, often diving deep into the ocean to retrieve their catch.
Conservation
Today, Longtail habitat in Bermuda is threatened by coastline development, strong waves, human disturbance, predation, pollution and hurricane damage. Numbers have declined in recent decades from an estimated 3,000 nesting pairs in the late 1970s to approximately 2,000 to 3,000 single breeding birds.
In the late 1990s, Bermuda provided alternative nesting sites, or 'igloos,' for the birds. Made of roofing material and well insulated, these sites provide security, shelter from the sun and camouflage. There are over 30 Longtail igloos located on Nonsuch Island that are rather well-received. In 2012, the Bermuda Department of Conservation created artificial nests in coastal areas with promising results.
The Bermuda Audobon Society (BAS) offers nest boxes for purchase for $120.00, which can be secured to cliff tops and ledges, terraces, sea walls and more. Simple to install, they are made of cement-coated styrofoam. They must be filled with sand, weighted by a bucket of cement and camouflaged by limestone slabs.
Longtails, as well as their eggs and nesting sites, are protected in Bermuda under the Protection of Birds Act and the Protected Species Act. To learn more about Longtail conservation efforts and installing an igloo, please click here.