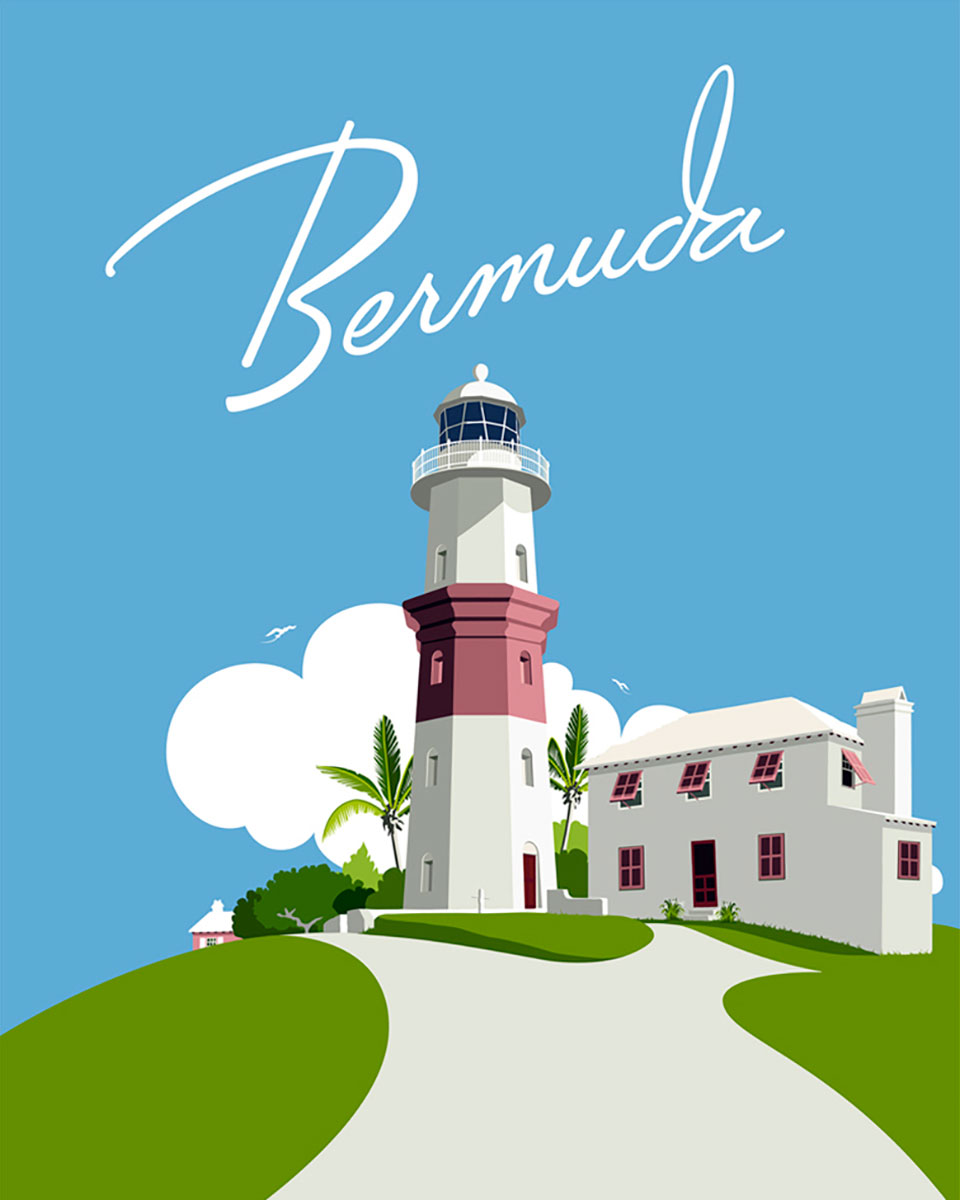 Lighthouses have long symbolized illumination and protection, of a steadfast beacon guiding our way forward and aiding in navigating our way through rough waters. For the 2020/21 Bermuda Telephone Directory cover we thought it fitting to celebrate those ideals by selecting a vibrant illustration of St. David's Lighthouse, located on the Eastern end of Bermuda.
The illustration was created by Bermudian Peter Matcham, a talented illustrator, designer, photographer and creative director, with over thirty years of experience providing creative services to many of Bermuda's leading local and international businesses.
We sat down with Peter to ask him a few questions about his work and what inspires him.
~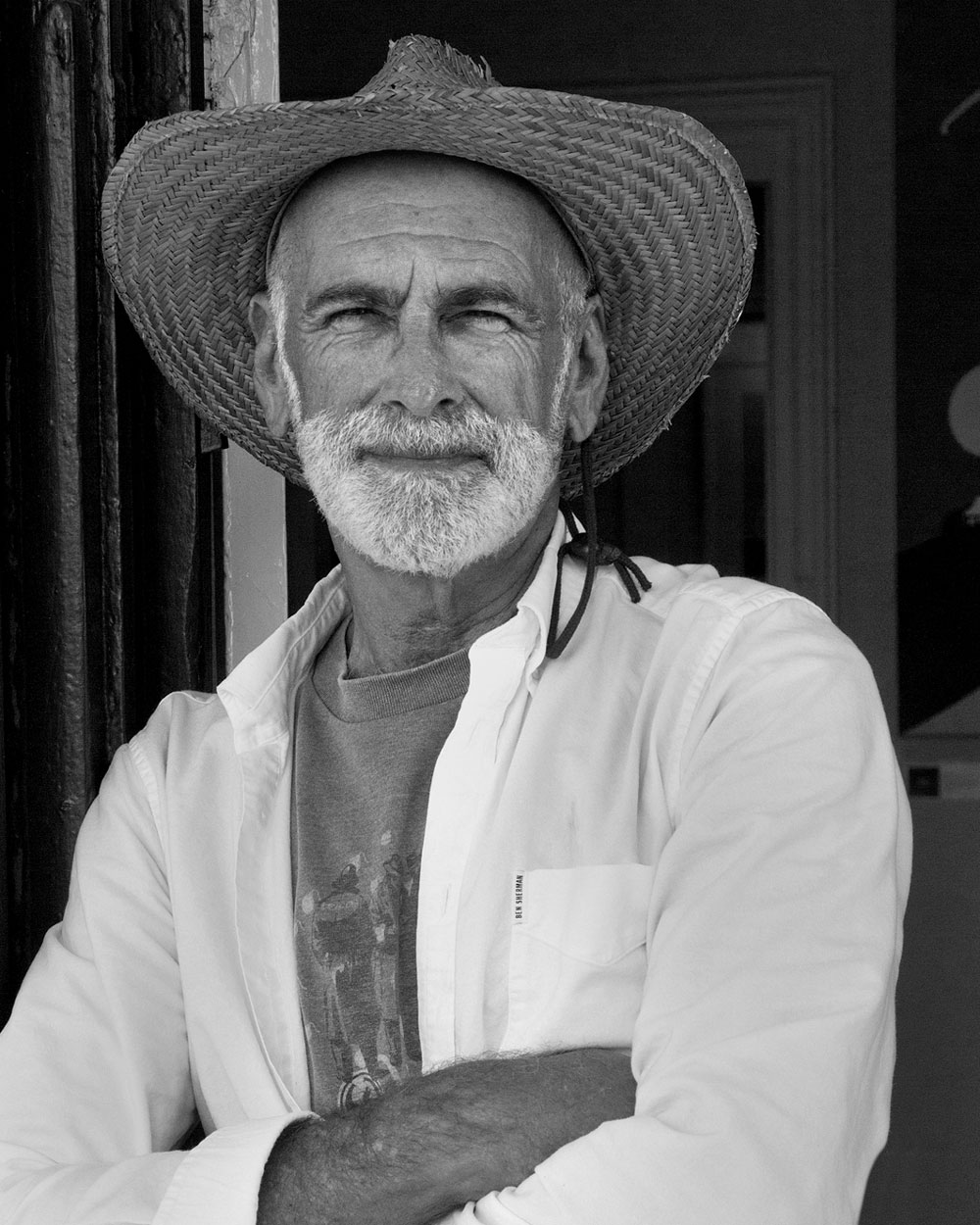 Why St. David's Lighthouse?
When I was asked to submit image options for possible use on the Bermuda Telephone Directory cover I immediately thought of the illustration of St. David's Lighthouse that I had, rather conveniently, just completed. I've always really enjoyed its unique octagonal design and lovely details and consider it to be one of Bermuda's most visually iconic buildings. And it's just so very St. David's "Different" somehow, with its bold deep maroon/red centre band on brilliant white and matching trim on the lighthouse and adjacent cottage. It really wouldn't look right anywhere else.
What was the inspiration?
When I recently moved to St. George's, it occurred to me that I couldn't recall having seen any decent photos or illustrations of the lighthouse and thought it would be an ideal subject to try and illustrate. I decided that it would be especially well suited to the 1950's Bermuda travel poster style of illustrators like Adolph Treidler, but with a slightly more modern aesthetic. And, as it also happens to be one of the first things one sees when arriving or departing by plane, cruise ship or yacht, it made even more sense to go in this direction.
Photography was not an option due to the really poor condition of the exterior paintwork, an ugly assortment of large telecom antenna and a myriad of utility poles and wires blocking the most desirable views (as can be seen in the accompanying photo). So recreating it as an idealised illustration gave me license to eliminate all those issues and create something really fresh and, I believe, suitably iconic. I think the limited colour palette and simple clean line work helped achieve this, and bring a nice relaxed atmosphere to the image.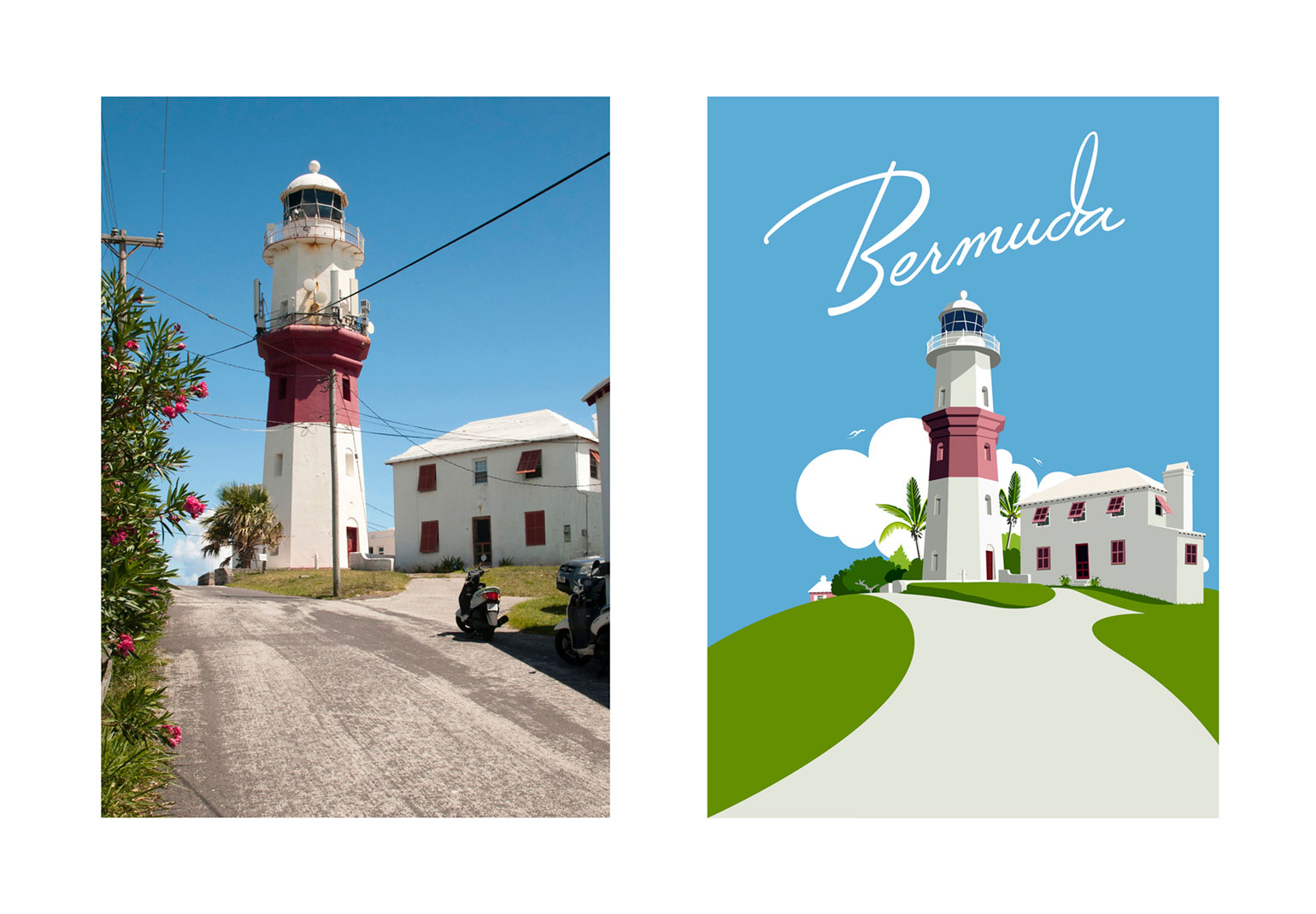 I'm kind of hoping too, that by having this "refreshed" view of St. David's lighthouse on the cover, it will help draw attention to the fact that perhaps we can find a better solution to the placement of the unsightly telecom equipment on such a beautiful building that has stood in place since 1879. And perhaps, over time, the burying of the utilities equipment and a general refurbishment of the facility so that it can be once again be open for locals and visitors to enjoy the view from the top, as used to be the norm.
Can you tell us a bit about yourself?
I was born in Bermuda and attended Warwick Academy and Saltus and then studied graphic design and illustration at the art institute of Boston. Upon returning to Bermuda I started the Graphic Design and Advertising agency, Matcham & Matcham with my wife and worked as its creative director and lead designer and photographer for over thirty years, providing creative services to many of Bermuda's leading local and international businesses. Along the way, I also managed to help produce two immensely talented and creative children, somehow.
What's currently occupying your time?
My most recent venture was the launch of The Bridge House Gallery in late 2018 in St. George's which housed the wonderful collections of some of Bermuda's most talented local artists, in a wide variety of mediums including, pottery by Jonny Northcott, jewellery by Skye, acrylic paintings by Anne Kermode, mosaics by Nikki Murray-Mason and Avornell Kuzyk and oil and watercolour paintings by Otto Trott and my own photographic prints and illustrations. All the artists shared something in common, a love of Bermuda, it's stunning scenery, unique colours and cultural diversity, which we all draw upon for our inspiration.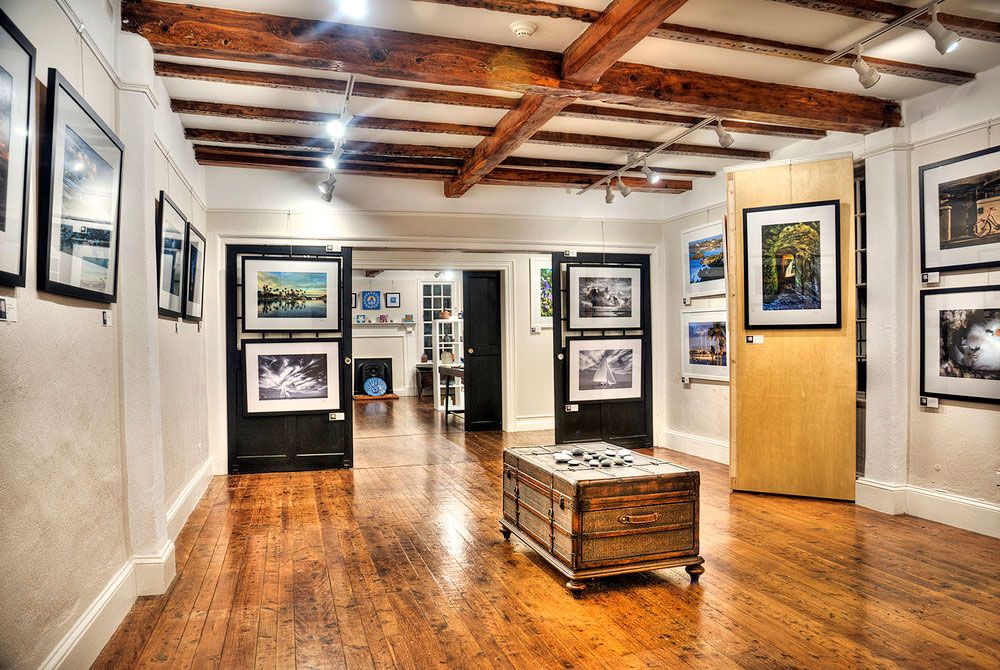 While the Gallery's physical location is closed, The Bridge House Gallery web site still features the works of the represented artists, who can be contacted directly via their respective contacts on their individual pages on the website should you be interested in purchasing or commissioning them for something specific.
In addition to my ongoing illustrative and fine art photographic work I am also currently working on various large photographic projects for local clients like Burger Shack, Glaze and Four Star, in addition to graphic design and brand development services provided to many of our local and international businesses.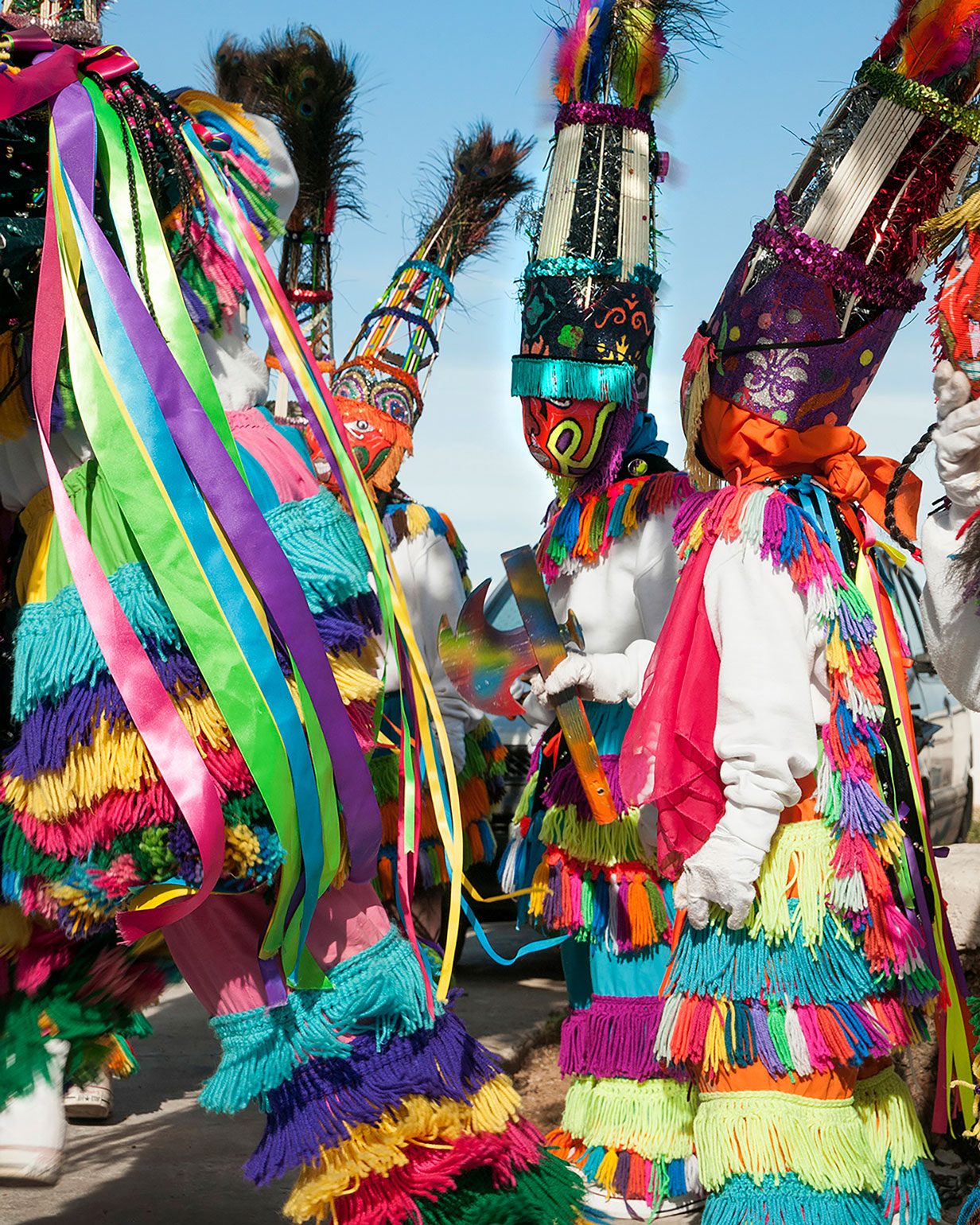 What are some of your favourite local places?
I have a lot, but here are a few.
The cliffs to the east of Church Bay are teeming with Longtails in the spring and make for some great early morning photographic opportunities for both flying and nesting shots. Just sitting in the shade of a cave and listening to the birds one of kind morning chatter is awesome.
Grape Bay under moonlight is one of my favourite places to be at night. Especially if there is a breeze and interesting clouds as they make for great long exposure and time-lapse images.
Tom Moore's Jungle and its numerous caves always provide a relaxing adventure because it's as one of the last places left on the island where you can actually escape the sounds and traffic and civilisation that we encounter everywhere else. I always feel better coming out than when I went in.
What are your favourite local events, businesses or time of year?
We have such an abundance of cultural events going on that are so Bermudian it's really hard to choose.
I like following Place's Gombey's on Boxing or New Years day. Watching the Fitted Dinghy races in a boat or from shore. I'm an absolute kite freak, so Easter is always a good time. Cup Match on at least one of the days. (Usually racing to the game to watch Somerset win late on day two).
I like hurricanes. Sorry. I know that is a bad thing but I'm just can't resist going to the shore and watching. It is mesmerising and totally sobering to see up close. So September is good.
My fish sandwiches are huge and come only from Seaside Grill - Wahoo on un-toasted whole wheat with coleslaw and hot sauce.
Can you share some more of your work that you think is a great representation of Bermuda?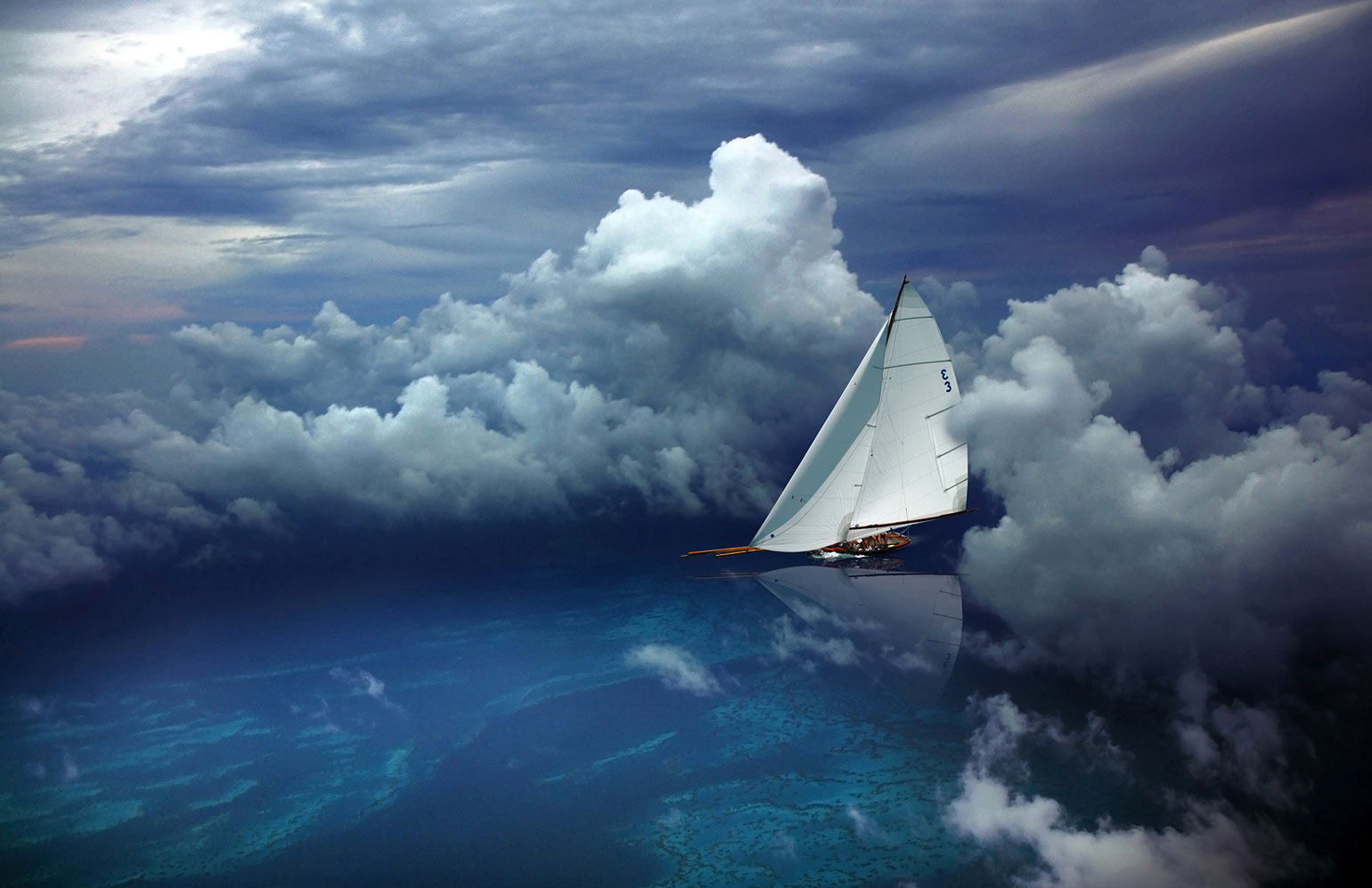 I like my photo illustration of a Fitted Dinghy sailing through the clouds down North Shore. It has a particularly nice dream-like quality and calming effect. It usually takes people a little while to figure out that something isn't quite right about the picture and it's fun watching as they start to realise that fact and figure out what is actually going on.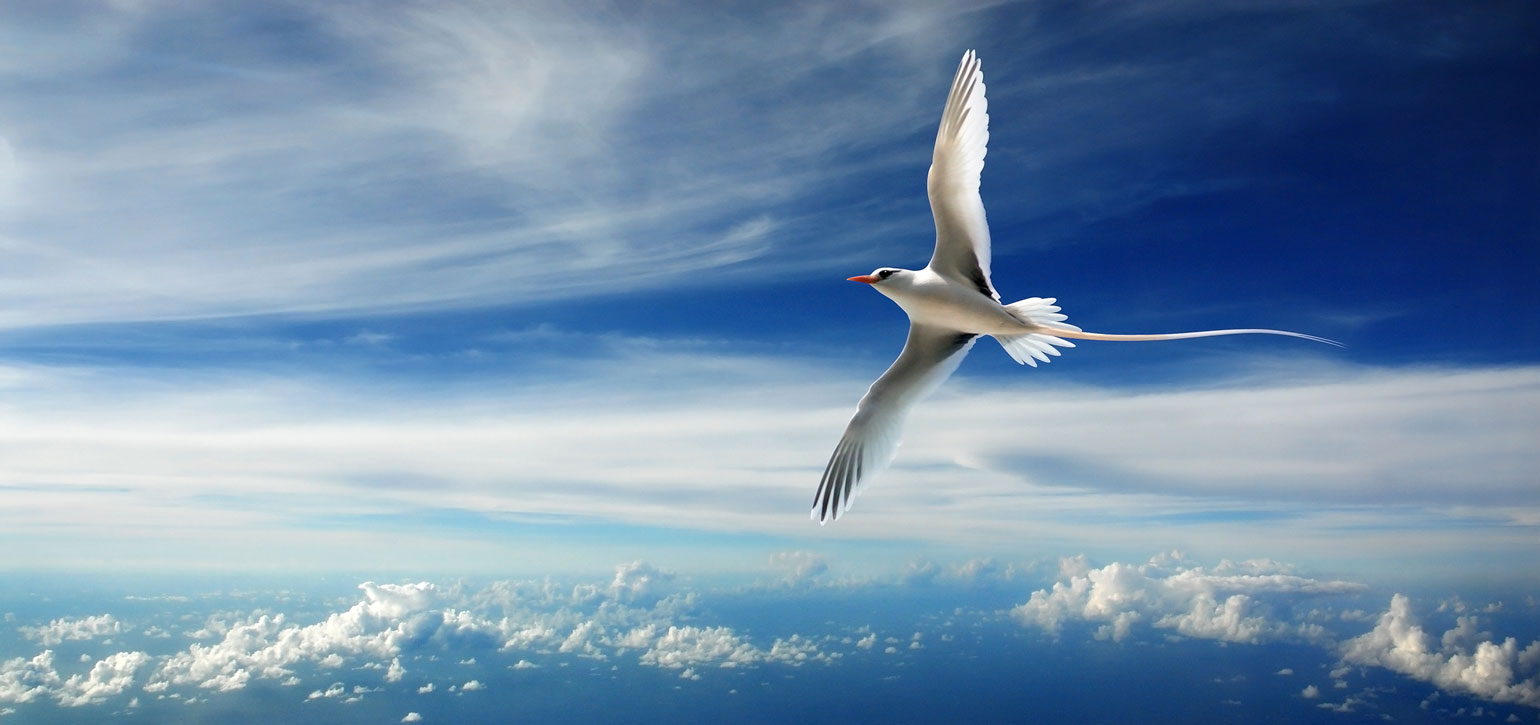 I am also quite fond of my high altitude Longtail image that views it from a completely new perspective. I've also included a night time shot of a quite unusual Bermuda stone wall that has special meaning to me as I actually built it completely by myself a couple of years ago. All 175 meandering feet of it.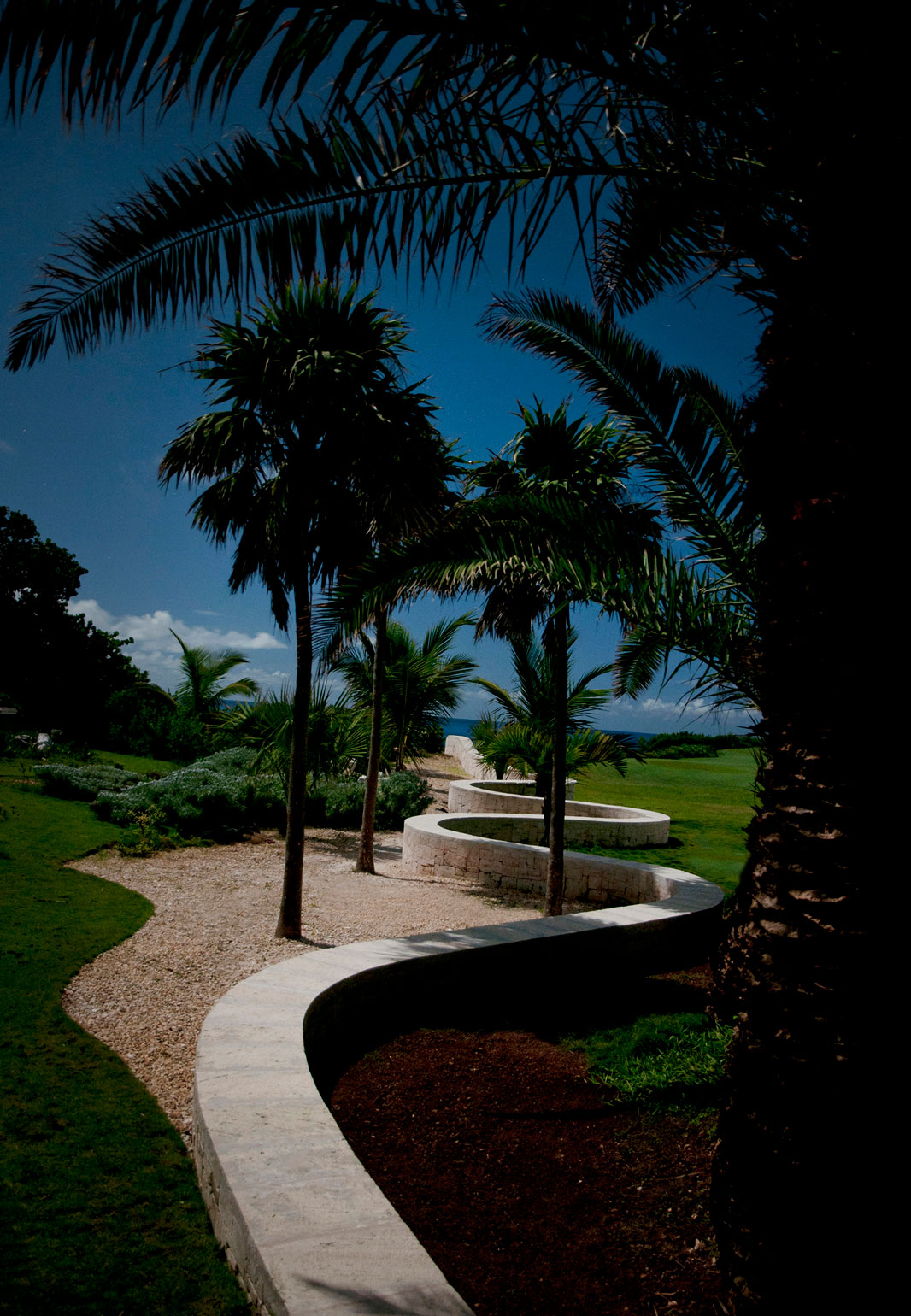 ~

Purchase prints and discover more of Peter's work at The Bridge House Gallery online, read about all the new features in the 2020/21 Bermuda Telephone Directory, or let us know what you think of Peter's work in the comments below.