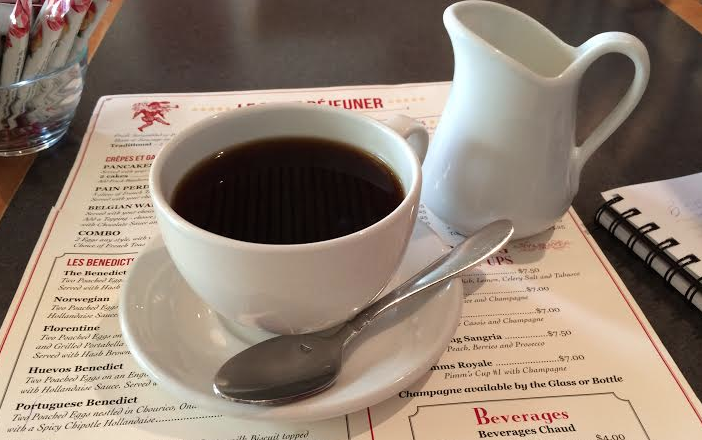 It's Sunday, you overslept (perhaps after some overindulging) and you're hungry. Never fear, there are plenty of places on the island to satisfy those breakfast cravings.
Bouchee
You can't go wrong with Bouchee. Tucked away on Pitts Bay Road, this French bistro serves breakfast 7.30-11.30am on weekdays and 7.30-2.30 on weekends. There's a line outside the door on weekends, but the food is worth the wait! As if the perfectly cooked eggs and ginormous waffles weren't enough of a reason to pay Bouchee a visit, the staff are consistently friendly and cheerful, making any meal there a delight.
Must try: Any one of their seven (yes, that's right, seven!) variations on Eggs Benedict. Pair it with a mimosa and you're good to go!
Tribe Road Kitchen
For something a little different, go no further than Tribe Road Kitchen. The garden at this quirky gastropub is always packed for its weekend brunch, served from 9.30-3pm. The menu changes weekly, but a few items you could find there are the 'Bermuda Bennie' (poached egg topped with avocado hollandaise on a fish cake with roasted tomato, caramelised banana, raisin bread 'soldiers' and thick cut bacon on the side) and the Mean Green Breakfast burrito (filled with eggs, black beans, rice, gooey cheese, guacamole, salsa negra and topped with a housemade fire roasted green ranchero sauce). We're drooling already.
Must try: The Chicken and Waffles. Served with a slice of watermelon, this is the plate that made TRK's brunch famous. It's a mighty big portion, so come hungry.
Paraquet
Fancy breakfasts are all well and good, but sometimes you just want a big plate of food from the local greasy spoon. Look no further than Paraquet! This family-owned diner has been around since 1959 and is affiliated with the Paraquet guest apartment complex near Elbow Beach. A local favourite, come for a bargain breakfast of eggs done your way, pancakes, waffles and traditional Bermuda codfish and potatoes on the weekend.
Must try: The Bermuda codfish breakfast – salt cod, boiled potatoes, boiled eggs, avocado and your choice of tomato or butter sauce (or both!). Arguably one of the best on the island!
Bermuda Bistro at The Beach
Sometimes you want breakfast for dinner. And that's okay. The Bermuda Bistro at the Beach doesn't judge you! The all-day full English will satisfy those cravings! For a wider breakfast menu, come between 9-12 to enjoy hearty and healthy fare accompanied by live music.
Must try: The California Omelette – stuffed with Bermuda grown tomato, spinach, avocado and your choice of cheese, it's a healthy and filling way to start your day.
Sunday Brunch at the Reefs
If you're really hungry and feeling fancy bring the family to The Reefs on South Shore to enjoy the best brunch on the island. When Bermudians talk about Sunday brunch they don't just mean a late breakfast. The hotel buffet brunch is a Bermudian institution, with all-you-can-eat top quality food! Offerings range from sushi, charcuterie, crab claws and shrimp cocktail, seafood in lobster sauce, eggs benedict, codfish breakfast and prime roast beef, to name but a few. Served from noon until 3pm, reservations are recommended. Come dressed to impress!
Must try: Everything. Eat all of it. Trust us.

Written by Emily Ross