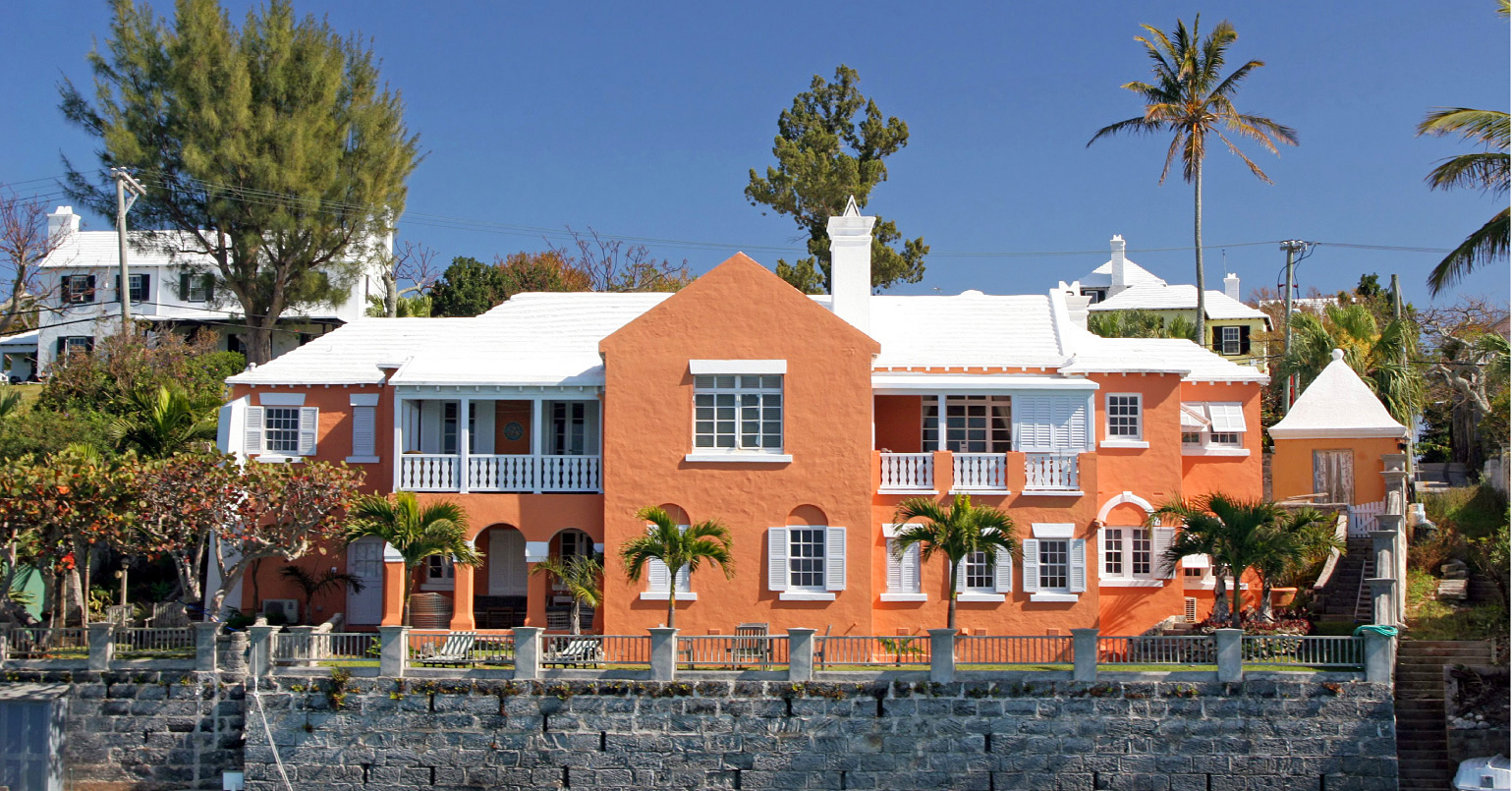 Architecture

Bermuda's distinctive architecture began its evolution in the 1600's. Early settlers found themselves in a dramatically different climate with a new set of building materials to work with. They applied their knowledge and skills to design shelter that was simple and practical. Over time, architectural influences from Britain, the West Indies, Europe and America impacted these simple structures and created the Bermuda vernacular.
Indigenous materials used in early Bermuda construction included Bermuda Cedar, stone, palmetto and lime. In the 1600s islanders built wooden houses with clay and twigs and mortar with Palmetto thatched roofs. But by the 1700s stone was determined to be the wiser choice. Cedar was used for framing while Bermuda stone was cut into blocks and slates and used for walls and roofing. Lime was made from burning limestone and when hydrated and mixed with sand was used for mortar and when mixed with water alone was used as a whitewash.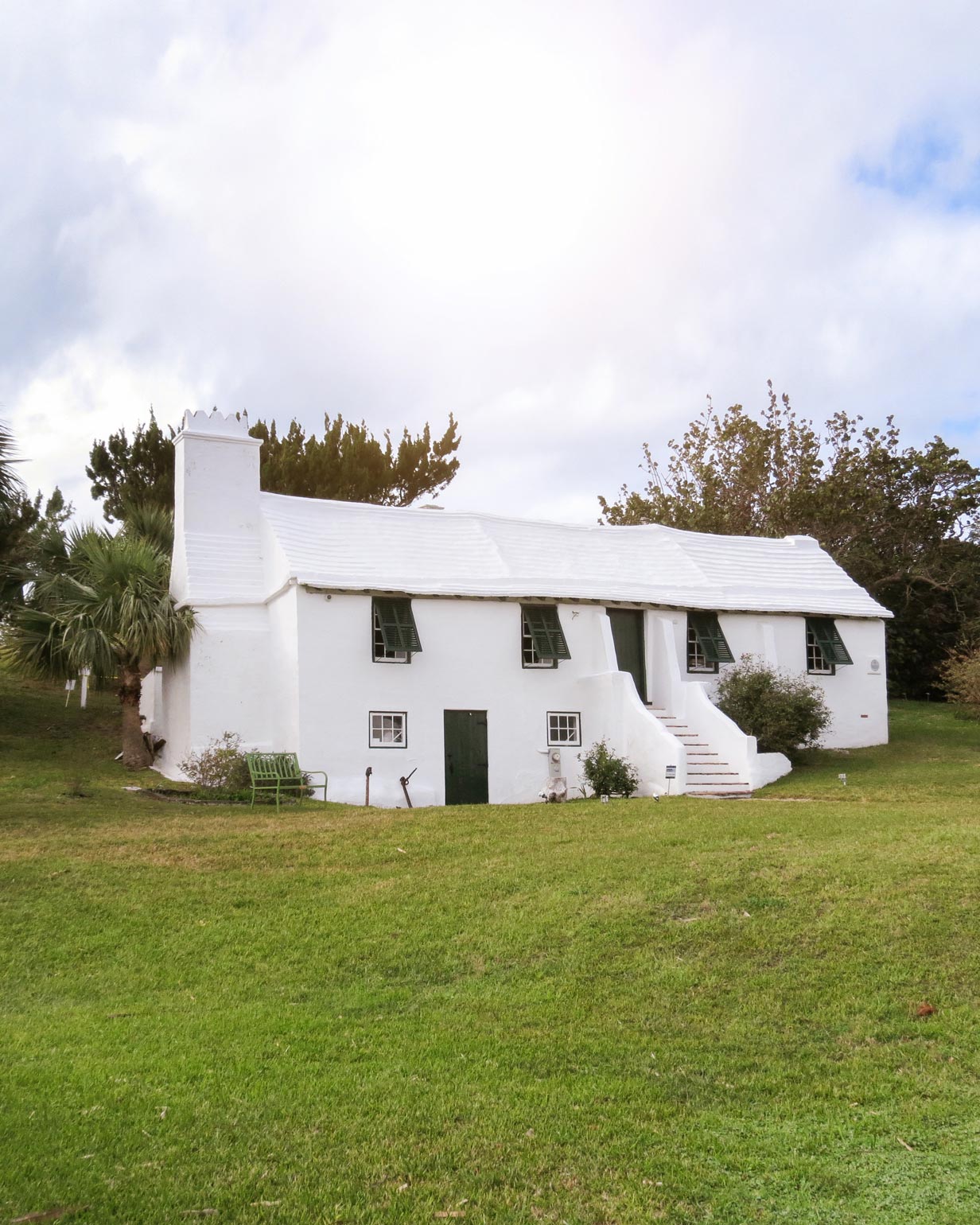 The traditional Bermuda home was developed with the climate in mind and was clearly a case of form following function. Roofs were guttered and tanks built to catch and store rainwater. Tray ceilings created taller, cooler interior spaces. Chimneys buttressed the windward walls. Eyebrows deflected rainwater away from window openings.
Modern Bermuda architecture incorporates many of these same sensible design elements though building materials have changed due to waning supplies of original materials. The colour palette has also changed as vibrant paints have replaced the more subtle tones of the traditional lime wash. An interesting comparison can be made by visiting one of Bermuda's earliest houses such as Carter House in St. David's. For visiting hours, contact the St. David's Historical Society.
Happily there are now several excellent books available in Local Book Stores containing detailed information regarding the history and preservation of Bermuda architecture. The Bermuda National Trust is producing a series of books titled Bermuda's Architectural Heritage. Each book features a single parish with Devonshire, St. George's, Sandys, and Hamilton completed to date. The Traditional Building Guide/ Advice For Preserving Bermuda's Architectural Heritage, also published by the National Trust along with the Department of Planning, is a fascinating read and a must for anyone in possession of an older Bermuda home. And for sheer enjoyment, local photographer Ian MacDonald Smith's Bermuda Houses, with text by Sylvia Shorto, is hard to beat.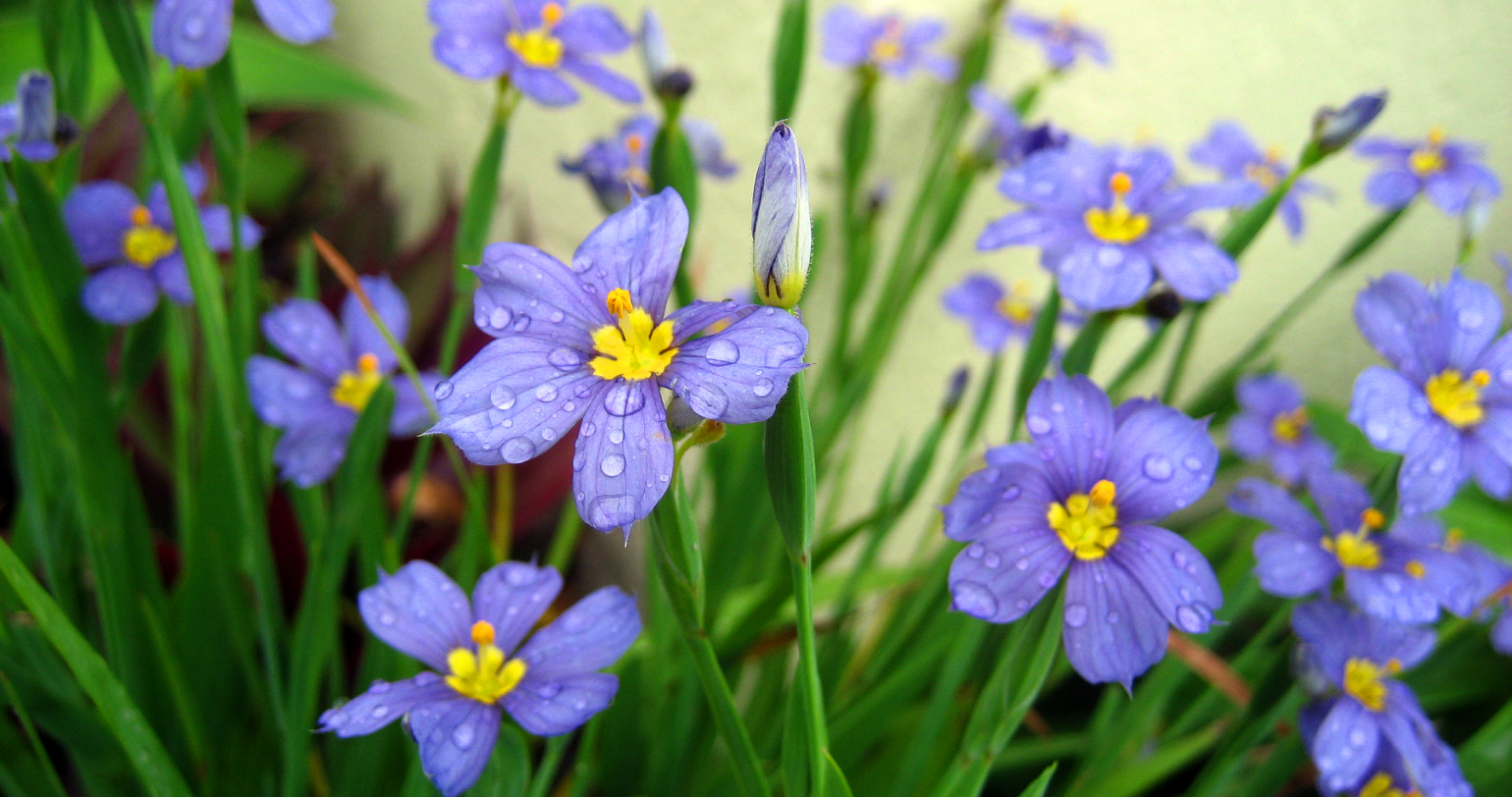 Bermudiana
The Bermudiana is a hardy member of the Iris family, and an endemic species. It grows well, often in clumps, in sandy dunes and on grassy hillsides. It flowers from April to June and has a small purple-blue flower which produces abundant seeds that germinate in a year.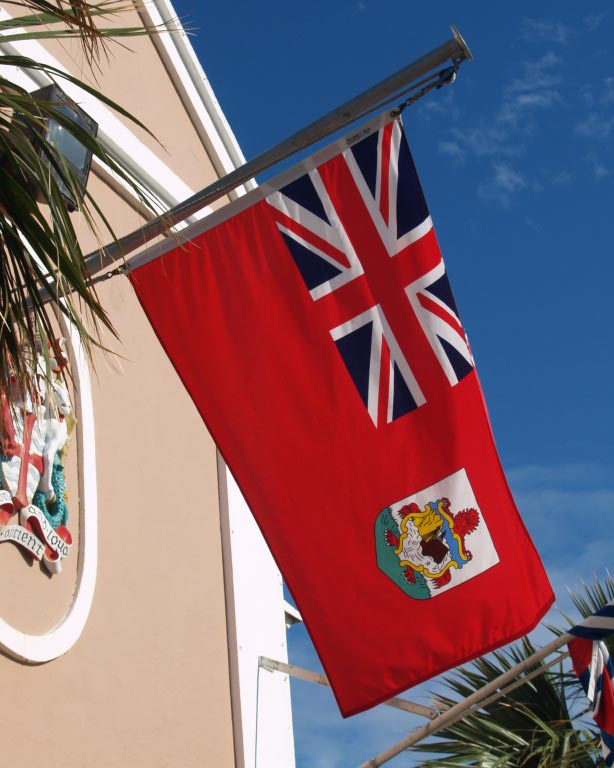 Bermuda Flag & Coat of Arms
The flag of Bermuda is composed of a red background with the Union Flag (Jack) of England in the upper left corner, 'hoist side', and the Bermuda Coat of Arms centred on the right side or 'fly' of the flag. It was officially approved in 1967.
The Bermuda Coat of Arms is based on the latter of two coats of arms of the Bermuda Company, the group of investors with a charter granted by King James I, to colonize Bermuda in 1615. It is fixed by Royal Warrant, 4th October, 1910. "Argent on a mount vert a lion sejant affronte gules supporting between the forepaws an antique shield azure thereon a representation of the wreck of the ship Sea Venture (1609), together with this motto: 'Quo Fata Ferunt'."
Gombey
Gombeys are a vibrant symbol of Bermuda. They reflect the island's blend of people and cultures through a unique form of performance art that is full of colourful and intricate masquerade, dance and drumming.
Dancers perform in groups or troupes – typically extended families – with the traditions of each troupe passed down from one generation to the next. The Captain of each troupe determines the direction of the troupe and the style that is taught. Thus between troupes you'll find distinct differences in beats, dances, costumes and headdresses.
In addition to the bass or "Mother" drum, typically homemade, the modern Bermudian Gombey sound is distinguished by the use of the snare drum. The snare drummers play complicated riffs over the steady pulse of the mother drum, often employing call and response patterns. The result is a rhythmic mix that provides the impulse for both the dancers as well as the followers.
Gombey costumes are as mysterious as they are colourful and cover their bodies from head to toe. The peacock feather headdresses, the painted masks, and the capes are distinguishing features. The Captain carries the whip and commands with a sharp blast of his whistle. He wears a cape with bits of mirror sewn on, usually made by the female members of the family. The Wild Indian carries a bow and arrow. The Trapper carries a rope and his job is to catch the Wild Indian. The Chiefs and the Captain follow the Trapper with their tomahawks and shields and the warriors follow them with hatchets. They "snake dance" through the streets then stop to dance.
Bermuda Gombeys are vibrant ambassadors of the island and as such often appear at Tourism related functions both on island and abroad. In addition, all of Bermuda's troupes will typically make an appearance in the May 24th / Bermuda Day parade in Hamilton. If you'd like to know more about Bermuda Gombeys, Mrs. Louise Jackson's book "The Bermuda Gombey: Bermuda's Unique Dance Heritage" is an excellent resource.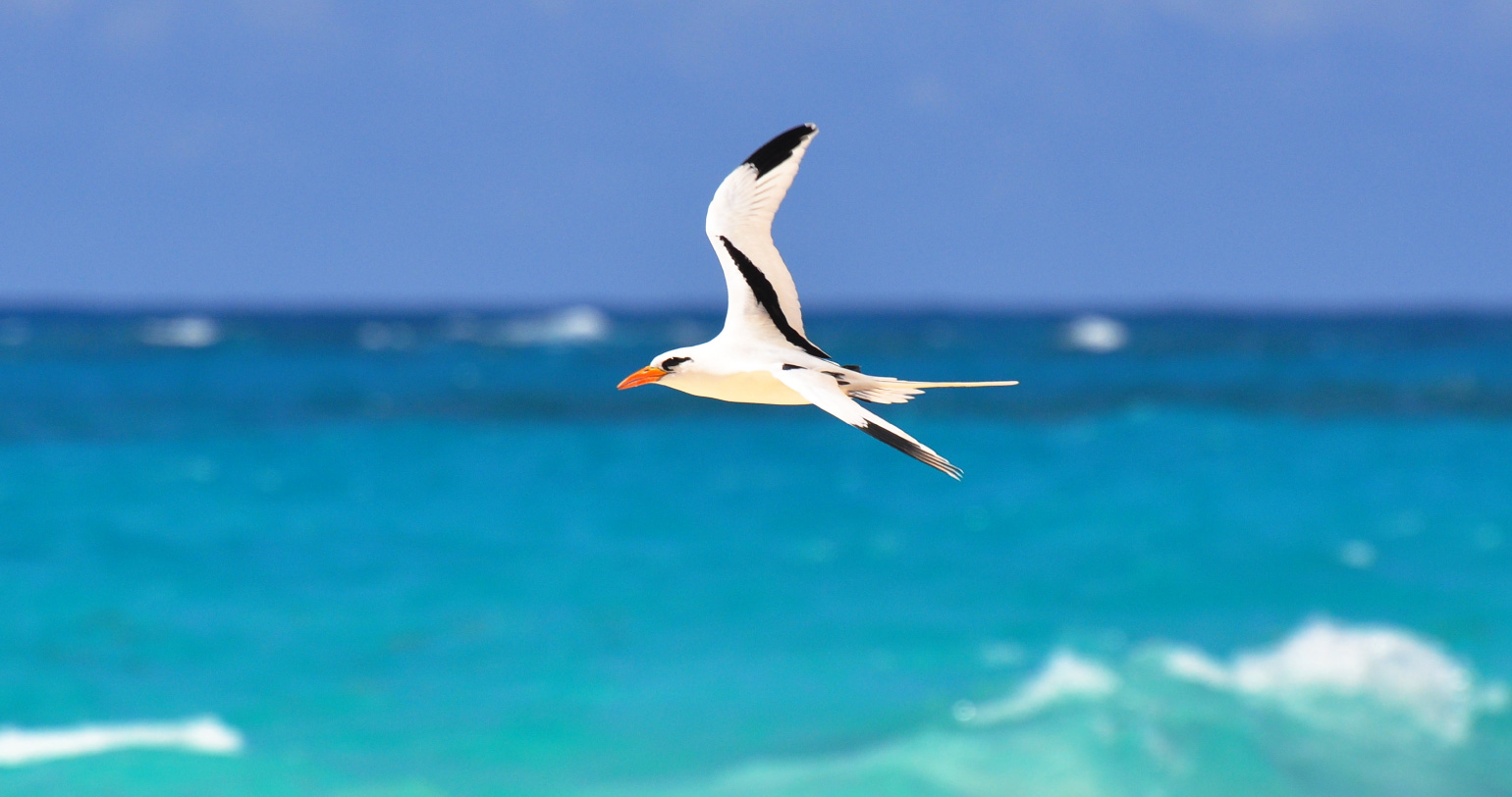 Longtail
The Longtail or Tropicbird is named for its two long tail feathers and is brilliantly white with black markings through its eye and on its wings. A harbinger of Spring, the Longtail returns to Bermuda in February/March every year after spending its winter months in the Sargasso Sea area, resting in the water or soaring to great heights. During the summer months they nest in Bermuda's cliff side holes, producing one chick
Bermuda Cedar
Bermuda Cedar (Bermuda Juniper) is an endemic evergreen tree growing to 40 feet. It has a most beautiful wood and is strong and aromatic with a sandy/red hue. This cedar was the dominant forest tree of Bermuda and was used extensively in both home and shipbuilding until the 1900s. An insect scale introduced in the 1940s practically wiped the species out. But thanks to a dedicated response, the cedar is recovering.
Fish Chowder
Made with fish heads and fish fillets, beef stock, tomato paste, vegetables, spices and bacon, this is a hearty soup. It is served with black rum or sherry peppers (bird peppers in sherry–hot hot hot!).