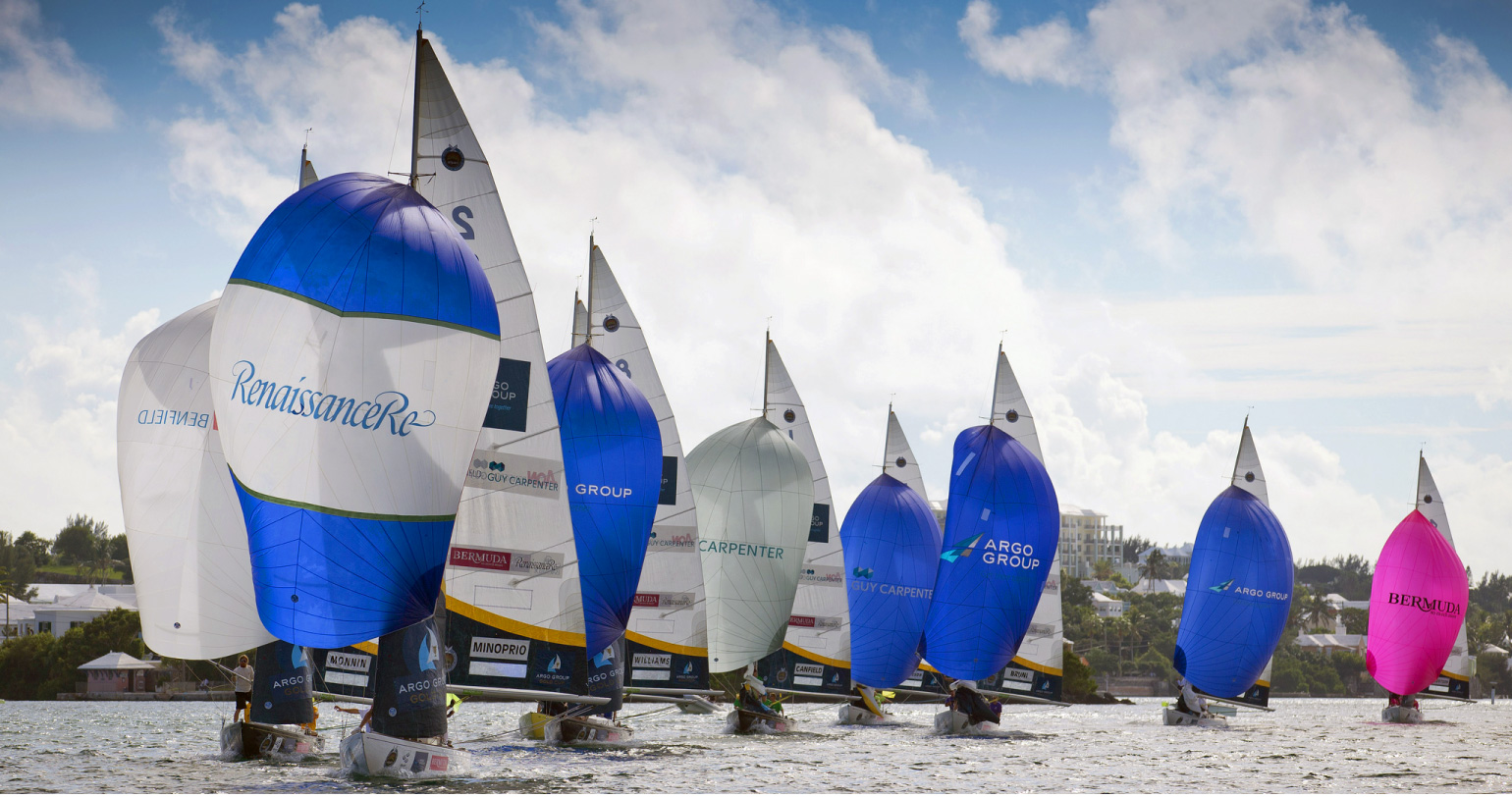 The Argo Group Gold Cup (also known as the King Edward VII Gold Cup) is the oldest match racing trophy in the world for competition involving one-design yachts.
It began as the Tri-Centenary Regatta in Jamestown, Virginia when King Edward VII bestowed the Cup on the winner in honour of the 300th anniversary of the first permanent settlement in America. American Sherman Hoyt won the regatta and held it for three decades before giving it to the Royal Bermuda Yacht Club proposing a regular one-on-one match race series. He apparently liked the idea of returning a British Royal trophy to a Royal yacht club, especially one with a history of "clean sportsmanship" that had a long record of "keenly contested races" with his club. Well done!
The first winner of the Cup in its new format was Briggs Cunningham, who was also the first skipper to win the America's Cup in a 12-Meter. In 1956 the Cup became an International One Design regatta. Bermudian Bert Darrell had the honour of being the first to win the Cup in this class and went on to win it a total of six times. Years later, Russell Coutts won his seventh Cup to become the top skipper in Gold Cup history.
As for the country count, Bermuda has won the Cup 21 times, the United States 17 times, New Zealand 11 times, Australia 5 times, the United Kingdom twice, and in 2002 Denmark claimed the Cup for the first time.
Held annually in October, the Gold Cup is a spectator friendly spectacular with racing taking place within easy viewing distance from the Hamilton shoreline.
The quarter and semi finals are both first to three elimination rounds. The two teams that survive these rounds move on to the finals. The finals feature the top teams in a first to three head-to-head battle to determine the winner. The Petite Finals, a first to two series, is between the third and fourth-place semi finalists.
To add to the excitement of finals day spectators are also treated to a Match Race between two traditional Bermuda Fitted Dinghies with Contest representing the Royal Bermuda Yacht Club and Elizabeth the Royal Hamilton Amateur Dinghy Club.
For more information visit www.argogroupgoldcup.com.