The seagrass and coral reefs of Bermuda's waters make the perfect habitat for sea turtles. Though very few are born on Island, Bermuda is considered a sea turtle nursery where young turtles live until they begin to mature. Though adults are seen, many of the turtles inhabiting Bermuda are juveniles. Read on for details on a number of species. 
Green Turtle (Chelonia Mydas)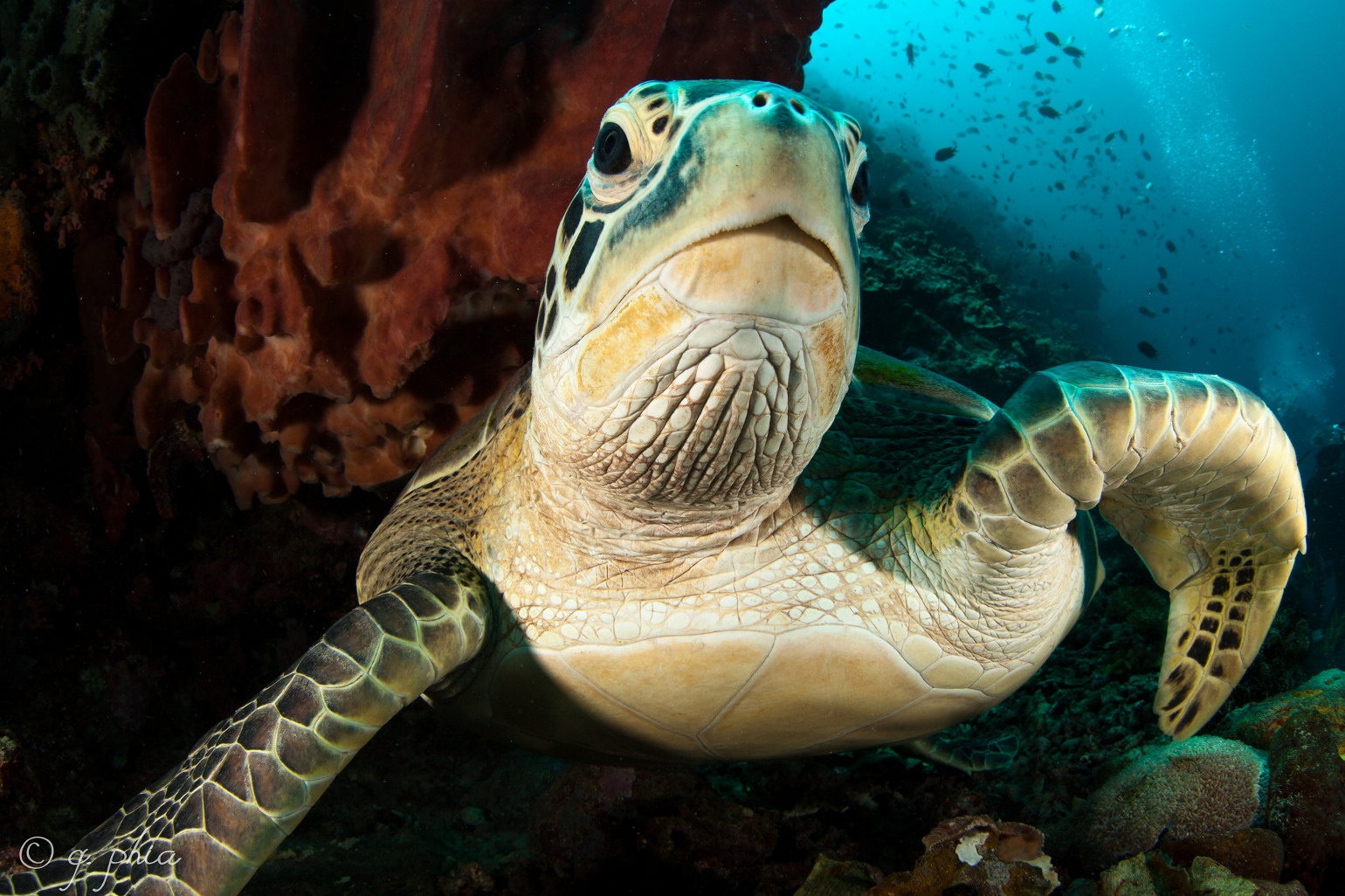 Green Turtle Portrait 2 Lekuan 1, Siladen, Indonesia, (c)Q Phia, CC license
Appearance
The species most commonly spotted in Island waters, an adult Green Turtle weighs approximately 300lbs. Their shells range in colour from light green to black, often featuring a distinctive pattern, and their large flippers resemble paddles.
Diet and Habitat
While young Green Turtles are omnivores, adults are strict herbivores that feed primarily on algae and seagrass. This species is found worldwide in temperate and tropical waters, inhabiting shallow lagoons and inshore and offshore water seagrass beds. In Bermuda, they're most commonly seen in inshore seagrass beds, notably off of Ferry Reach, Tudor Hill, Bailey's Bay and more, as well as in the north lagoon.
Reproduction
Green Turtles migrate long distances between feeding and nesting grounds. Turtles lay their eggs in sandy beaches and, once hatched, the babies crawl into the water. Adult females return to their natal beach, where they were born, to lay their own eggs. The majority of Green Turtles seen in Bermuda are juveniles that have migrated from areas such as Costa Rica and Cuba.
History in Bermuda
Prior to the Island's settlement in the early 1600s, the Green Turtle was abundant in Bermuda. Following settlement, the turtles, which were highly sought after for their meat, were quickly ravaged. Despite a 1620 law designed to protect them, nearly the entire nesting population was wiped out by the early 1800s.
In 2015, after nearly a century, Green Turtle hatchlings were born in Bermuda. Today, Green Turtles are an Endangered Species that inhabit our waters but rarely breed on our beaches.
Global Threats and Endangerment
An endangered species, the Green Turtle is native and protected in Bermuda. Globally, they are threatened by watercraft collisions, habitat loss, fishing gear, the ingestion of plastic and more. In the Caribbean, their meat and eggs are used for food.
Hawksbill Turtle (Eretmochelys Imbricata)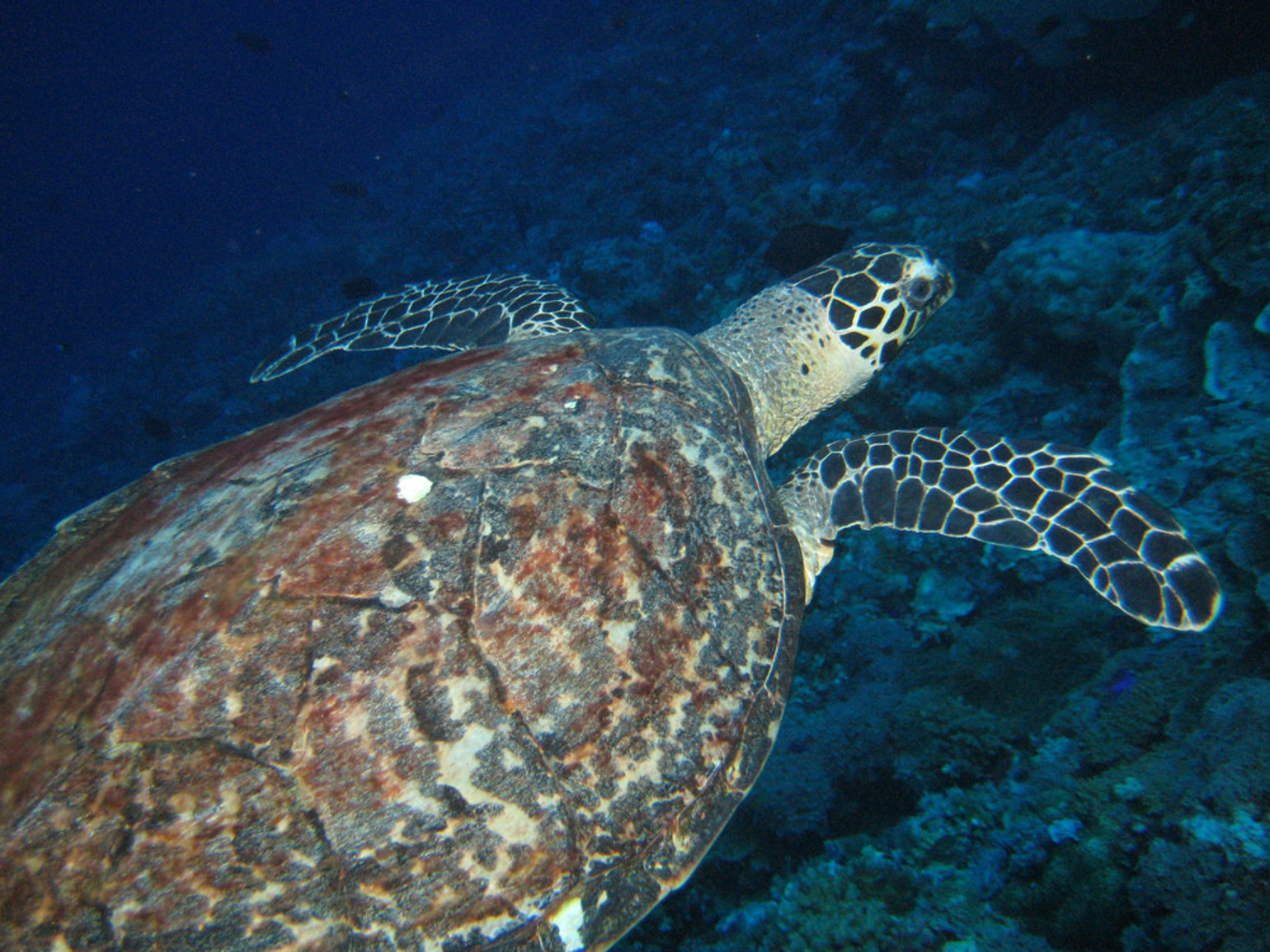 Hawksbill Turtle, (cc)Marc Tarlock, CC license
Appearance
Reaching up to 150lbs as adults, most Hawksbill Turtles found in Bermuda waters are immature, averaging approximately 22lbs. Known for the bird-like beak from which they get their name, these reptiles are oval-shaped and the average adult shell length is 30 inches. The carapace, or top shell, features tortoiseshell colouring in different shades of brown with streaks of red, black and/or orange. The plastron, or bottom shell, is clear yellow.
Diet and Habitat
The omnivorous Hawksbill Turtle's beak makes quick work of crushing, tearing and biting sponges, barnacles, sea urchins, sea grasses and small animals. As they mature, this species begins to feed exclusively on a variety of sponges, including some that are toxic. The Hawksbill's body fat allows it to process these toxins without harm. The average Hawksbill can eat up to 1200lbs of sponges in one year.
The most tropical sea turtle, the Hawksbill prefers water shallower than 65 feet and favours coral reefs, lagoons, rocky and coastal areas, estuaries and mangrove bays. Hatchlings often take shelter in algal mats and sea plants. They inhabit tropical and subtropical waters worldwide, typically avoiding the far south. In Bermuda, they are seen on patch reefs in the north lagoon, as well as on fringing reefs. A healthy population helps to keep our coral reefs healthy.
Reproduction
Solitary individuals, Hawksbill Turtles meet only to mate. Once every 2 or 3 years, females return to their natal beach to lay their eggs. Nesting typically occurs between April and November and favoured locations include small, undisturbed beaches, preferably with vegetation nearby the water. Like most sea turtle species, the hatchlings emerge at night and make their way to the safety of the sea.
Global Threats and Endangerment
Critically endangered, the Hawksbill Turtles' shell scutes are highly valued and used to make decorative ornaments, jewellery and other goods. Though international trade in these products has been banned, it continues in some parts of the world. Hawksbills are threatened by habitat loss, as coral reef communities decline, nesting site degradation, marine pollution, oil spills and more. In some areas, they are hunted for food. Hawksbill Turtles are native and protected in Bermuda.
Loggerhead Turtle (Caretta Caretta)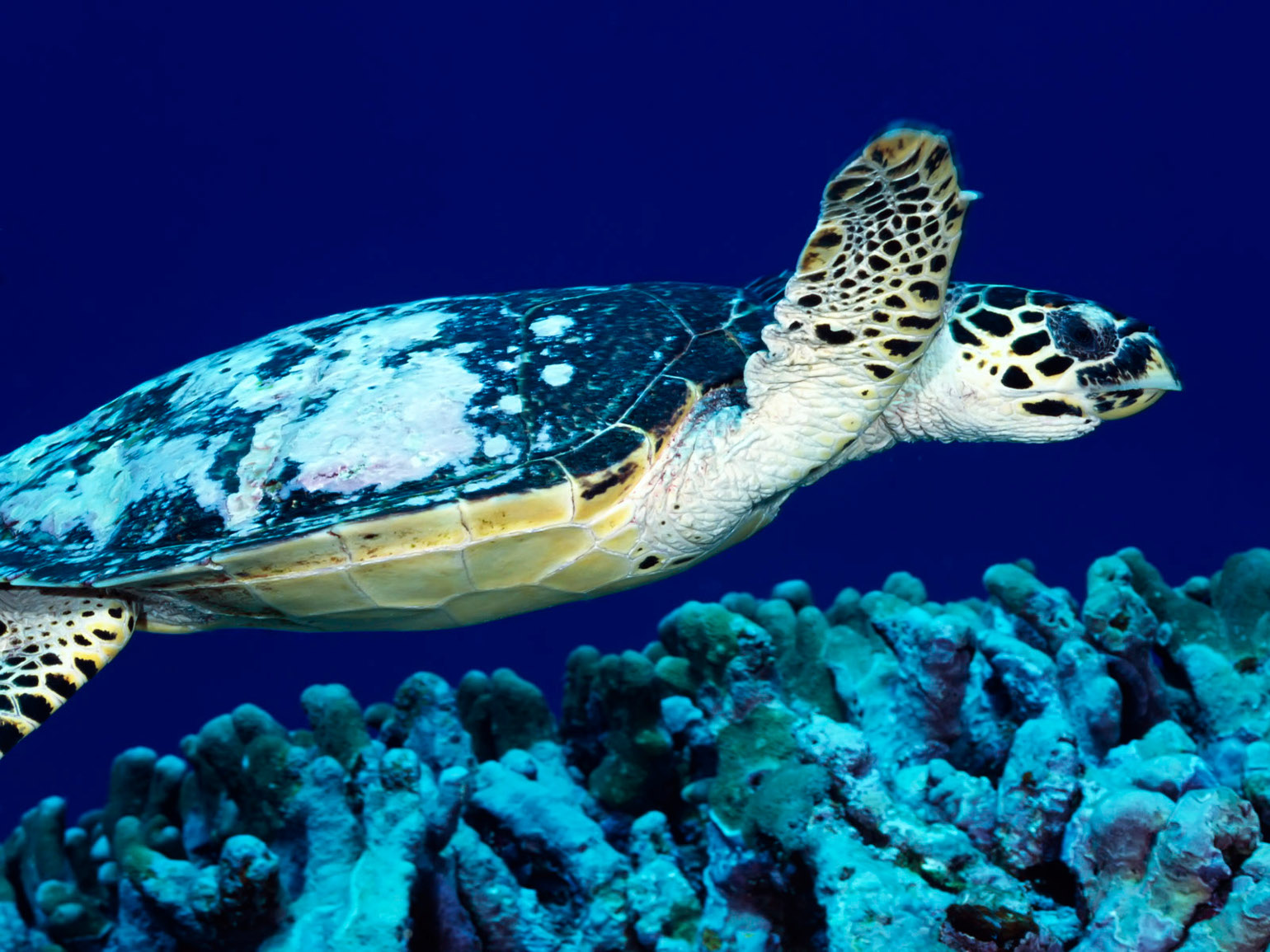 Loggerhead Turtle, Papua New Guinea, (c)Angell Williams, CC license
Appearance
Named for their large heads, the carapace of the adult Loggerhead Turtle is reddish-brown in colour. The plastron is yellow. Males are distinguishable by their long tails, which extend past the rear of their carapace, which is narrow in comparison to that of the females. Loggerheads weigh up to 350lbs and measure approximately 36 inches in length.
Diet and Habitat
Carnivores with powerful jaws, Loggerheads feed on marine animals, fish and crustaceans, including whelks, sea urchins, mollusks and horseshoe crabs. As hatchlings, they opt for small animals living in sargassum, or algal mats.
Found in all tropical and temperate waters, these turtles favour reefs, creeks, lagoons, bays and river mouths, spending time both inshore and far out to sea. Mainly seen offshore in Bermuda, Loggerhead hatchlings take cover in our abundant Sargassum weed. After winter storms, juveniles are sometimes found stranded on beaches.
Reproduction
After reaching maturity at 35 years, female Loggerheads return to their natal beach to nest every 2 to 3 years. The nesting season is from April to September, with hatchlings emerging overnight and crawling to the water. Most nesting occurs in the Atlantic and Indian Ocean's western rims, including the United States, Oman and Australia.
History in Bermuda
In 1990 and 1995, Loggerhead nests were discovered in eastern Bermuda – the first records of sea turtles nesting on Island since the 1930s.
Threats and Endangerment
The Loggerhead Turtle is threatened by capture by commercial trawling and longline fisheries, nesting habitat loss and degradation, watercraft strikes, marine pollution, excessive nest predation and the disorientation of hatchlings caused by beachfront lighting. Endangered, this species is native and protected in Bermuda.
Leatherback Turtle (Dermochelys Coriacea)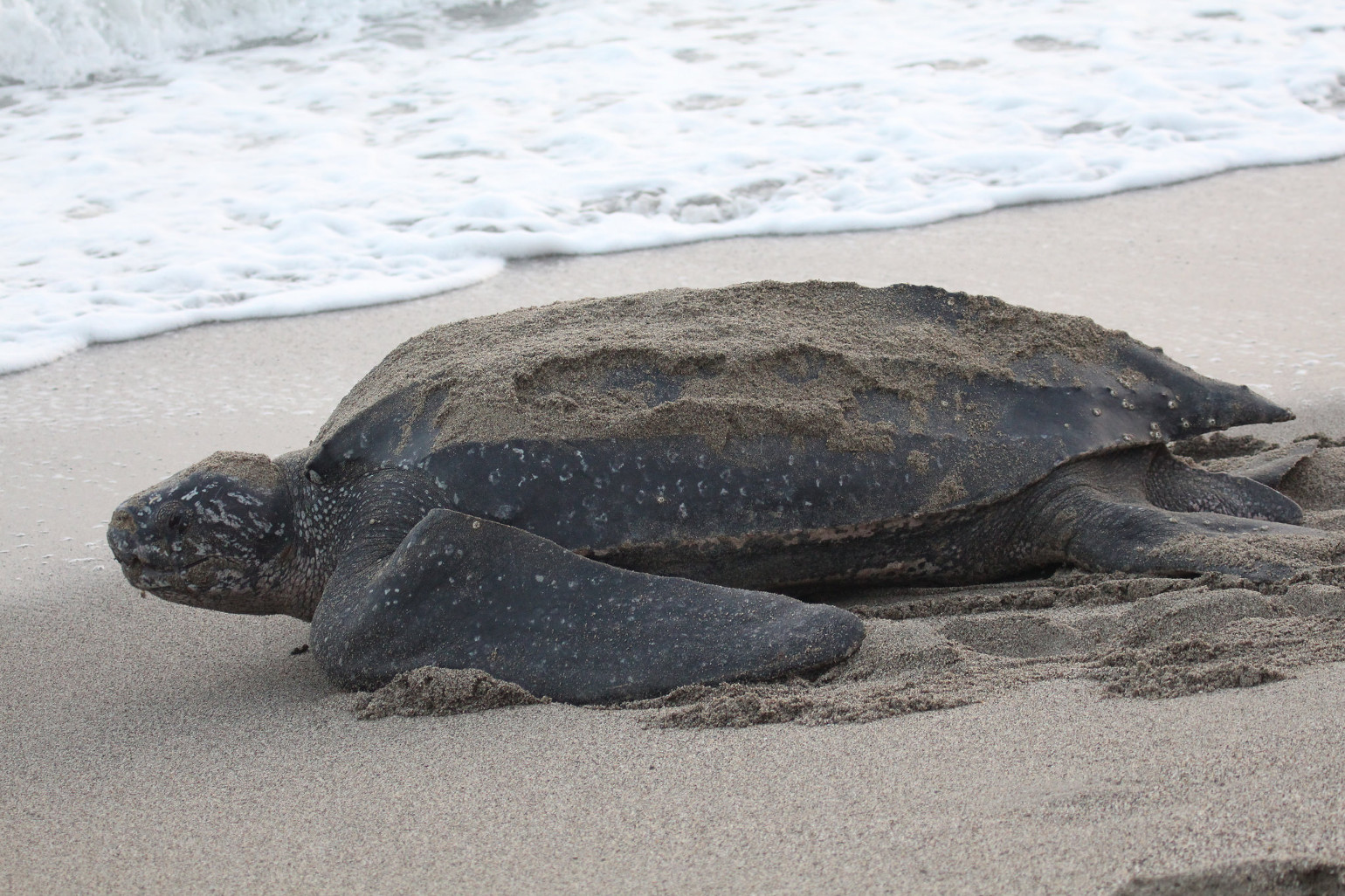 Leatherback Sea Turtle, (c)Alastair Rae, CC license
Appearance
The Leatherback Turtle gets its name from the leathery layer of brown or black skin covering the bone of its shell, which features 7 ridges and comprises thousands of small interlocking bones. The largest living reptile, these creatures can weigh up to an astounding 2000lbs and measure over 2 metres in length.
Diet and Habitat
Leatherbacks feed mainly on jellyfish and have special spines in their throat that enable these aquatic animals – known for their sting – to go down and not come back up. They also eat crustaceans, fish, seaweed and other marine invertebrates.
The Leatherback spends most of its life in the open ocean and dives up to 1,000 meters deep. It ranges much father north than other sea turtles and has been seen in Iceland and Alaska. While Bermuda does not have a large resident population, Leatherbacks are seen occasionally offshore.

Reproduction
Female Leatherbacks return to their natal beach to nest and the hatchlings then must crawl across the beach into the water. The eggs incubate for 2 months and hatchlings are popular prey for crabs, birds and raccoons. Leatherbacks reach maturity at approximately 9 years old. They grow rapidly and are known to migrate thousands of miles between nesting and feeding areas.
History in Bermuda
Historically, Leatherback Turtles have not been studied in Bermuda as they are not a resident species.
Threats and Endangerment
Due to its diet, the Leatherback Turtle can accidentally ingest plastic bags, mistaking them for jellyfish. Additional threats include the illegal poaching of eggs, hatchling confusion due to beach resort lighting, marine debris and entanglement in fishing line and fishing gear. Critically endangered, this species faces a very high risk of extinction and is native and protected in Bermuda.
Kemp's Ridley Turtle (Lepidochelys Kempii)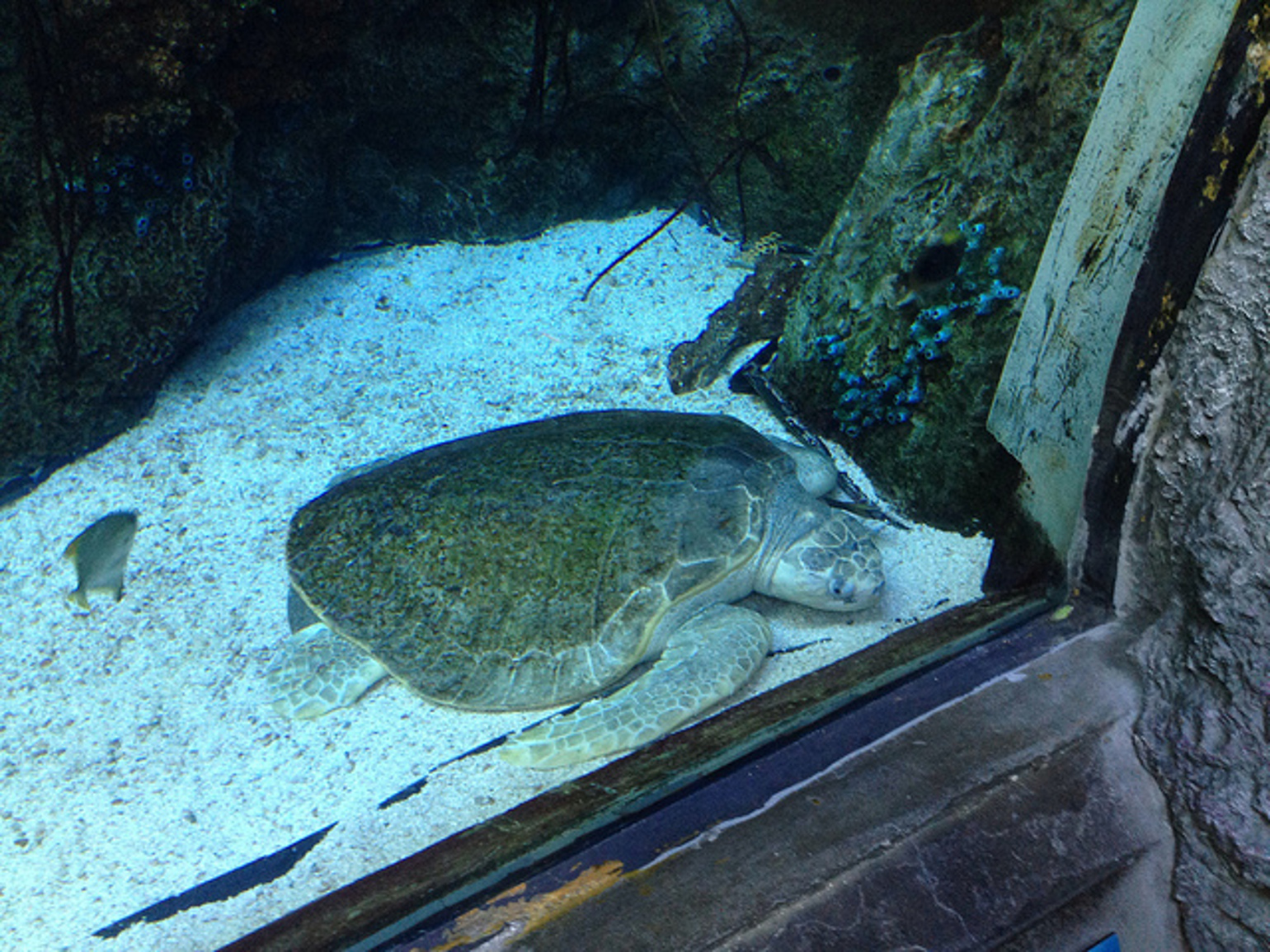 Turtle, (c)Ghost of Anja, CC license
Appearance
A rare species of sea turtle, the Kemp's Ridley Turtle is the smallest marine turtle in the world. These turtles have a triangular head, hooked beak and nearly circular carapace that is gray-green in colour. Their plastron ranges in colour from light yellow to cream. The carapace features 5 pairs of scutes. Fully grown, Kemp's Ridleys typically weigh approximately 100lbs and measure up to 70cm long.
Diet and Habitat
Kemp's Ridley Turtles feed primarily on swimming crabs and also enjoy mollusks, jellyfish and fish. They spend much of their life cycle within the Gulf of Mexico and along the United State's eastern seaboard. They prefer inshore and nearshore waters, favouring salt marshes, and water that is no deeper than 50 meters.
Reproduction
Worldwide, approximately 95% of Kemp's Ridley's nesting occurs in a single arribada, or arrival, in Tamaulipas, Mexico. Some females also nest at Padre Island National Seashore, Texas and in Veracruz, Mexico. An arribada is a single group of Kemp's Ridley Turtles that arrive to nest at the same time. Maturity occurs between 7 and 15 years of age and females nest on their natal beach.
History in Bermuda
On occasion, immature Kemp's Ridleys make their way into the Atlantic ocean. At least 4 of these turtles have been seen in Bermuda's waters.
Threats and Endangerment
Critically endangered, the Kemp's Ridley is threatened by shrinking arribada sizes, degradation of nesting habitats, capture by fishing gear and oil spills. This species is protected in Bermuda.
Red-Eared Slider (Trachemys Scripta Elegans)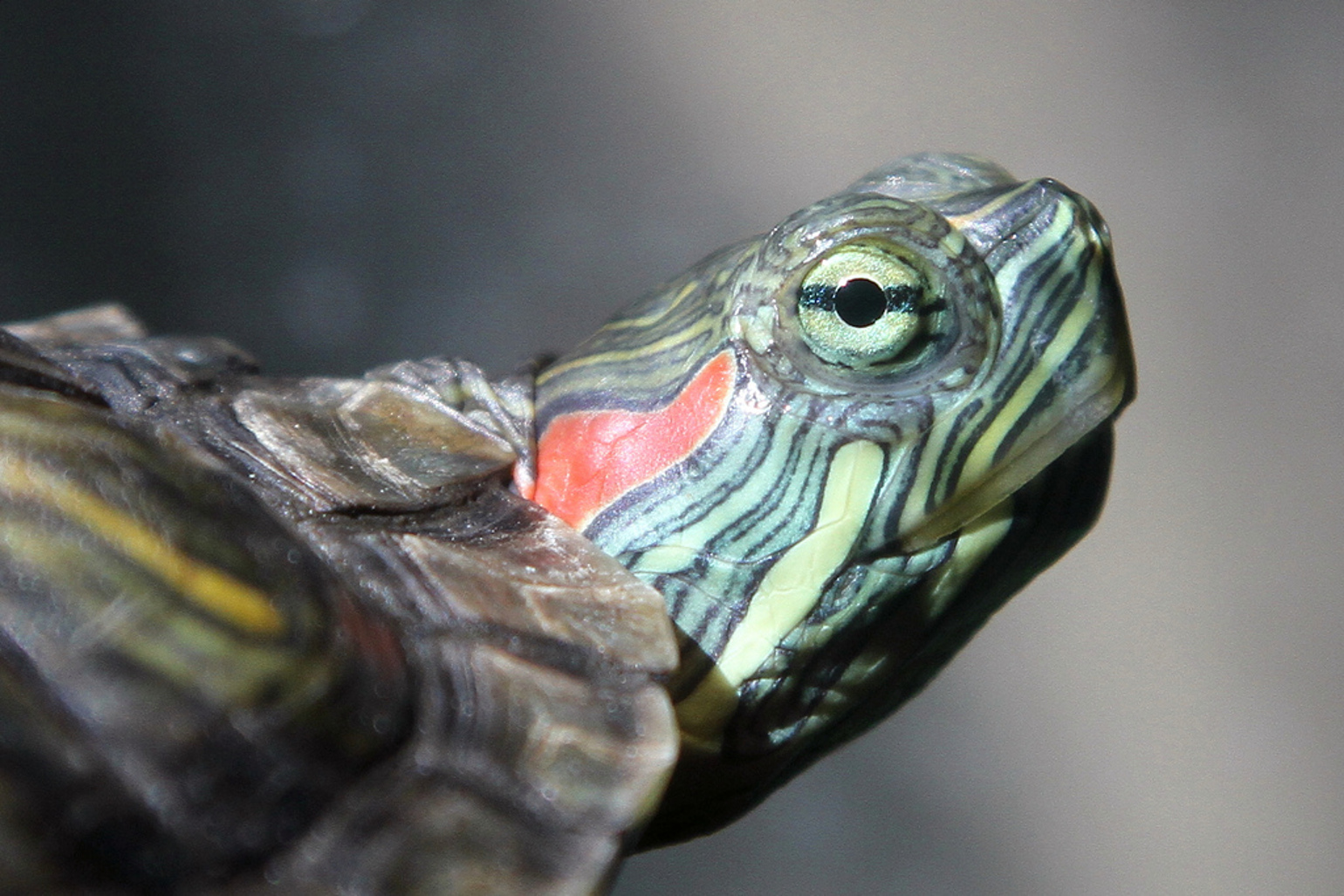 Red-Eared Slider Turtle, (c)Jim, the Photographer, CC license
Appearance
The Red-Eared Slider Turtle, named for the stripes of red behind its eyes, has a yellow striped head and legs. Their carapace is olive or brown in colour with black and yellow stripes and their plastron is yellow. Small in size, they grow up to 11 inches.
Diet and Habitat
One of the species of turtle found in and around Bermuda that does not live in the sea, Red-Eared Sliders are freshwater terrapins that live in ponds and canals. They're found in parks and nature reserves, on golf courses and even in backyards. In other parts of the world, Red-Eared Slider Turtles also live in marshes, lakes and rivers.
These turtles eat a varied diet that includes mollusks, small fish, tadpoles, crayfish, water plants, insects, mosquitofish and killifish, the last of which is endangered.
Reproduction
Female Red-Eared Slider Turtles reach maturity between 3 and 5 years of age. Mating typically occurs from March through June and nesting occurs in soft, sandy soil.
History in Bermuda
Brought to the Island as pets, the Red-Eared Slider Turtle population grew in Bermuda due to escape and dumping. The population of turtles has grown over the years, causing a significant negative impact on pond ecosystems. Red-Eared Sliders frequently bask atop the water level nests of wetland birds, crushing their eggs and in some cases eating their chicks.
Threats and Endangerment
The Red-Eared Slider Turtle is not endangered or threatened in Bermuda or worldwide – globally, it is consider one of the top 100 invasive species.
Conservation in Bermuda
Throughout the 1960s and 1970s, the Sea Turtle Conservancy attempted to reestablish a nesting population of Green Turtles in Bermuda. Eggs were transplanted to Island beaches from Costa Rica and, despite an impressive 16,000 successful hatchlings, no turtles returned as adults to reproduce. This led to heightened awareness by the public and all sea turtles have been protected locally since additional legislation was introduced in 1973.
The Bermuda Turtle Project (BTP), which aims to both protect and study our sea turtles, was created in 1968. It was founded by Dr. H. Clay Frick II, Trustee of the Sea Turtle Conservancy, alongside the Bermuda Government. Since 1991, it has been under the direction of the Bermuda Aquarium, Museum and ZooBermuda Aquarium, Museum and Zoo alongside the Sea Turtle Conservancy and the Bermuda Zoological Society.
In 2014, the Government of Bermuda put forth a management plan for resident Green and Hawksbill Sea Turtles. Currently, legal protection is provided for these turtles by the Fisheries Order (1978), the Protected Species Act (2003), and the Protected Species Amendment Act (2011). Conservation efforts for the Hawksbill Turtle, like the Green Turtle, fall under the Bermuda Turtle Project (BTP). The BTP provides an annual training course on the biology and conservation of sea turtles, which is open to attendees from countries throughout the Atlantic basin. The project also raises local public awareness through educational materials, lectures, exhibits and more.
Through the BTP, the Bermuda Aquarium, Museum and Zoo (BAMZ) monitors threats to the Island's sea turtles and also rehabilitates and releases sick and injured turtles. 'Turtle Alert' signs have been installed by the Bermuda Zoological Society and the Government's Department of Conservation Services in order to reduce the number of boat strikes. To reduce the number of turtles becoming ensnared in fishing line, the Bermuda National Trust has installed 14 monofilament recycling bins at fishing spots around Bermuda as well as launched an awareness campaign highlighting these harmful effects. The BTP conducts an annual Green Turtle population survey.
Resources