Habitat for Humanity ReStore Volunteer Michely Vivar
Every time you make a purchase at the Habitat for Humanity ReStore on Front Street, you're improving someone else's life. Now that's shopping we can all feel good about.
Opened July 2020 in the Bluck's Building on Front Street, the ReStore offers a wide selection of slightly used home goods at seriously discounted prices. What's on offer varies week to week. On a recent visit inventory included beds, china, dining table and chairs, cutlery, buffets, Lilly Pulitzer drapes and bedding, home accessories, original oils by some of Bermuda's finest artists and more.
All proceeds go to Habitat for Humanity Bermuda. Since the charity began work in Bermuda in 2000 they have completed 89 construction projects improving the lives of 257 local families in the process. Presently they are tackling their largest project to date – turning the former Pembroke Rest Home into the Transformational Living Centre for families (TLC).

The Transformational Living Centre project is the result of two years of planning by Elaine Butterfield of the Women's Resource Centre and Sheelagh Cooper, Chair of Habitat for Humanity Bermuda.

Pembroke Parish Council made it all possible through the magnanimous gift of the property. Architects developed the plans, construction supply and hardware stores provided materials and crews got to work. To date, 80% of the project is complete. When families move in, The Women's Resource Center will organize training programmes for tenants to improve both their life and employment skills.
When completed, the facility will offer temporary housing for up to 10 families. In addition to providing shelter for up to one year, TLC families will be provided with a range of developmental, educational and therapeutic programmes that are designed to heal, empower and help them transition to a better life.
Beyond contributing to a very good cause, shopping at the ReStore is just darn good shopping. Hit it on the right day and you could easily furnish an apartment which is exactly what many ReStore shoppers do. Digital nomads, Airbnb owners, locals looking for unique pieces, bargain hunters – they're all in the mix.
Reuse and recycle is today's chic and savvy way to shop.
Pricing varies depending on the age, manufacture and wear on the piece.
ReStore is staffed entirely by volunteers including Michely Vivar pictured in the lead image. They also benefit from the eye and skills of Barbara Brown and Loisa Swayne - home stylists who are responsible for the look of the store and windows. But the kingpin of the operation, or should we say queenpin, is the indefatigable Sheelagh Cooper.
Ms. Cooper noted that she spends a great deal of her day spreading the word and gathering donations of time and money. While she's at it, she co-manages the store with Ms. Brown. Her commitment and efforts made it possible to bring the cost of the Transformational Living Centre renovation down from its $1.3 million estimate to approximately $780,000 - a 60% reduction.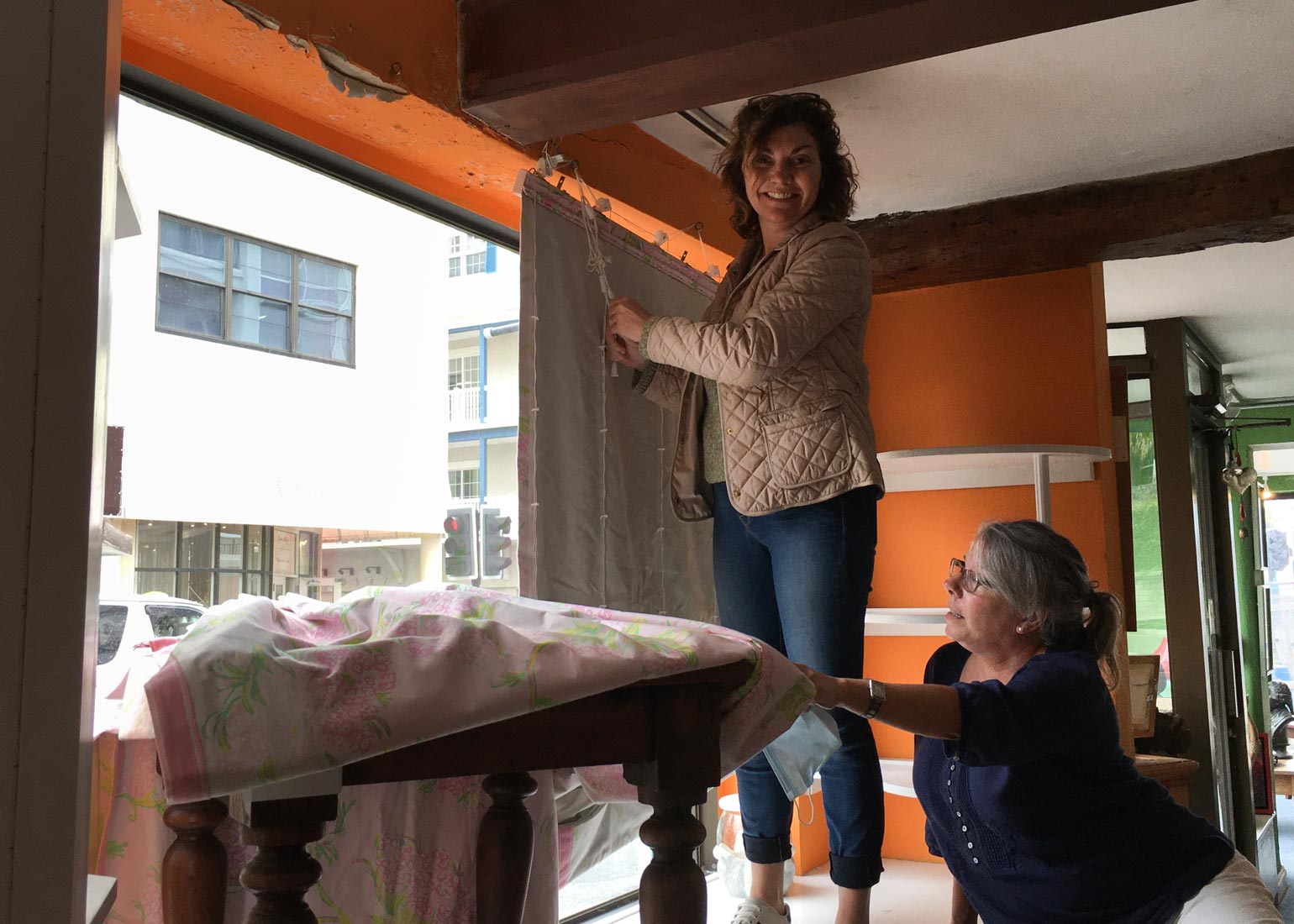 Going forward, proceeds from the ReStore will help fund ongoing maintenance at the TLC as well as work on other Habitat projects. Cooper notes that the ongoing costs of maintaining community efforts such as TLC have often led to the downfall of well meaning projects hence a continuous funding stream is essential. The ReStore will make a significant contribution to that stream.
To donate furnishings to ReStore, Cooper recommends emailing (habitat.bermuda@gmail.com) photos of the goods to ensure they have space and that the goods fall in line with what their buyers are looking for. She cautions that very large pieces typically don't sell well. In addition, pianos have proven too difficult for her staff to move and position and can no longer be accepted. Donors must arrange the transport of their goods to the store but unloading is easy through the drive and door at the back of the shop. Tip: you must drive around the Bank of Bermuda renovation to access the dropoff area.
Opening hours are 10-4, Monday through Saturday. For shoppers, parking is a mere block away at Corporation of Hamilton's Front Street lot. On-street parking on both Par-la-ville and Bermudiana also assures a short walk if you can snag a spot. While you're in the neighborhood, stop in for a coffee and pastry at Dangelini's Cafe or across the street at Milan Milan.
ReStore is THE store to hit whether you're adding to your home decor or doing a spring clean out. Shop or donate today. It's guaranteed to put a smile on your face.
Favourite ReStore Finds
---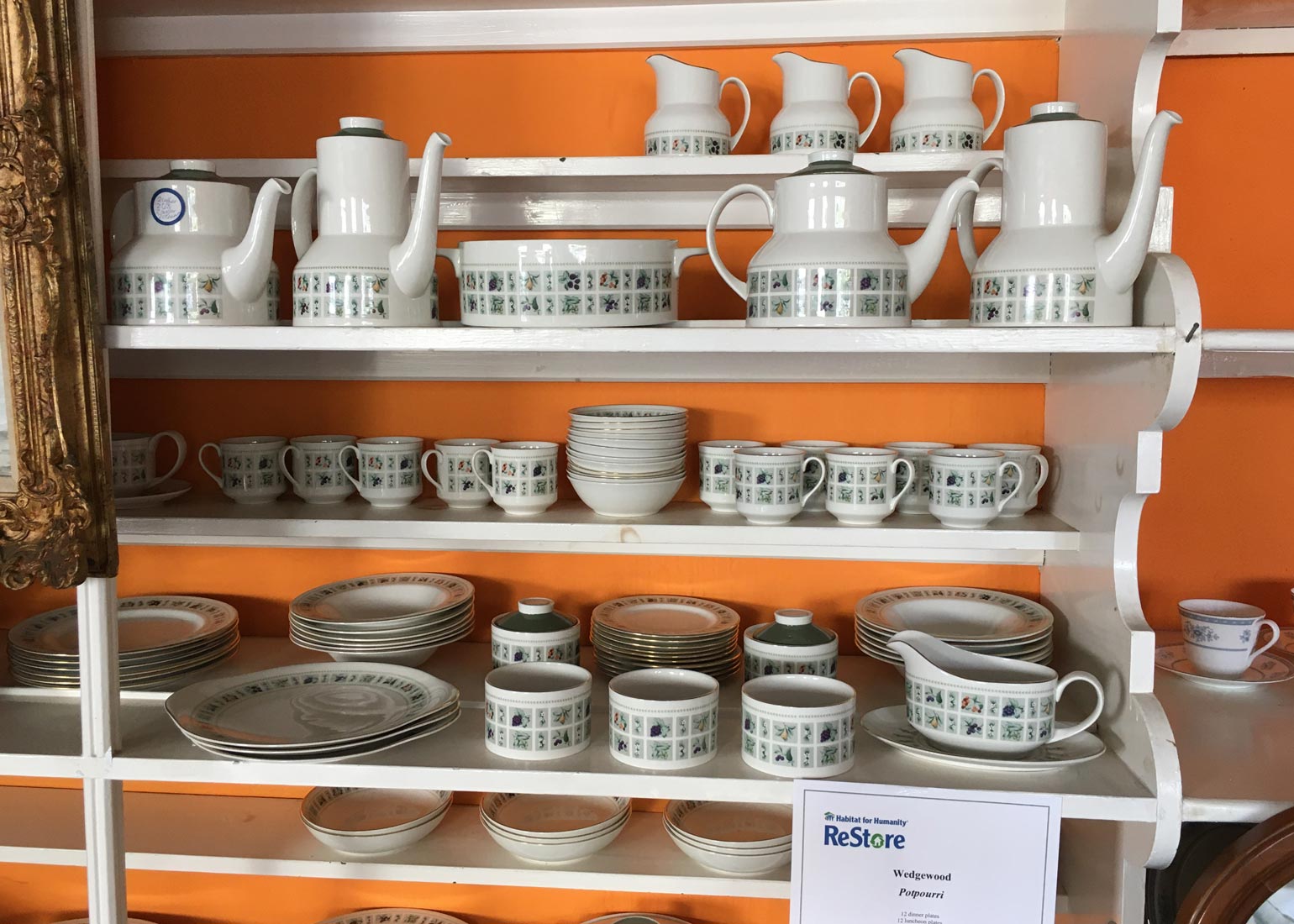 116-piece Wedgewood Potpouri China Set
Includes complete place settings for 12 - dinner, salad, luncheon, soup, cereal, fruit, coffee cups - and all the serving pieces you could ever need. Would make an amazing wedding gift.

The set is $400.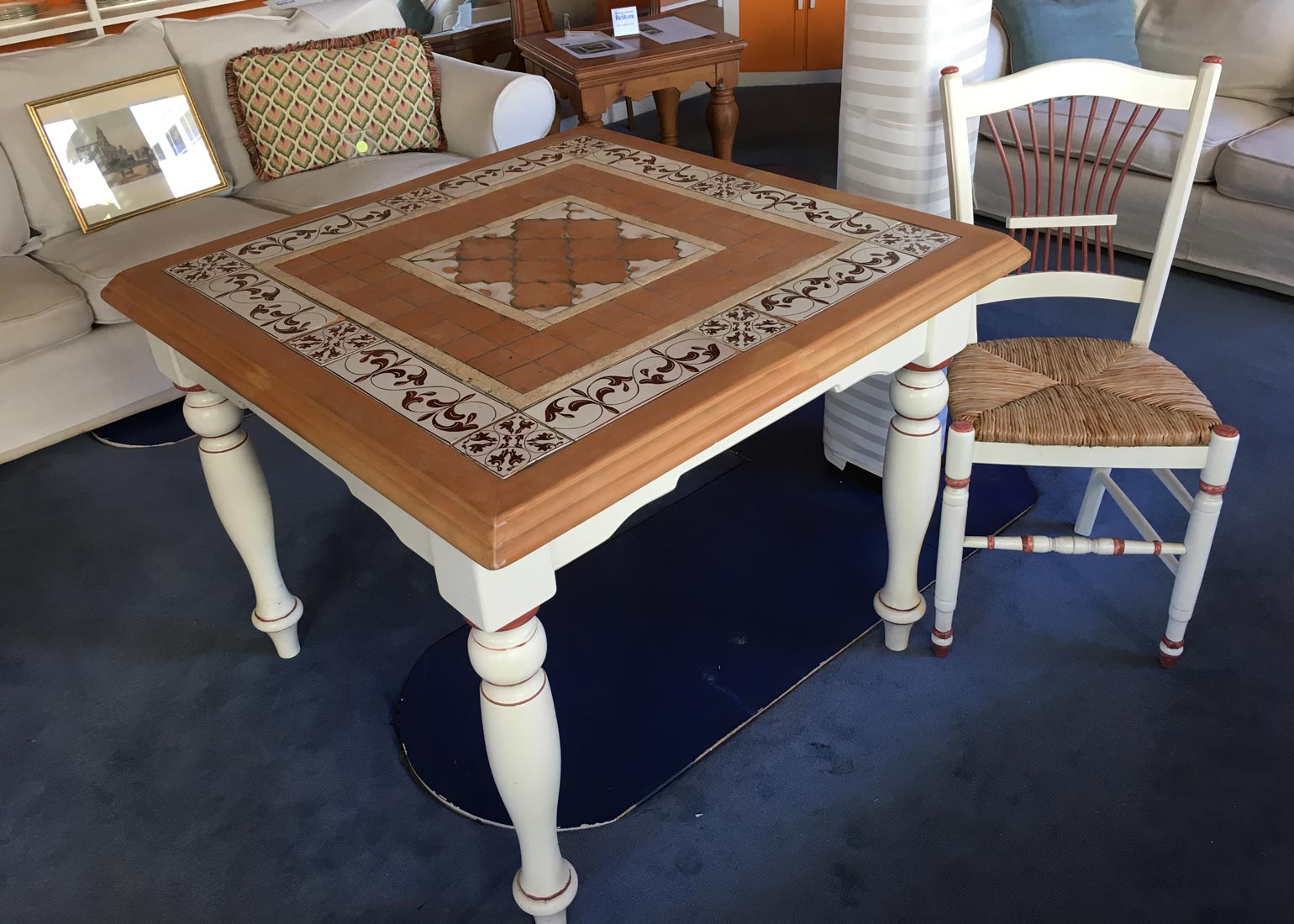 Ceramic and Wood Kitchen Table and Chairs
Donated by Hamma Galleries, this charming set will make you think you're in a cozy cottage in Sweden.

The set is $500.