A Green Sea Turtle in the waters around Bailey's Bay 2020
The sight of a turtle's head popping to the surface is a highlight in any boating excursion around Bermuda waters. If this experience has seemed less frequent in recent years there's a reason for it. As the seagrass beds decline so does the head count and health of our green turtle population.
The Bermuda Turtle Project is the longest running green sea turtle conservation programme in the world. Begun in 1968, data collected in Bermuda water helps scientists build on their understanding the turtles' life cycle, habits and the essential role they play in the greater marine ecosystem.
Gaelle Roth, volunteer veterinarian for The Bermuda Turtle Project notes that while 2015 saw a bumper crop of green turtle juveniles arrive on island, the number of turtles recorded in their annual surveys have been receding in the years since. Not only are they counting fewer turtles, those they are catching are actually smaller in size. Given that seagrass is the primary food source in Bermuda, this is not surprising.
Over the past six years, the Bermuda Turtle Project has seen a significant increase in the number of strandings of green turtles per year
Can our green turtles adapt and survive on alternative food sources? There are indications that some are feeding on algae but how that might impact their digestive systems and long-term health is not known at this time. Can they swim away to find better feeding grounds? The concern here is that if they are already suffering the effects of an insufficient food supply, they might not have the strength to make what would be a long journey. This is especially true of the younger turtles. Over the past six years, the Bermuda Turtle Project has seen a significant increase in the number of strandings of green turtles per year. The majority of the stranded turtles were emaciated and in poor condition.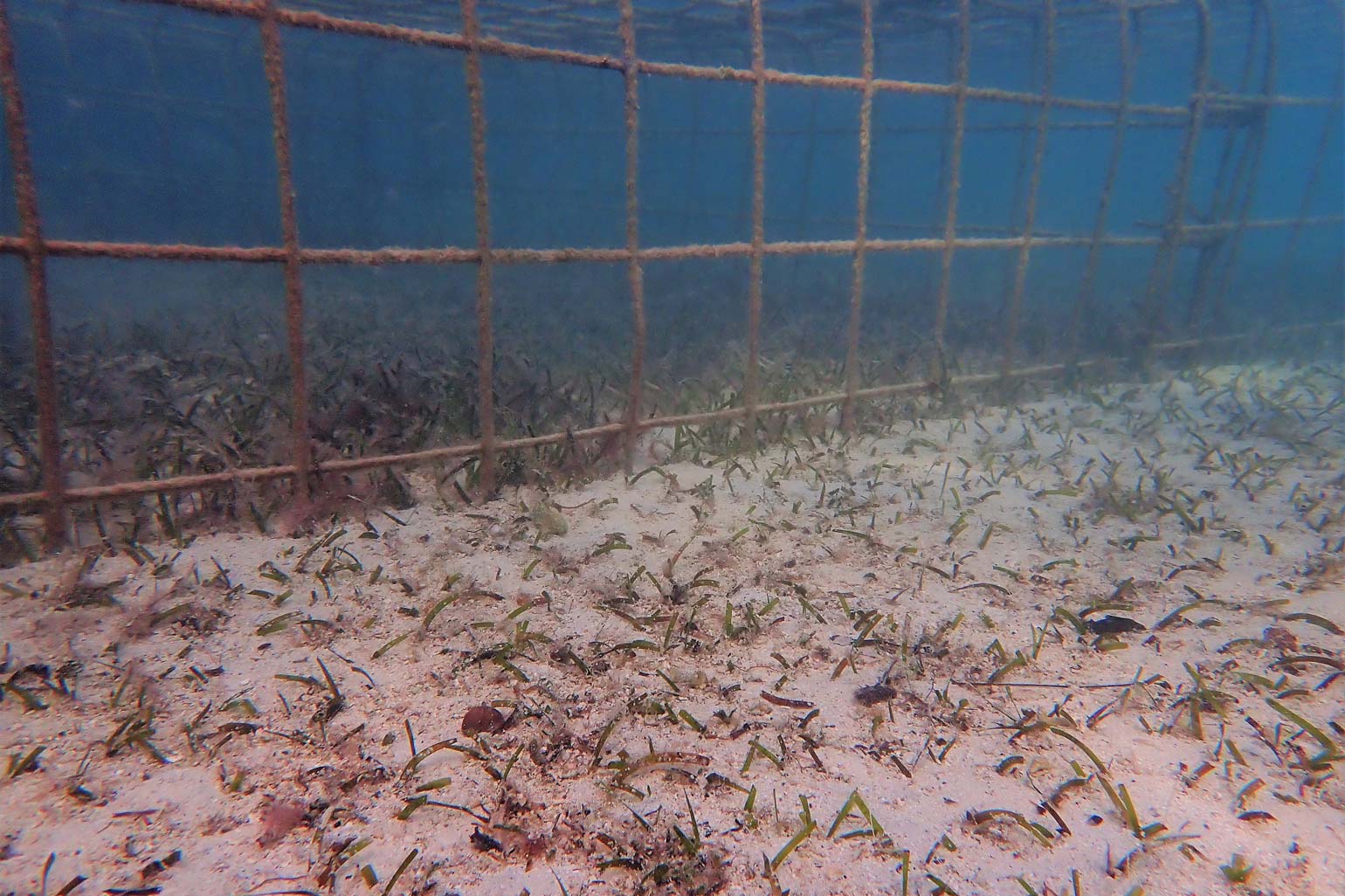 HOW CAN YOU HELP?
What is clear is that the current situation is perilous for seagrass beds, turtles and all the other marine organisms that depend on the seagrass at one or more stages of their lives. We all need to do what is in our power to turn this situation around.
In addition to the recommendations made in the accompanying seagrass article, the Bermuda Turtle Project suggests the following:
HOW YOU CAN HELP PROTECT OUR TURTLES

Don't pollute in any way

Never throw trash, especially fishing line or plastic bags, in the water or on the beach as turtles may mistake these items for food or entangle themselves

Don't use balloons, especially helium balloons, at your celebrations because they often end up in the sea and ingested by turtles which can be lethal

If you find a sick or injured sea turtle, notify the Bermuda Aquarium's Rehabilitation Centre immediately by calling 293-2727, ext. 999. Rehabilitated turtles are featured in the educational programmes at the Bermuda Aquarium Museum and Zoo

Be careful while boating to avoid collisions with turtles. Cruise slowly and enjoy the environment around you

Though nesting on Bermuda beaches is very rare, be aware and keep a keen eye out for turtles, egg shells or turtle tracks on the beach and report any findings to the Bermuda Aquarium
LEARN MORE
To learn more and/or to offer your support, visit Bermuda Turtle Project where you'll find information on how you can contribute to their efforts.