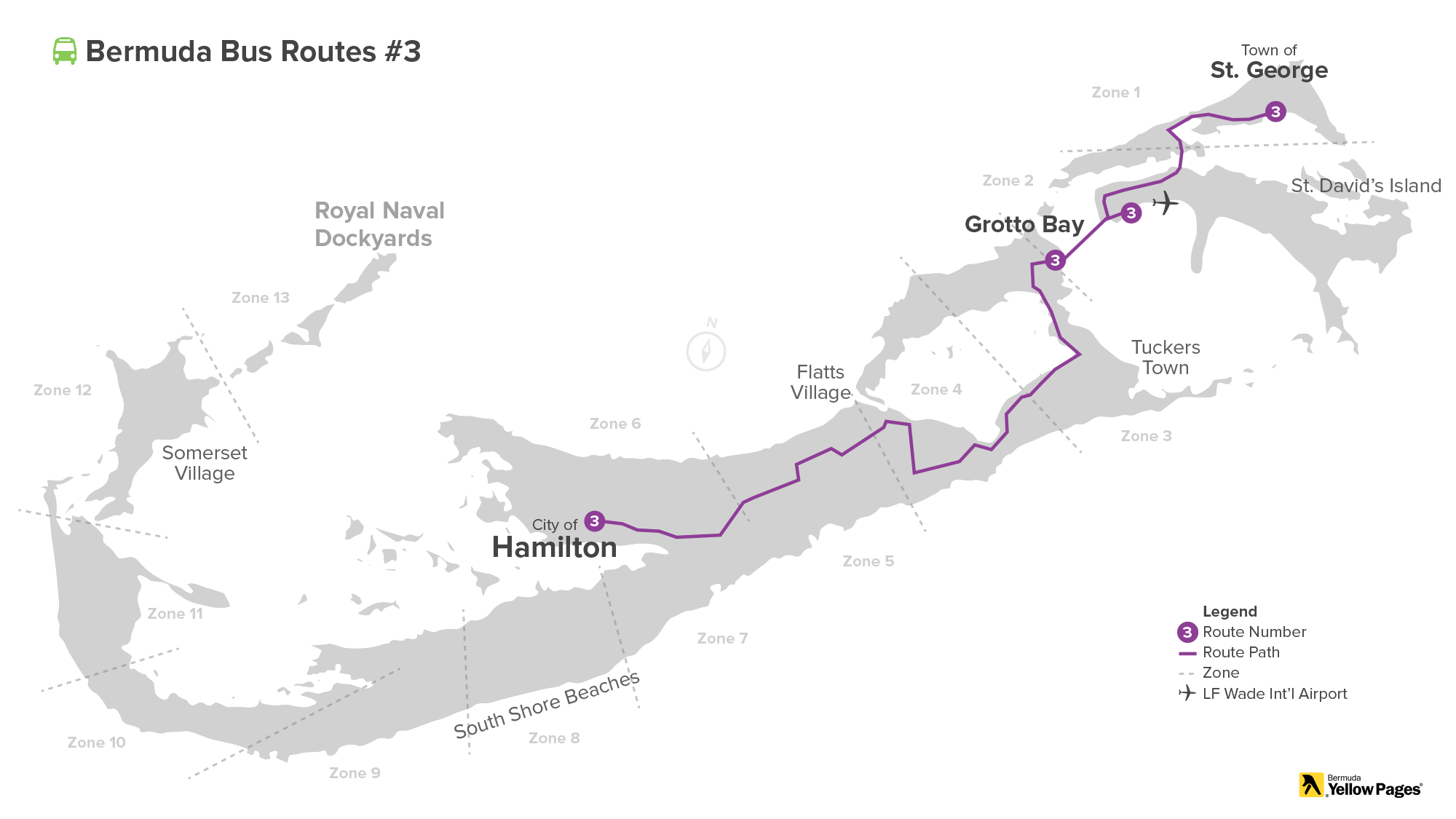 Route #3 - St. Georges / Hamilton – via Middle Road, Devil's Hole, The Caves and Swizzle Inn
Monday to Friday
Departs
Hamilton
St. George's
7:15 am
7:15 am
7:45
7:45
8:15
8:15
8:45
9:00
9:45
10:00
10:45
11:00
11:45
12:00 pm
12:45 pm
1:00
1:45
2:00
2:45
3:10

HS

3:15

WI

4:00
3:45
5:00
4:15
6:00
4:45
5:15
5:45
6:15

SD
Saturday
Departs
Hamilton
St. George's
7:45 am
7:00 am
8:45
8:00

GR

9:45
9:00
10:45
10:00
11:45
11:00
12:45 pm
12:00 pm
1:45
1:00
2:45
2:00
3:45
3:00
4:45
4:00
5:45
5:00
6:00
Sunday & Holidays

Departs
Hamilton
St. George's
9:15 am
11:30 am
11:30
12:30 pm
12:30 pm
1:30
1:30
2:30
2:30
3:30
3:30
4:30
4:30
5:30
5:30
Notes:
SD

- Bus travels direct to St. David's, does not service St. George's

HS

- Services Harrington Sound Primary via Harrington Sound Road, does not service Knapton Hill and Harrington Hundreds Road.

WI

- Services Whitney Institute and Harrington Sound Primary. (Hold at Whitney until 3:35pm)

GR

- Departs from Grotto Bay.
Average Running Time (In Minutes):
For Bus fare information and other Route Schedules see Bus Service