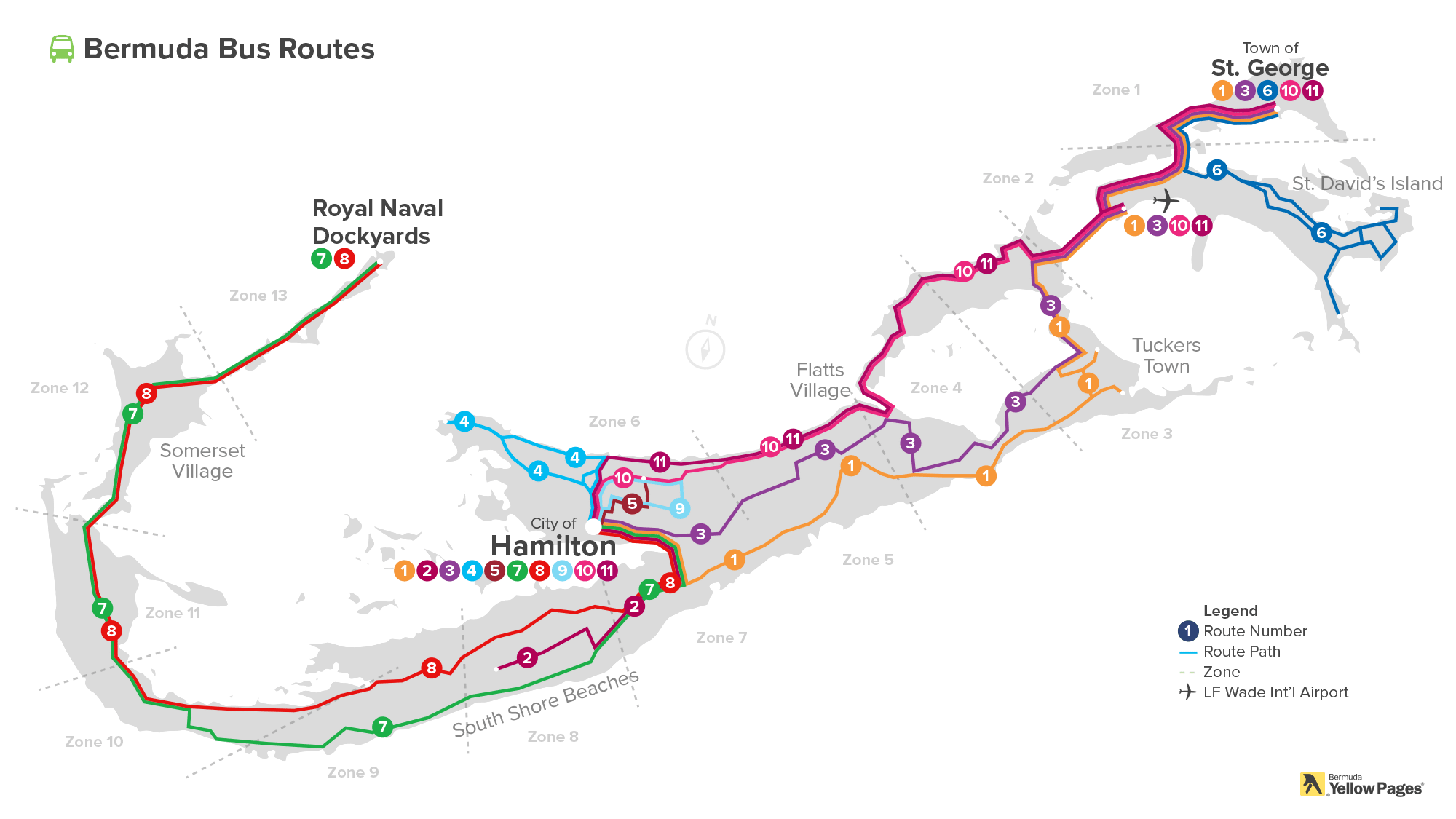 The BPT bus system operates seven days a week with reduced service on Sundays and holidays. Bermuda bus routes are identified by number (1 – 11), with a few subsets thrown in for good measure. There are actually 4 distinct #8 routes.
The best way to make sure you get on the right bus is to simply check the route maps and charts provided below. Bus routes and times are provided, and subject to change, by the Government of Bermuda on their website www.bermudabuses.bm.
For Bus fare information see Bus Service
Routes & Schedules
Select a Route or destination to view the full bus schedule.
Popular Destinations by Bus
Bermuda has many great attractions around the island, here are a few of the top ones with their recommended route.
| | |
| --- | --- |
| Destination | Bus Route |
| Belmont Hils Golf Club | 8 |
| Bermuda Aquarium, Museum & Zoo | 10, 11 |
| National Museum of Bermuda | 7, 8 |
| Bermuda Underwater Exploration Institute | 1, 3, 10, 11 |
| Botanical Gardens | 1, 2, 7 |
| Crystal & Fantasy Caves of Bermuda | 1, 3, 10, 11 |
| Elbow Beach | 2, 7 |
| Farimont Southampton | 7, 8 |
| Gibb's Hill Lighthouse | 7 |
| Grotto Bay Beach Resort | 1, 3, 10, 11 |
| Horseshoe Bay | 7 |
| King Edward VII Memorial Hospital | 1, 2, 7 |
| John Smith's Bay | 1 |
| LF Wade International Airport | 1, 3, 10, 11 |
| Mangrove Bay / Somerset | 7, 8 |
| Royal Navel Dockyard | 7, 8 |
| St. George's | 1, 3, 10, 11 |
| Tucker's Point Hotel & Spa | 1, 3 |