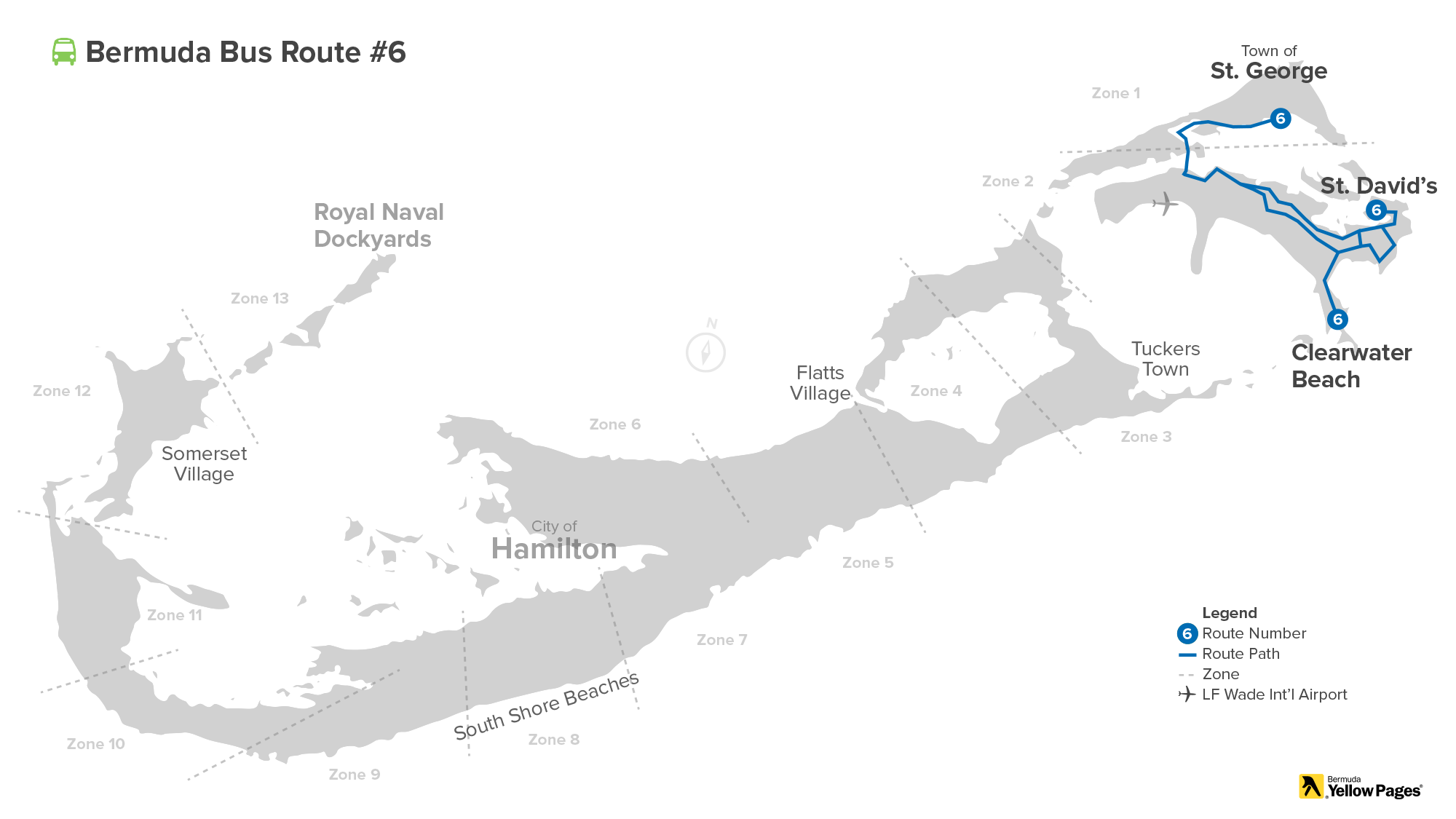 Route #6 - St. David's / St. George's – via Southside Gate 1 / Main Road
Monday to Friday
Departs
St. George's
St. David's

6:15 am

MR

6:15 am

NS MR

7:15

MR

6:40

HM MR

8:15

SP CW MR

7:15

NS BK MR

9:15

MR

7:40

HM MR

10:15

MR

8:40

SS

11:15

MR

9:40

SS

12:15 pm

MR

10:40

SS

1:15

MR

11:40

SS

2:15

MR

12:40 pm

SS

3:15

MR

1:40

SS

4 :15

MR

2:40

SS

4:45

MR

3:40

SP CW MR

5:15

MR

4:40

SS

5:45

MR

5:10

SS

6:15

MR

5:40

SS

7:15

MR

6:10

SS

8:15

MR

6:40

SS

7:40

SS

8:40

SS
Saturday
Departs
St. George's
St. David's
7:15 am

MR

7:15 am

NS MR

8:15

MR

7:40

NS MR

9:15

MR

8:40

MR

10:15

MR

9:40

SS

11:15

MR

10:40

SS

12:15 pm

MR

11:40

SS

1:15

MR

12:40

SS

2:15

MR

1:40

SS

3:15

MR

2:40

SS

4:15

MR

3:40

SS

5:15

MR

4:40

SS

6:15

MR

5:40

SS

7:15

MR

6:40

SS

8:15

MR

7:40

SS

8:40

SS
Sunday & Holidays
Departs
St. George's
St. David's
8:15 am

MR

8:40 am

MR

9:15

MR

9:40

MR

10:15

MR

10:40

SS

11:15

MR

11:40

SS

12:15 pm

MR

12:40 pm

SS

1:15

MR

1:40

SS

2:15

MR

2:40

SS

3:15

MR

3:40

SS

4:15

MR

4:40

SS

5:15

MR

5:40

SS

6:15

MR

6:40

SS
Notes: This route does not directly service Clearwater Beach
HM

- This trip operates to Hamilton via Route 3. Does not Service St. George's.

SP

- Bus services St. David's Primary

SS

- Southside

MR

- Main Road (St. David's Road).

CW

- Bus Services Clearwater Middle School.

BK

- Bus services Berkeley Institute via North Shore / Berkeley Hill.

NS

- Bus travels via Route #11 to Hamilton.
Average Running Time (In Minutes):
For Bus fare information and other Route Schedules see Bus Service