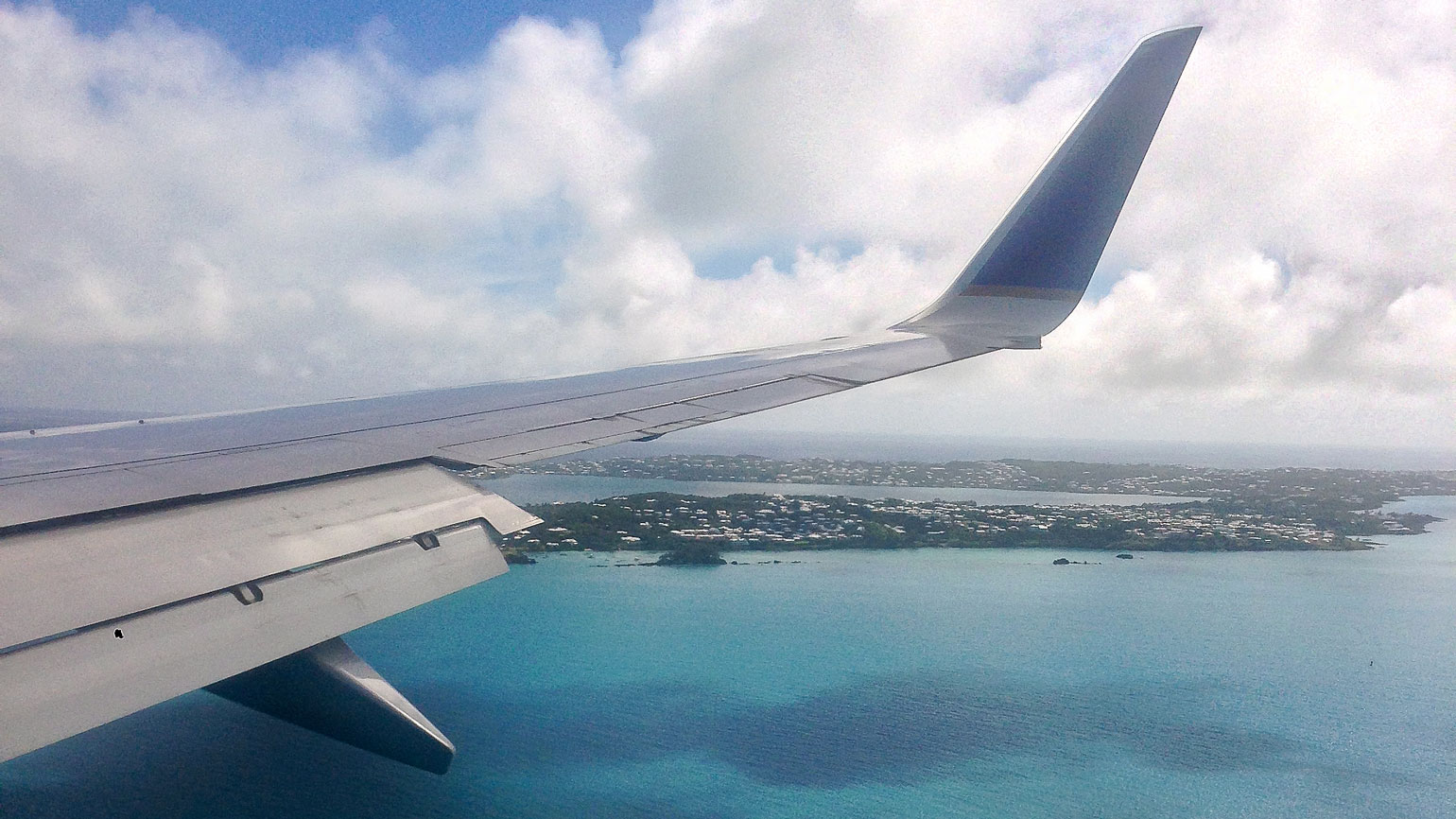 Located about 600 miles East of North Carolina in the Atlantic Ocean, Bermuda is both a popular tourism destination and a strategic hub of international business. Locals, Visitors, and workers have a number of options to arrive in Bermuda via air and water.
By Air

---
Flying is perhaps the easiest way to get to, and depart from, Bermuda and flights are available from U.S., Canada and the U.K. year round. Some fligghts are offered daily year round, while other are seasonal (Usually May - October). Airlines include American, Delta, JetBlue, Air Canada, WestJet, British Airways and United.
1.5

Hours

3

Hours

7+

Hours

From New York
From a number of locations along the US and Canadian East Coast.
London and other European Locations
Airport
Bermuda's only airport, L.F. Wade International Airport is located in St. George's, which is located in the East End on St. David's Island. The airport features a a number of stores and dining options. Transportation options include taxis, mini-bus and public bus service.
Taxes & Fees
All passengers pay a Departure tax and Airport Security Fee, which is included in the cost of their ticket.

Private and Chartered Flights
Bermuda is serviced by both local and a number of international private charter jet companies. This premium service provides attention to detail and discretion, executive comfort and convenience of scheduling.
By Sea
---
Bermuda has a long history of maritime transportation, and it is still a great way to reach Bermuda via a personal watercraft such as a yacht or cruise.
Private Watercraft
Bermuda can be reached by a 30-foot boat in approximately a little over 5 days from the US East Coast. This makes for a great trip with Bermuda as your primary destination, or as a popular stopover on your way to or from the Caribbean. Bermuda also acts as a finishing point for many international yacht races throughout the year, making Bermuda a hub for sailing activity.
Pre-Arrival
Before embarking on your journey, you must download and complete the Rescue Coordination Centre Bermuda Radio ("RCC Bermuda Radio") Pre-Arrival Form. This form requests details including your trip plan, vessel description, crew information, safety equipment and more and is used in case you require Search and Rescue assistance.
Arriving
Private watercraft arriving in Bermuda must contact RCC Bermuda Radio from approximately 30 miles away. You will be asked to provide vessel details and be guided to a Yacht Reporting Centre (YRC) for Customs Clearance.
Channels and Yacht Reporting Centres
The Port of St. George's is Bermuda's main YRC. There is also a satellite YRC at the Hamilton Princess. Bermuda's channels are marked by buoys and beacons, aligning with the I.A.L.A. region B marking system.
Customs
The Customs boarding officer will bring all required documents on board and each passenger must pay a tax of $35USD. Each individual must complete the Immigration Passenger Form and the Customs Traveller Declaration. The captain, crew and all passengers must be present. An official Bermuda Government receipt will be issued.
Passport/Visa Requirements
United States, Canadian and United Kingdom citizens must present a valid passport. Visitors who have proof of the right to abode in these countries but do not have a passport must present a passport that is valid for their home country. Additionally, US residents must present a Permanent Resident Card, Canada residents must present a Permanent Resident Card and UK residents must be able to show that no limit has been placed on your stay there. Visitors from other nations must present a valid passport as well as a Multi Re-Entry Visa (MRV) for the US, UK or Canada. Foreign citizens without a valid passport of MRV may be refused entry into Bermuda.
Environmental Considerations
Personal watercraft arriving in Bermuda must comply with the Island's laws relating to anchoring, fishing, waste management, importation, protected species and more.
For additional information, please visit RCC Bermuda.
During Your Stay
Bermuda offers a number of marinas that are available for berthing your vessel throughout your stay. A limited number of moorings are available to visiting yachts for overnights. Visiting yachts may anchor overnight in any area, taking care not to be disruptive. There is no fee.
Cruise Ship
Cruise ships are one of the most popular ways to visit Bermuda, with ships arriving regularly all year round.
Ports
Bermuda has cruise ship ports located in Hamilton, Royal Naval Dockyard (King's Wharf) and St. George's. While Hamilton Harbour and St. George's are better equipped to handle smaller cruise ships, large vessels are accommodated at Dockyard.
Cruise Lines
Most cruise lines visit Bermuda, including Azamara, Carnival, Celebrity, Norweigan, Regent Seven Seas and Royal Caribbean International.