Lauren, Marley and Zoe Watkins - Digital Nomads Working From Bermuda
Lauren, Marley and Zoe´ Watkins were no strangers to Bermuda when Covid hit. Living and working in Brooklyn, NY, they had visited Marley's aunt, Karen Cross, on island and enjoyed it so much they regularly followed Bermuda happenings on Bernews. So when they read about the one year Work From Bermuda Certificate they decided to investigate.
At the time, summer of 2020, they were living, working and homeschooling in their Brooklyn apartment with a view of the brownstone next door. As they both are able to do their jobs from basically anywhere, a change of scenery made sense. They applied in August and were accepted in September.
They made several trips to the island from September through December deciding on a preschool for three-year-old Zoe´, finding a place to live and then setting up their home and home office before making the final move on December 27th.
By all measures, it was the right move at the right time. Lauren gives the move an enthusiastic thumbs up. "We are loving this experience and feel blessed to be here. We've seen how Covid can impact a community. It's so much better here in Bermuda."
Lauren is a lawyer and mediator who works in New York City. During Covid, her caseload has not changed but the methodology has. "I meet virtually with people all day so it doesn't matter where I am."
Marley is an entrepreneur who works with companies and individuals to set up offshore parent companies for their business enterprises. His work also provides the flexibility to work from any location that has the tools he needs. "Bermuda is built to work. The things you need – high speed internet, international banking and law firms – they are all here."
They note that the move has been a big transition but one they thoroughly enjoy.
"It's much nicer working from home when the view out the window is the ocean. After being so restricted in Brooklyn, we're really enjoying the fact that you can be outdoors and more active." Beaches are nearby as is the MTM Tennis school at the Fairmont Southampton and they're enjoying it all.
They also feel welcome -"People are super friendly and helpful. We've made new friends and Zoe´ is really enjoying preschool at Tree Tops II." A big plus for the family is the fact that many child-friendly activities and facilities are open. They've enjoyed the Aquarium, Trampoline Park, the petting zoo at Wild Island Farms and the recent water exhibition at the BUEI. Another hit was Hannah Emerson's Sand Castle Building Camp.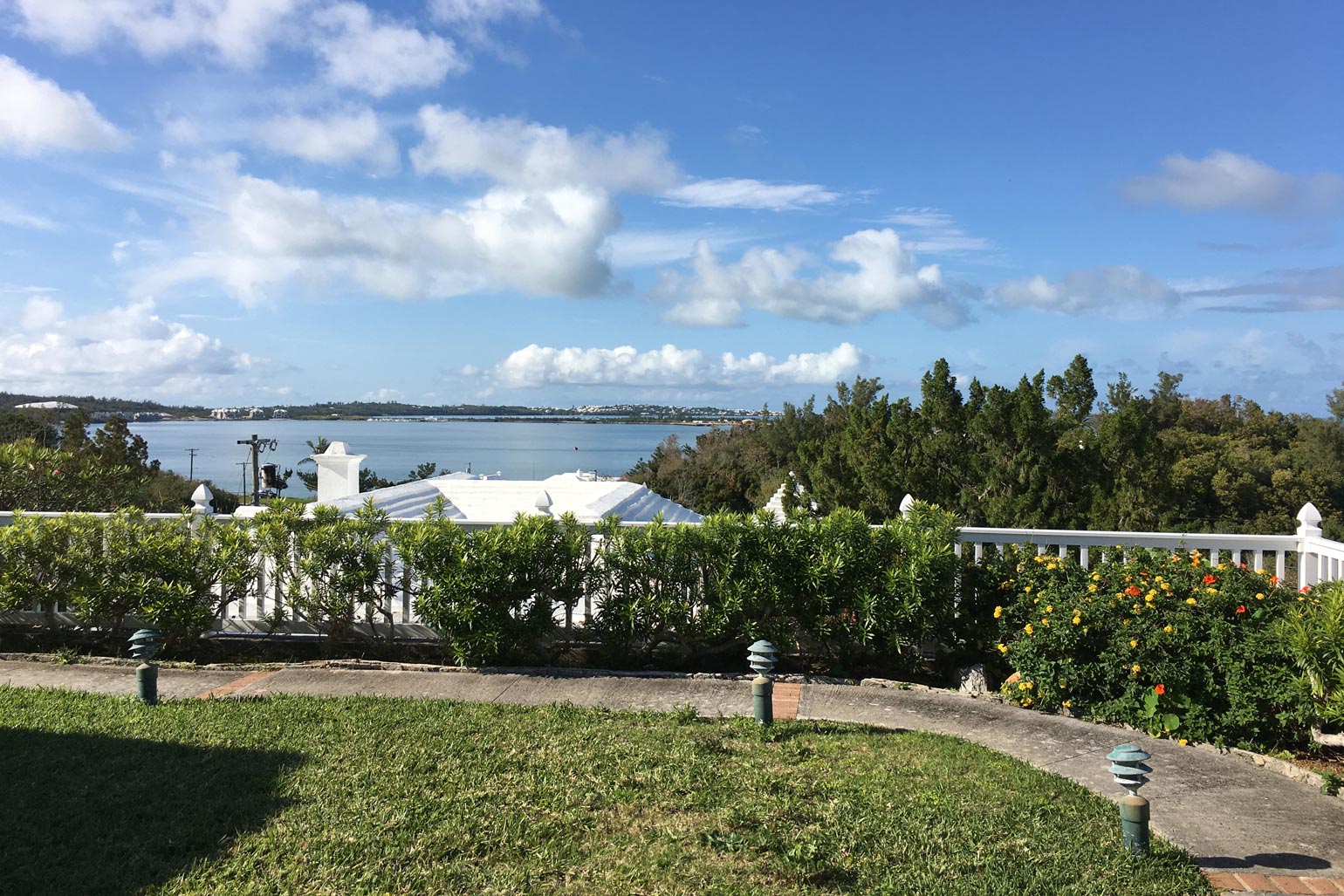 When asked if they're experiencing any downside to the move they only noted the "sticker shock" that confronts all newcomers to the island but as Lauren pointed out they've been able to source options to bring costs down. "Living in New York is expensive so we have some familiarity with that. The cost of going out to dinner is about the same. Groceries are definitely more expensive. Initially we were spending two and a half times more on food but then we figured out ways to save. Discount days at the stores are a big plus and we also find the Farmer's Market is good value. We've got it down to about one and half times what we'd spend in New York. "
The Watkins have rented a home in Southampton that came unfurnished but again they were able to take advantage of some of Bermuda's rental, resale and consignment stores and eTailers to make it a home without breaking the bank. Some of their larger pieces - bedroom sets and living room furniture - were sourced from Turnkey Furniture Rentals. Lauren noted they've found furniture and accessories at ReStore and Orange Bay and have also shopped with Bermuda Online Garage Sale, Bermuda Bargains, Mom2Mom and others using Facebook.
The family is now driving an electric car from EVolution Motors but used the Bermuda Bus Service for the first four months of their time here. While they enjoyed riding the bus they found the schedule a bit contrary and learned to bring a book when heading to the bus stop. Their one recommendation based on their time on island was the installation of bus timers that would alert riders to delays and recalculated arrivals.
While their Certificates run out in September, there is the option of applying for a second year extension that they are considering. Whether they stay or go, the Watkins family wanted to thank the government of Bermuda for the opportunity they've provided – a sunny and safer haven in the most challenging of times.
Gratitude, in this instance, is of course a two-way street. It is a win-win situation as Bermuda greatly benefits from the financial contributions Certificate holders make to our economy. They also remind us, by their comparisons to the Covid world they left behind, that Bermuda is a wonderful place to call home – even if it's just for a year or two. Lastly, as they share their experiences here with business associates, friends and family they have the potential to make an invaluable contribution to the Bermuda brand. As you read this, Lauren is preparing to launch a personal blog she's titled A Bermudaful Life in which she'll share their ongoing Bermuda experience. We look forward to following her and wish the Watkins family and all other Certificate holders a happy and successful stay.
"Bermuda is safe, Bermuda is friendly, Bermuda is close and Bermuda is beautiful."
It is hard to argue with this clip from Premier David Burt's pitch in his invitation to digital nomads. You'll find his complete introduction of the Work From Bermuda Certificate at forms.gov.bm/work-from-bermuda along with the application form and a very informative FAQ section.