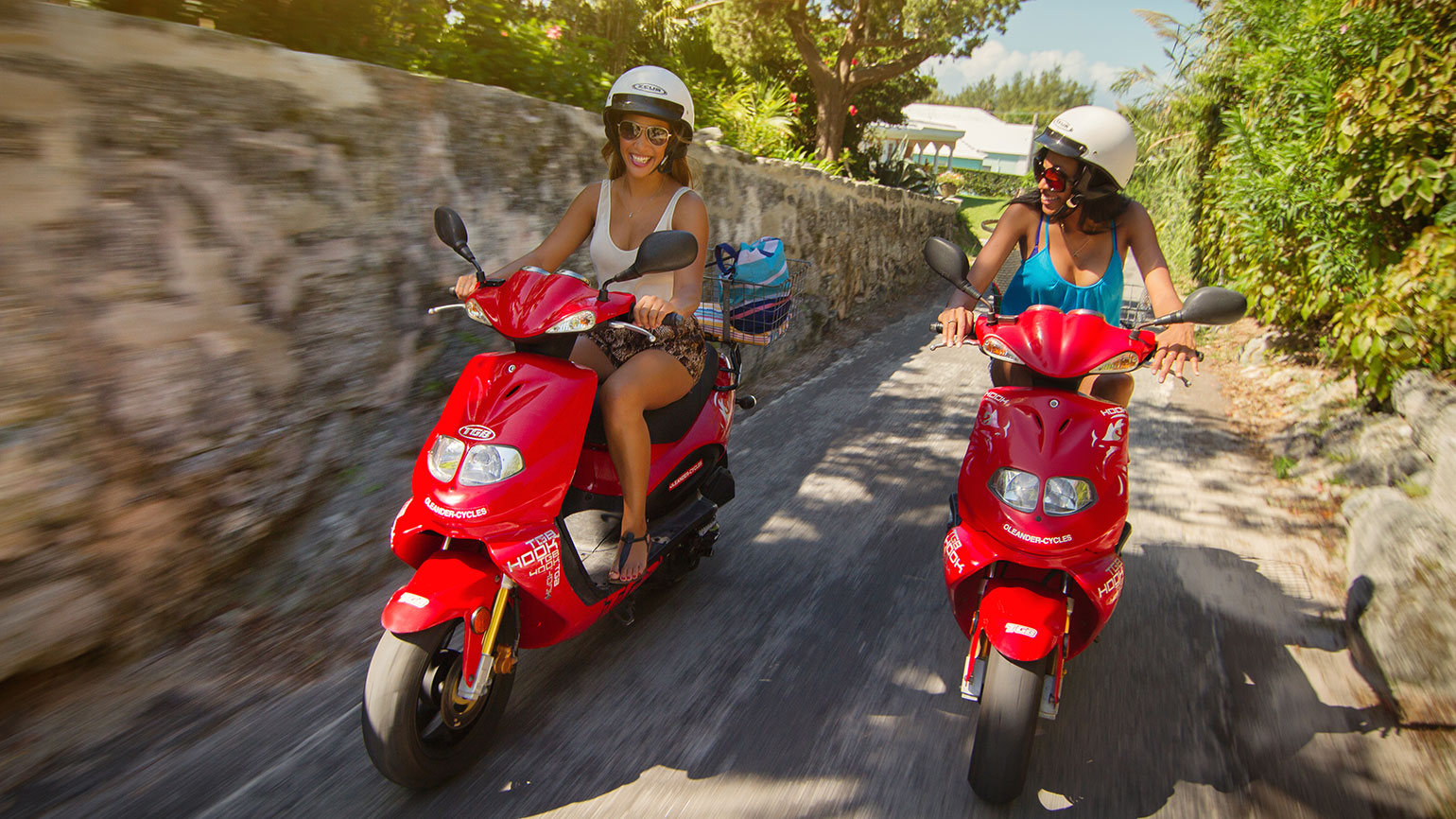 In Bermuda, the words scooter and moped are interchangeable. Regardless of which you ask for, what you'll get is a 50cc vehicle that can carry one or two passengers.
Licensing
You must be 18 years of age. A driver's license is not required but you must present a valid photo ID that proves your age. While a license is not required, all prospective drivers must take a test drive with an instructor as part of their rental agreement.




SPEED LIMIT 35 km/h
(22 mph)


KEEP LEFT


BIKE = HELMET

The maximum speed limit in Bermuda is 35 km/h. Hamilton, St. Georges & Dockyards have limits reduced to 25 km/h.
Similar to the UK, we drive on the left hand side of the road. Keep the shoulder on your left and the lines on your right.
If riding by motorcyle / scooter it is the law to always wear a helmet and keep it fastened while riding.
View our Road Safety article for more great tips on travelling around the island.
Rentals
There are a number of cycle rental companies on the island and they all have several things in common. They all offer motorized and pedal cycles and 7 day a week service. All scooter rentals include free tutorial and test ride, helmet, tank of gas, storage basket and damage insurance. All offer short and long-term rentals and discounts to those who book ahead – it literally pays to check out their websites.
Some companies, in addition to their locations, offer island-wide delivery and pick up. They come to you. As for makes and models, you will find options vary from shop to shop.
Rental Rates
Short-term rentals run from half day to seven day with rates declining the longer the contract. The size of the scooter is also reflected in the rental rate with single rider mounts cheaper than 2-person models.
For example a 1-day single seater charge at Oleander Cycles is $55, a 2-seater is $75. The 7-day rates for the one and two seaters is $225 and $267 respectively.
Pedal Bikes
For those willing to put a little muscle into their on-island transport, pedal bikes are available. The quality and variety of bikes on offer is quite diverse as are the rates so best to check the rental cycle sites. Do keep in mind that there are few sidewalks in Bermuda and the Railway Trail is rough terrain (as opposed to a paved path) in most places, so you and your pedal bike will likely be sharing the road with motorized traffic.

Not so sure about renting a bike? If you're not sure about or comfortable with the idea, there are plenty of other options available to you. Taxis, buses and ferries are the big three.